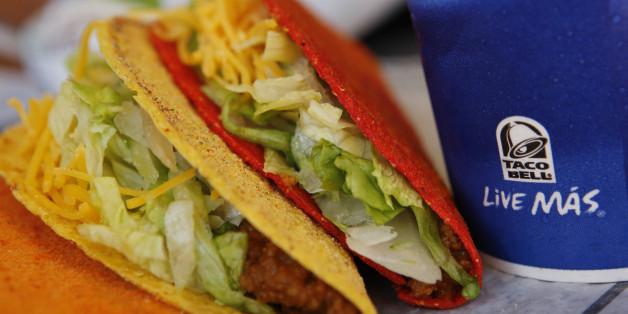 By most measures, Chipotle offers a higher-quality dining experience than its Mexican fast food rival, Taco Bell. The upstart burrito chain uses fresh ingredients that command higher prices. Public perception of Taco Bell, on the other hand, is still spoiled by a scandal over its mystery meat filler. Taco shells made of artificially flavored Doritos chips probably don't help.
But, according to a new analysis of New York City health code violations, Taco Bell beats Chipotle in cleanliness.
Using data provided by the city, Pratt Institute professor Ben Wellington found that Taco Bell and White Castle had the fewest health violations of 20 major restaurant chains over a four-year period. Chipotle ranked 13th.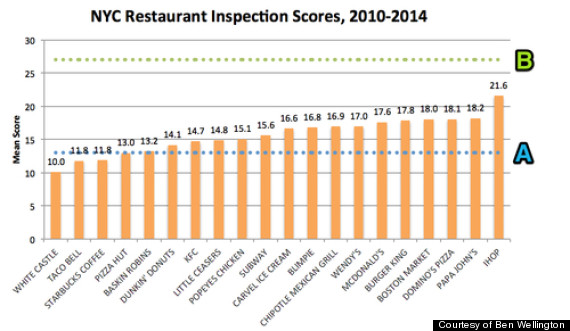 New York City's restaurant inspections assign points based on various cleanliness violations. Restaurants that score between 0 and 13 points get an A, those with 14 to 27 points get a B, and those 28 or more get a C. This chart shows the mean score for various chain restaurants over the past four years.
Wellington said the score disparity could be because cleaning procedures are more uniform at Taco Bell and its franchise-owned locations.
"There's a way to keep things standardized [in fast food]," Wellington told The Huffington Post on Monday. "Everything's timed, belled and whistled, so it's very mechanical."
Chris Arnold, a spokesman for Chipotle, said the company is "always working with our teams to improve" adherence to health code standards.
"Our restaurants in New York do tremendously high volumes and are considerably more complicated to run than a typical fast food restaurant," Arnold told HuffPost in an email. "We use high quality fresh (not frozen) ingredients and prepare food in our restaurants using classic cooking techniques (rather than merely reheating food that is prepared offsite)."
That said, Wellington -- who has previously written about the flawed subjectivity of New York's sanitary inspection grading system -- warned against reading too deeply into Chipotle's average score. All but two Chipotles in New York received A grades in their most recent inspections, according to the Department of Health and Mental Hygiene restaurant ratings database. One Chipotle got a B, and the other grade is pending.
"It's on a location by location basis," Wellington said over a Skype call. "And remember, if an inspector were to come into one of our homes, we'd all probably flunk."
Taco Bell did not return a request for comment.
Still, it's a small victory for Taco Bell. Yum! Brands, which owns Taco Bell, KFC and Pizza Hut, has been beefing up to battle Chipotle as the Denver-based burrito chain's stock price soars.
Chipotle pioneered the fast-casual concept, in which diners customize their meal from a limited, simplistic menu that features high-quality ingredients. Fearing that Chipotle will begin devouring the fast food market, Yum! launched a Vietnamese street food chain in Dallas and an upscale taqueria in the Los Angeles area to develop competitors.