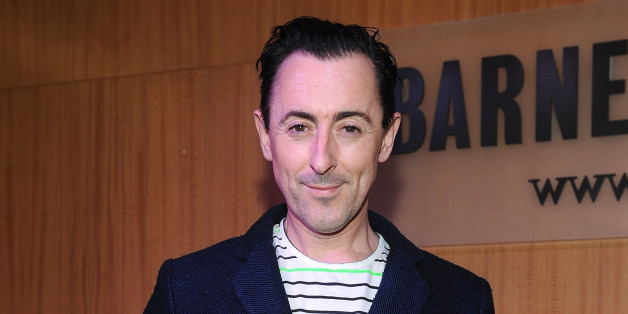 Alan Cumming's new memoir, "Not My Father's Son," revisits a lot of painful, harrowing childhood memories, as he recounts being physically and verbally abused by his father. But that doesn't mean the actor's wry sense of humor isn't on display.
"There also are bits in the book that are about my life now," he said. "And there's a bit that I think's the most hilarious, the final conversation with my father, which is really a very devastating conversation — I actually said to him, 'This is the last time we'll ever speak to one another.' I put the phone down and I realized I was entirely dressed in drag. And he'd be totally horrified if he could have seen me, because I was making a mini-series in South Africa and was being a transvestite."
He goes on: "Certain moments with my father, there's a surreal quality that can be funny. I don't think humor is something I'm particularly using as a salve. I just think that maybe because I'm Scottish, that's something that's part of our national, natural condition, in that we infuse everything with a dark sense of humor."
Cumming, who came out as bisexual in the '90s and is married to a man today, doesn't believe his sexual orientation was necessarily an issue surrounding the abuse he experienced.
"I could see why some people might think that," he said in an interview with me on SiriusXM Progress. "And maybe one of the components of my father hating me so much was that he might have thought I was effeminate or gay or something. I'm sure that's part of it. But there are many other irrational parts of his psyche. That wasn't really a big deal — and he was absolutely equally as horrible to my brother, who is as straight as they come."
One of the busiest actors in entertainment, Cumming is currently reprising his Tony Award-winning role as the Emcee in "Cabaret" on Broadway. And he's known to TV watchers as Eli Gold, the high-strung Chicago political strategist, crisis manager and governor's aide in CBS's Emmy-winning "The Good Wife," a role he's played since 2010 and which seems light years from the person he, Alan Cumming, is.
"I said to my team, ideally I'd like to do a TV show based in New York, an ensemble thing, so that I wouldn't have to work crazy all the time," Cumming said, explaining one of the reasons why he took the role. "And my New Year's resolution that year was to try and wear more suits. Isn't that a crazy resolution? Within weeks I was Eli… It feels like when I put on these clothes I just become him. At the start I just kind of tried to think of uptight people I knew, just to try and get that energy."
In New York, after each performance of "Cabaret," when many might think he'd be exhausted, Cumming hosts party in his dressing room for friends and assorted visitors, dubbed Club Cumming.
"Club Cumming, I really like it," he said, "because I really do enjoy watching people relax in my company. It gives me great joy… There's nothing I like more than playing music and having a few drinks with people and seeing them let go. And when you finish doing a show like that you're very up and what's different for me about doing this show is that it's all about engaging with the audience. My biggest co-star is the audience and that changes every night, so I've got to be on my toes. I've got to guide them into a different place. So when I come off the show, I'm in that zone."
BEFORE YOU GO
PHOTO GALLERY
28 Bisexual Celebrities