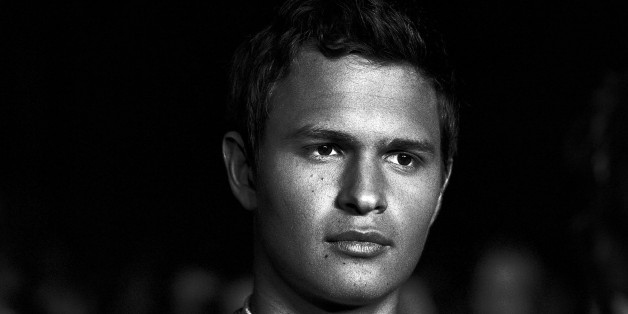 Ansel Elgort made his big-screen debut in "Carrie" on Oct. 18, 2013. It kicked off a busy 52 weeks. Since the release of that horror remake, Elgort has appeared in three films: "Divergent" ($288 million worldwide), "The Fault in Our Stars" ($303 million worldwide) and Jason Reitman's latest, "Men, Women & Children" (out now). Elgort now has 2.1 million Twitter followers. More than 3.8 million people follow him on Instagram.
"As we speak right now, we have to stay in a car outside the hotel because there are probably 40 fans waiting for pictures," Elgort, 20, told HuffPost Entertainment during a recent phone interview from London. "So we can't get out of the car because we have to finish the interview first before I go out and take pictures with all of them. That's how my life has changed, but other than that it's pretty much the same."
Wow that's a lot of fans waiting outside my hotel! LONDON! :) pic.twitter.com/fGYqtPHaXv

— Ansel Elgort (@AnselElgort) October 13, 2014
Elgort is but one of the famous names in "Men, Women & Children." Adam Sandler, Jennifer Garner, Judy Greer, Rosemarie DeWitt, Kaitlyn Dever, Dean Norris, J.K. Simmons and the voice of Emma Thompson play prominent roles in Reitman's ensemble drama, which the "Juno" director co-wrote with Erin Cressida Wilson.
"I had really, really high expectations," Elgort said about the project. "I was like, 'This guy has made incredible movies. This guy is going to be the most famous director I've ever worked with.' And he was. I could trust him because I knew he had made amazing movies."
Based on Chad Kultgen's book of the same name, "Men, Women & Children" is about how people living in 2014 interact within a world overrun by social media and a constant reliance on technology. Reitman and his production staff created an entire Internet for the actors to use on set. Facebook, text messaging and Tumblr play major roles in the film's narrative.
"I think there isn't a more current story than this right now," Elgort said. "That was so great, script-wise. This was so truthful and so real. Movies aren't being told this way yet."
Elgort plays Tim Mooney in the film, a high school football player who quits the team after his mother and father split up. To deal with the disintegration of his family -- and his mother's sudden move across the country -- Tim dives headlong into two key relationships: One with a fellow student named Brandy (Dever), and the other with a massively multiplayer online role-playing game, or MMORPG, not unlike World of Warcraft.
"I got addicted to World of Warcraft for a couple of months leading up to the movie, just to feel what that's like," Elgort said. "It really does suck you in and it makes you feel terrible after you've played the whole day and haven't done anything in real life. It felt heavy. You feel like there is something weighing you down. I guess that's what having an addiction is like. When you're not playing, you feel like you want to be. But you know it's a waste of time. It's tough."
Elgort, who was familiar with the game and has many friends who play, said he knew any aggressive immersion in World of Warcraft was a terrible idea on face value. But there was part of him that was almost happy as well: "I had an excuse to get addicted to one of the most addicting video games in the world. That's sick."
Fortunately for the star, he was able to stop playing when production on "Men, Women & Children" began. Some of his other friends, however, weren't able to draw a line.
"I had a friend who had a job and lost it because he played too much," Elgort said. "He worked for Yahoo! and he lost his job because he stopped showing up to work."
Fam selfie #menwomenandchildren who's seeing it in NYC tonight!!?
Those kind of real-world consequences make up a large part of "Men, Women & Children"; it's a movie less about the dangers of the Internet and more about what happens to people when cyberspace, in all its forms, takes priority over flesh-and-blood reality.
"It doesn't really control my life, but [social networking] definitely part of it. I think it's part of everyone's life now. Whether or not you're a 'celebrity,'" Elgort said when asked about his social media presence. "Everyone uses technology now. Everyone is on social media. Everyone has an Instagram account. Everyone is posting some pictures. [...] In some ways, social media is a great thing; it's a great way for keeping in touch. There's a reason why it's so big. We can't forget about the good parts of it, but it has become an addiction for a lot of people."
Elgort said he avoids being too reliant on Twitter and Instagram by turning off his push notifications, and while he primarily uses those accounts for business, there's still some room for personal fulfillment.
"I have a personal Facebook where I have 60 friends now," he said. "I try to keep that real."
BEFORE YOU GO
PHOTO GALLERY
Ansel Elgort