Making art doesn't necessarily sound like a stress reliever. Finding inspiration, keeping concentration, finding your artistic voice -- these things demand extreme attention, time and effort. Yet there is something about expressing your creative side that can help put your mind at ease.
Most forms of art making involve both logic and creativity -- for example, coloring inside the lines and mixing and matching colors to your preference. The combination of vision and precise motor skills also leads to an all-encompassing experience that captivates the brain, pushing other stressors out of the picture, at least temporarily. "The idea that creative expression can make a powerful contribution to the healing process has been embraced in many different cultures," Heather L. Stuckey and Jeremy Nobel wrote in the American Journal of Public Health. Caregivers involved with creative arts intervention methods at cancer treatment centers in particular "reported significantly reduced stress, decreased anxiety, and increased positive emotions after taking part in the intervention."
Since we know life, in all its forms, gets wildly stressful, we've compiled a handy list of art techniques designed to help you self-soothe. Not so coincidentally, you may have dabbled in these unorthodox artistic techniques before -- perhaps in elementary school. Yes, the following forms of arts and craft are often deemed "childhood art techniques" but, as Pablo Picasso once said: "Every child is an artist. The problem is how to remain an artist once we grow up."
Behold, 12 artistic techniques guaranteed to help you relax... and harken back to the good ole days of stress-free creation.
1. Coloring Books If you're feeling overwhelmed with stress and anxiety, you may want to put down the laptop in favor of some Crayola crayons. Turning those monochromatic shapes into impromptu color fields isn't just a nostalgic good time, it also is proven to reduce stress.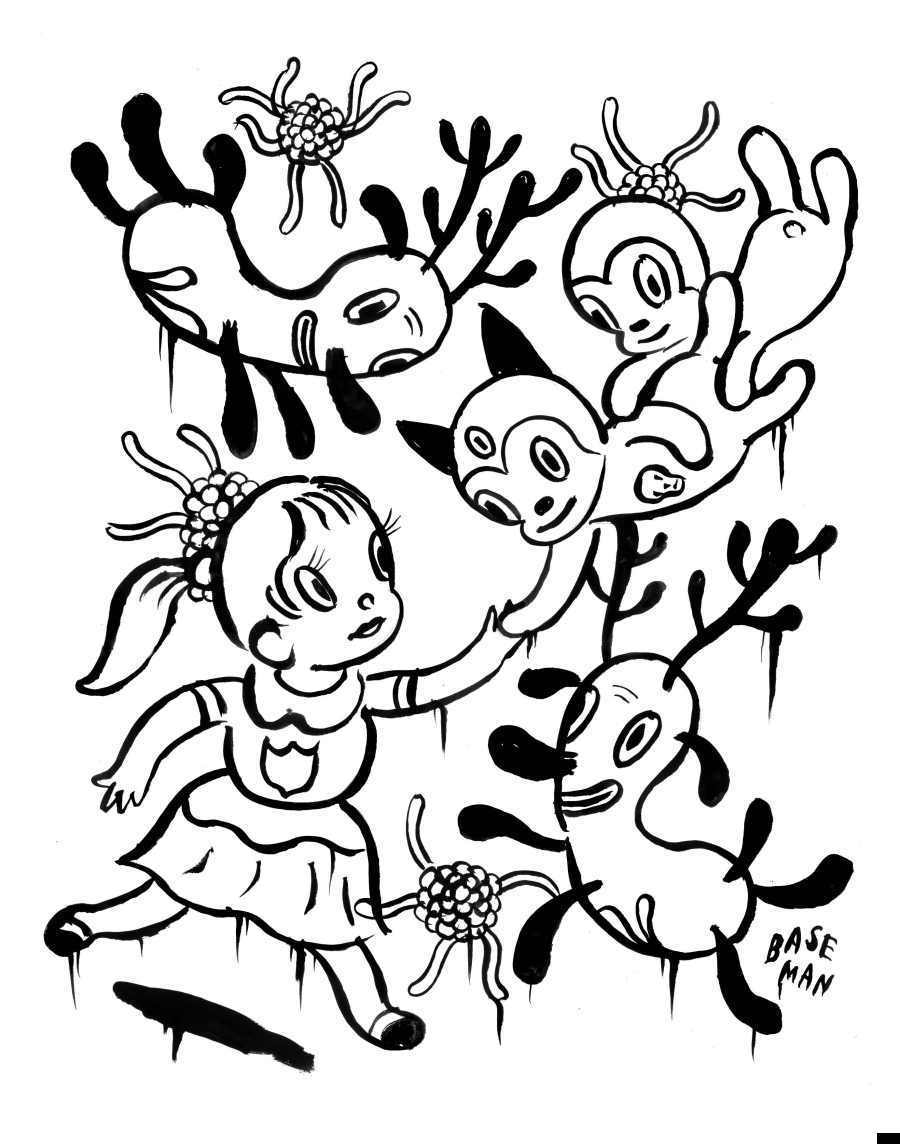 Dance of the Disciples, Gary Baseman, © Gary Baseman, 2012 (From Outside the Lines)
"The action involves both logic, by which we color forms, and creativity, when mixing and matching colors," psychologist Gloria Martínez Ayala told The Huffington Post. "This incorporates the areas of the cerebral cortex involved in vision and fine motor skills [coordination necessary to make small, precise movements]. The relaxation that it provides lowers the activity of the amygdala, a basic part of our brain involved in controlling emotion that is affected by stress."
2. Finger Painting If you're not averse to getting your hands a little dirty, finger painting is a wonderful way to express your creativity without getting bogged down with supplies and technique.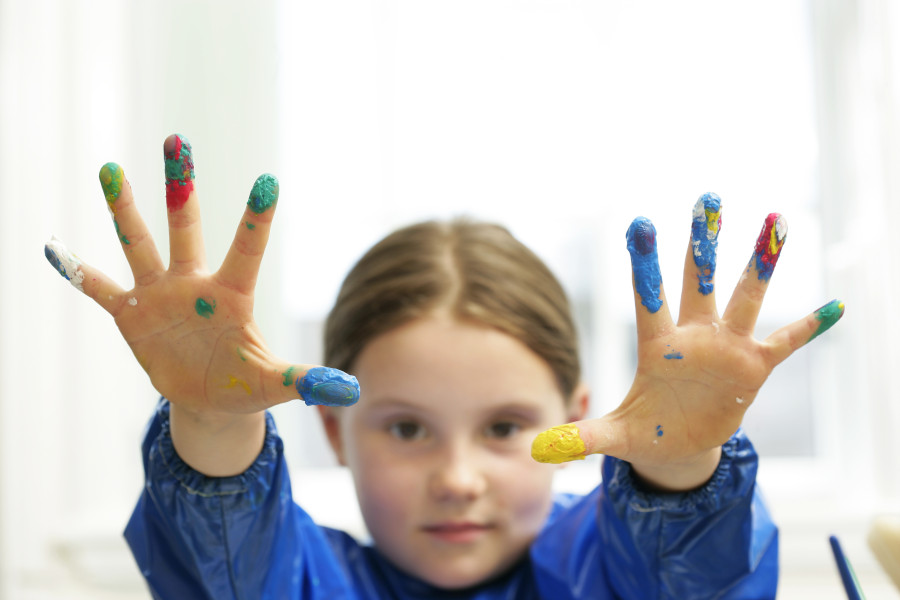 You'll be in good company; modern British painter David Hockney recently explored the art of finger painting -- on an iPad, but still -- for his massive retrospective. "These gestures are as old as humans are," said Long Island University Art Historian Maureen Nappi. "Go back to cave paintings, they're using finger movements to articulate creative expressions."
3. Origami Whether you excelled at the art of paper folding or never quite moved past fortune teller level, it may be time to have another go at the traditional Japanese art form.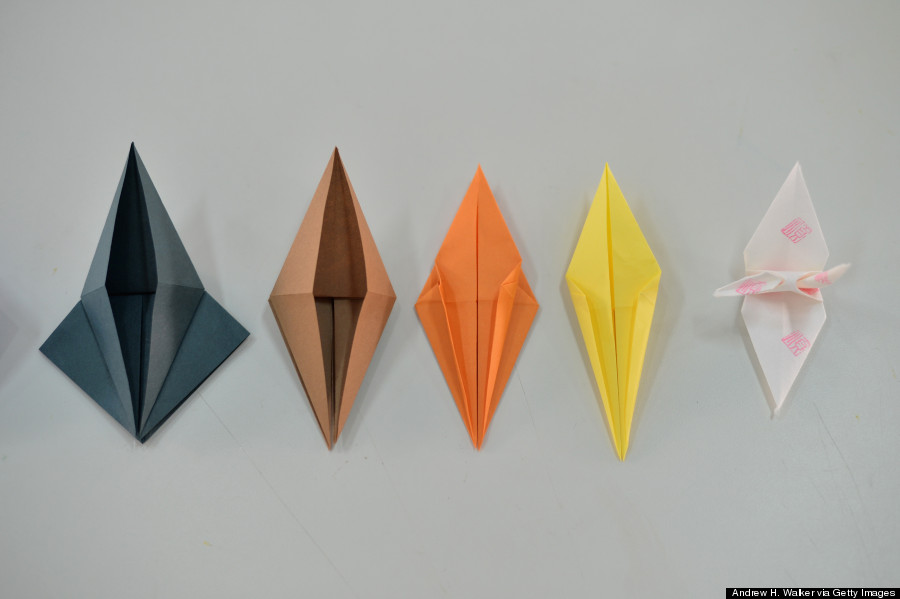 Like coloring, origami engages the left and right sides of the brain at once, allowing you to concentrate on the creative task at hand and let your lurking worries fade away. "Origami is an example of 'schematic learning through repeatable actions,'" Taro's Origami Studio in Brooklyn proclaims. "For many, it engenders a patience that leads to pride in one's work, the ability to focus energy, and increased self-esteem."
4. Chalk Drawing Remember turning your school's asphalt or neighbor's sidewalk into a spontaneous canvas? Channel the beloved after-school art form to spend some time being creative in the sunshine.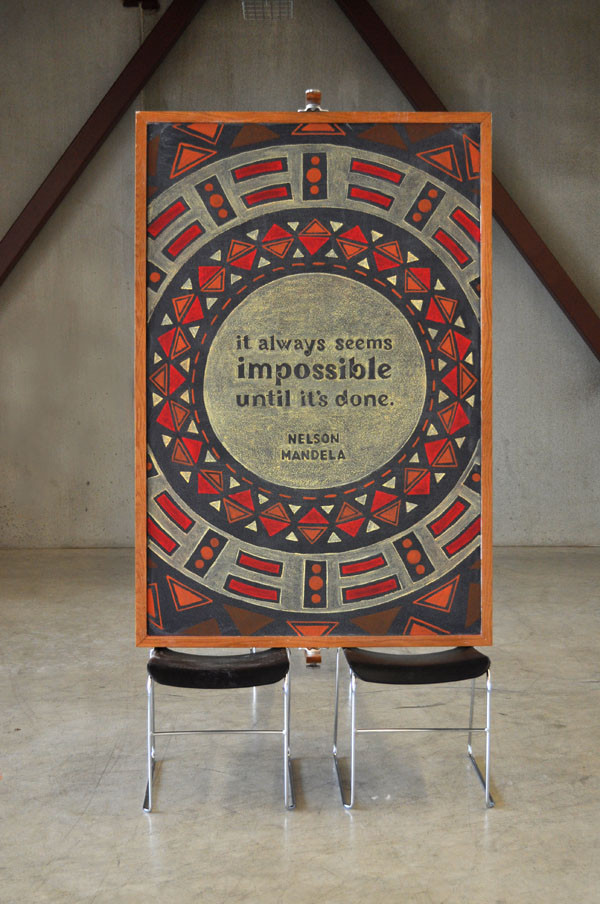 (via Dangerdust)
To warm up, play a colorful game of tic-tac-toe or write an inspirational message to uplift strangers who pass by. Who knows, one day you could create a guerrilla masterpiece on the level of Dangerdust, an anonymous group of students who work primarily on chalkboards.
5. Popsicle Stick Houses Ah, the art form that simultaneously allowed the artist to eat an ungodly amount of frozen desserts. Revive this form of amateur architecture when you feel like unwinding while enjoying a snack. It's also a gateway craft to the wild world of algorithm art, as practiced by identical twins Ryan and Trevor Oakes.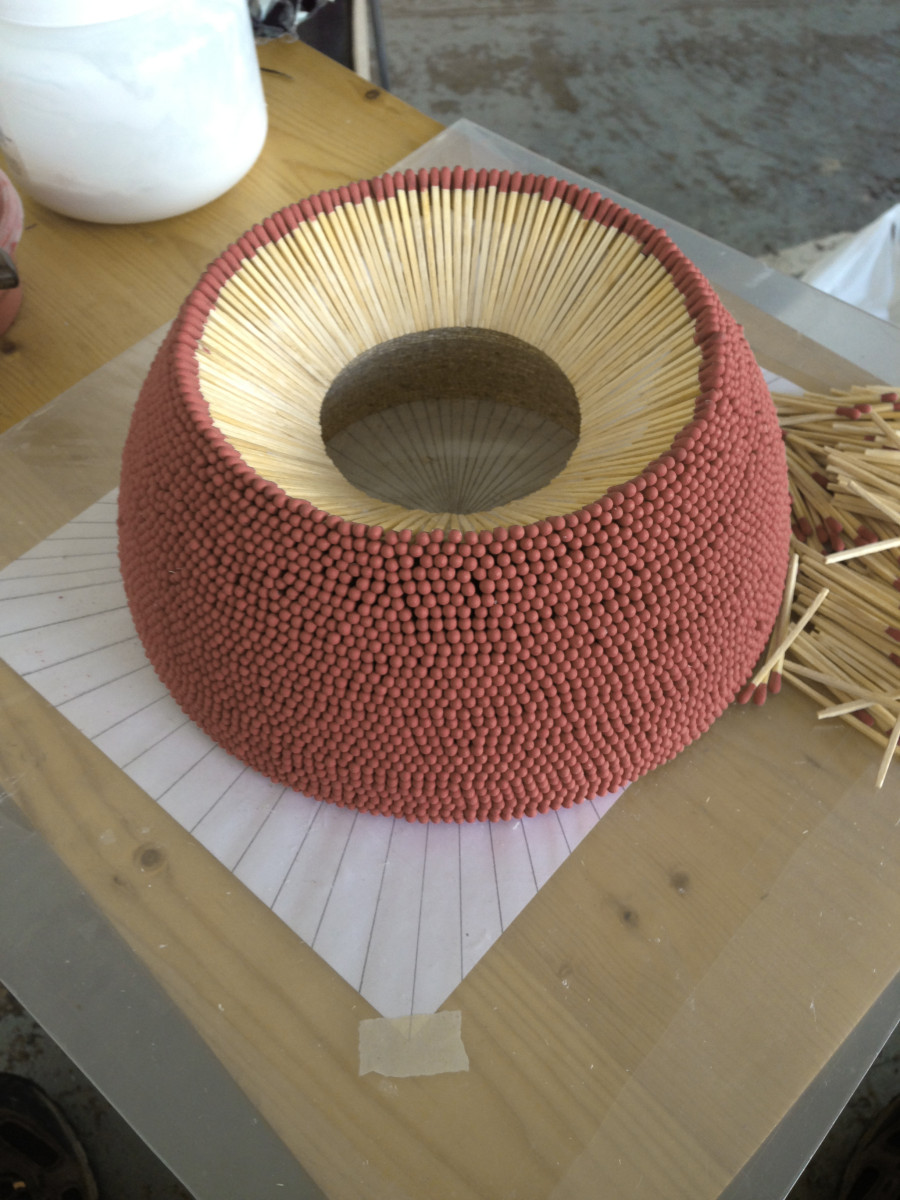 "A lot of the art that we make is generated from devising a simple procedural recipe that is executed thousands of times in repetition," the twins explained in an interview. "Mathematically speaking, it's called an algorithm. When you make muffins you're also following an algorithm." You could one day move onto Oakes-style match sculptures, or just stick with the popsicle sticks.
6. Fimo Clay Remember the colorful brand of clay that you kneaded in your hands before rolling out like the most beautiful sushi hand roll and chopping them into delightful slices of art?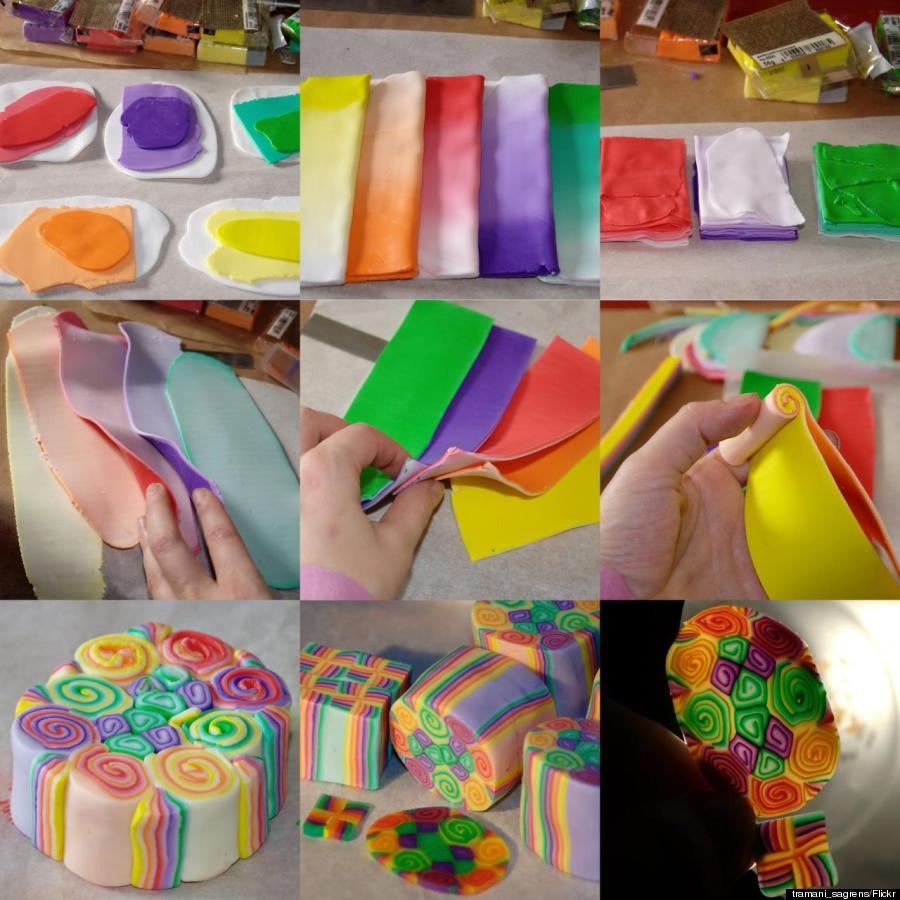 If you've never had the pleasure of working with Fimo Clay before, we highly recommend it. Few things are as naturally soothing as rolling a small hunk of clay in your fingertips as it gradually softens and bends. Plus you can get some beautiful beads out of it. "Working with the clay becomes a whole body experience and encourages both large and fine motor development," the Chicago Children's Museum points out. "There is also evidence showing the therapeutic effects of working with clay. Like many other art forms, clay provides a means for children to express their thoughts and feelings in an appropriate way." Sounds like somethings adults could use too.
7. Sand Bottles If you're a child of the '90s you may recall the art form that consisted of sprinkling multicolored sand grains into glass bottles, yielding hypnotic patterns in the brightest of colors.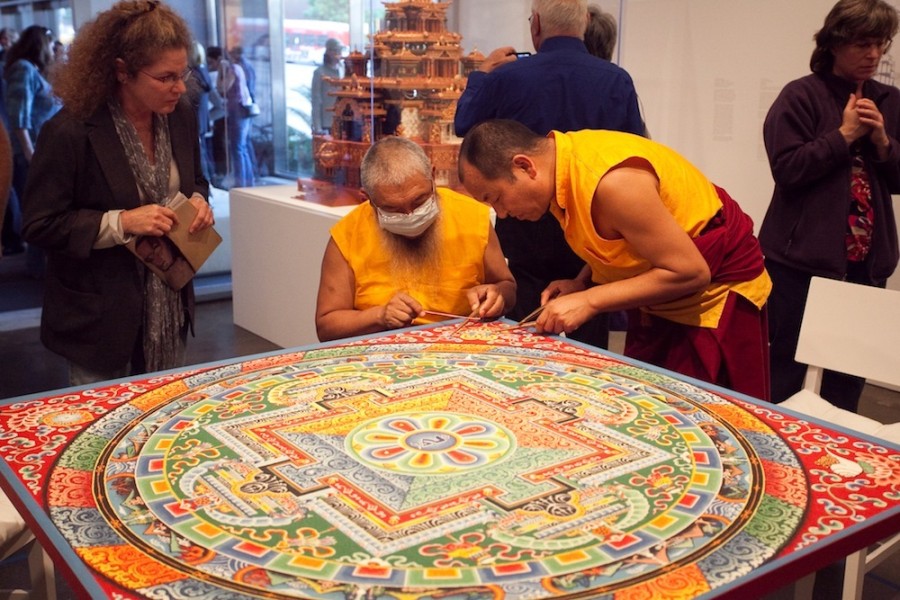 The tradition of sand art originates from the sacred tradition of Tibetan sand painting, in which monks apply millions of grains of colored sand into intricate patterns, yielding an ephemeral artwork designed to ignite boundless compassion for all living things in the viewer. Although traditionally sand art is washed away into the ocean after it is completed, you can keep the bottle.
8. Construction Paper Cut-Outs If you're not in the mood to mess around with pens or pencils, and you're yearning for something a bit more dangerous, we humbly suggest paper cut-outs.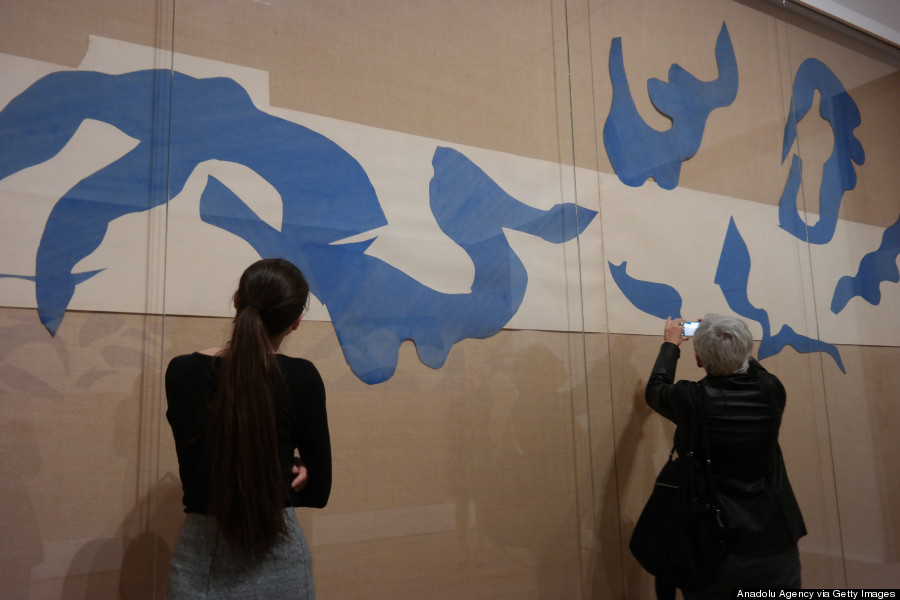 The method, a favorite of Henri Matisse later in life, allows you to, in the artist's words "[cut] directly into color" and "[draw] with scissors." It's pretty much impossible to mess up, letting your mind relax as colors and shapes merge in pleasing and unexpected combinations. Note: Use childproof scissors for the full nostalgic effect.
9. Mobiles The first piece of artwork you ever owned was, very likely, a mobile.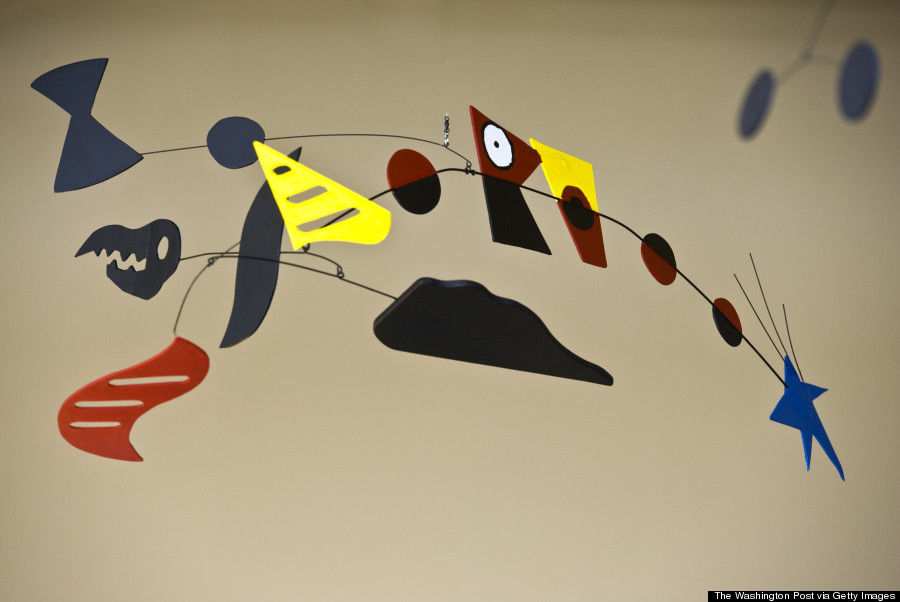 The kinetic sculptures, which float in mid-air thanks to their balanced geometry, can incorporate materials ranging from but not included to yarn, string, twigs, wheels, pom-poms, construction paper. Like their cousin the dreamcatcher, mobiles are often kept close to your place of slumber, their calming movement meant to help you drift off into a state of relaxation.
10. Paper Chain Sometimes the most calming activities are also the most mindless.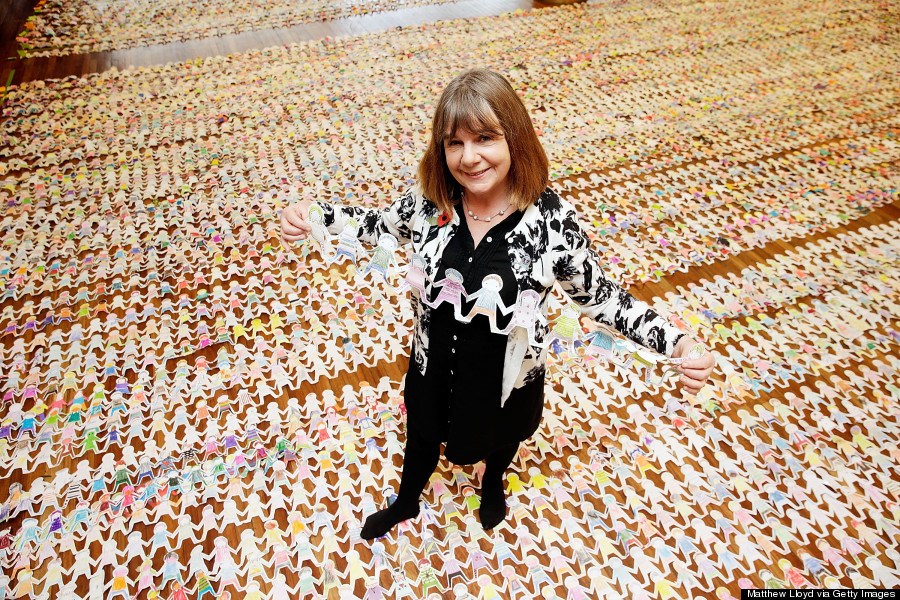 This time tested technique of cutting and pasting paper into a colorful chain that could, potentially, go on forever is as rhythmically soothing as it is visually fancy. Think all the tranquility of knitting without the risk of messing up. While you're at it, you can attempt to break 2013's record for longest chain of paper dolls, pictured above. You can even turn the act into an exercise in self-reflection.
11. Puppet Show Never forget the many hours you probably spent boring your family members while dancing around with an anthropomorphized sock.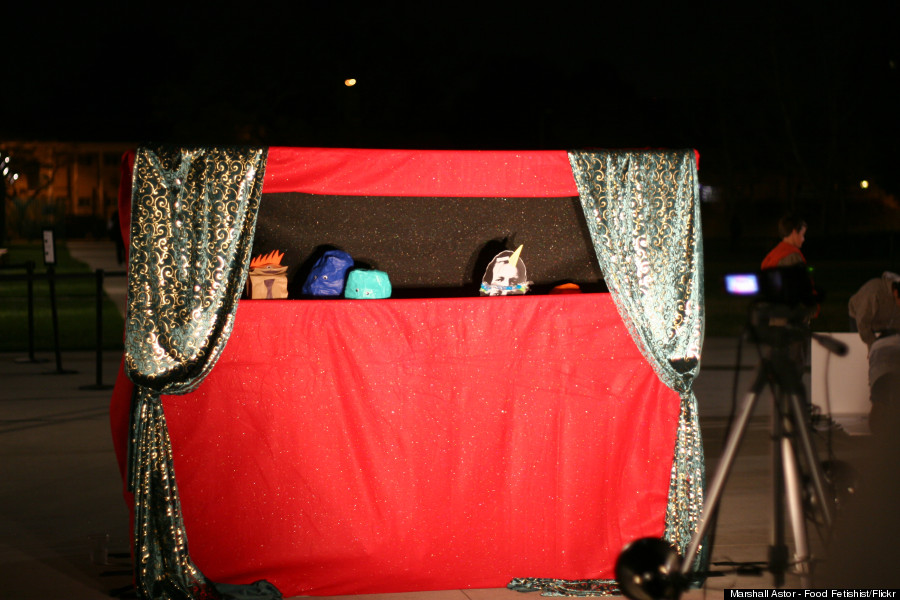 Creating puppet shows combines visual and performance art in the least stressful of ways -- you're literally crouching behind the DIY theater. Follow in the footsteps of contemporary art's finest artistspuppeteers including Mike Kelley, Louise Bourgeois, Laurie Simmons, Kiki Smith and Kara Walker. It's a good group.
12. Voodoo Dolls If you were anything like us as a child, you may or may not have secretly crafted a voodoo doll to mess with your arch nemesis/chief competition in Junior Varsity basketball.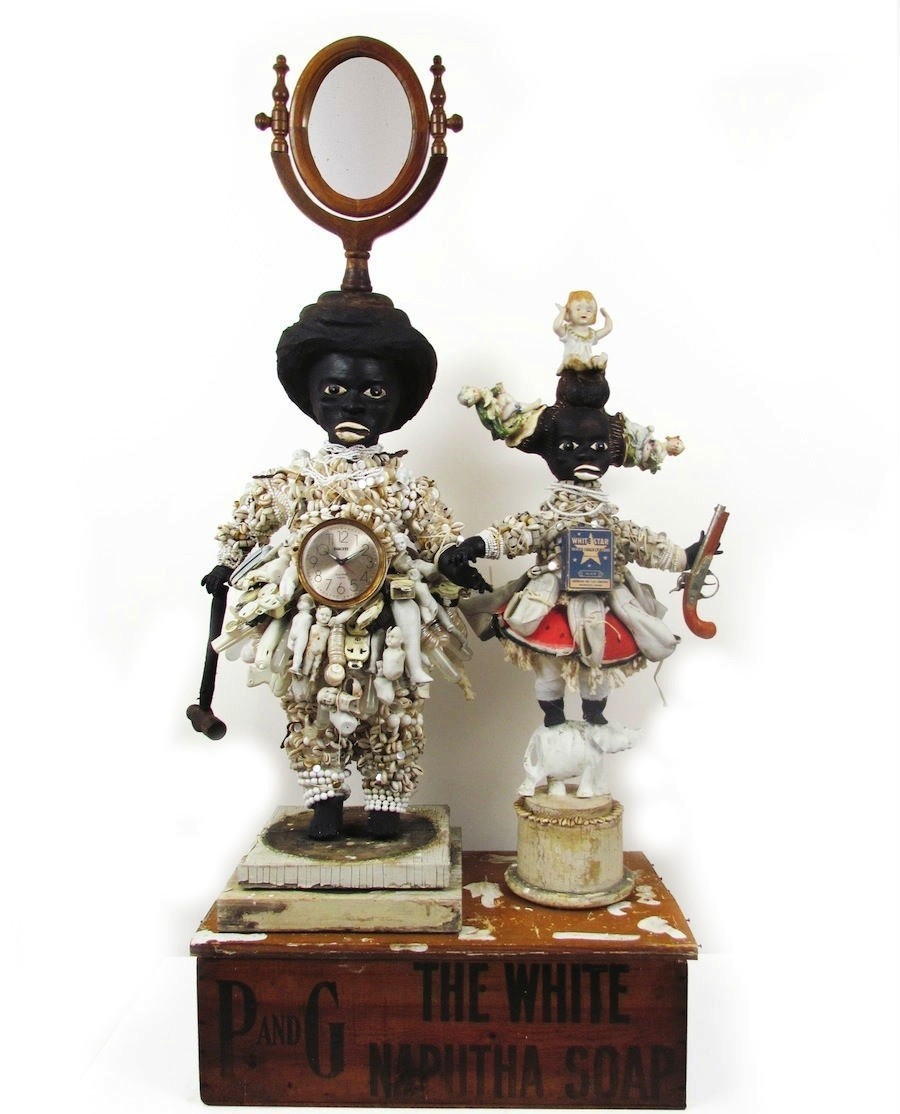 But voodoo dolls can also be used to harness positive vibes; artist Vanessa German calls them power figures. "The figures [I make] are not all just [for] children," she said in an interview with The Huffington Post. "Some of them are about protecting the spirit of imagination. I just have a sense of magic, and I always have." German uses found and discarded materials to create her enchanting totems, inviting kids from the neighborhood to join in on the sculpture making experience.
BEFORE YOU GO
PHOTO GALLERY
Outside The Lines, A Coloring Book