Markets just had an unusually scary day in a famously scary month.
The Dow Jones Industrial Average fell as much as 460 points, or nearly 3 percent, in early afternoon trading on Wednesday, its worst such swoon since September 2011. That was just part of a broad global piñata-whacking that hit everything from crude oil to Greek bank stocks. Investors have been getting themselves worked up about the sorry state of the global economy, and a spate of bad U.S. economic news just before the opening bell on Wednesday didn't help.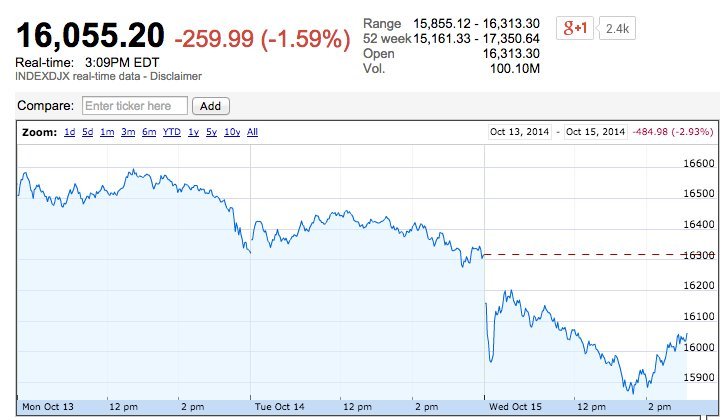 The Dow had its worst day in years.
October is a month known for market panics, including the crashes of 1929 and 1987. Wednesday's action was nowhere near as bad as that. In fact, stocks staged a dramatic rally at the end of the day, leaving the Dow down just 173 points, though all of this year's gains have been erased. The broad Russell 2000-stock index actually ended the day higher, a sign that the selling was limited mainly to big, high-flying stocks.
A mild market freakout could even be good news to anybody worried about a market bubble after a five-year-long rally. The Dow is still up 147 percent since March 2009. Your 401(k) is safe.
But the wild swings we've seen lately are not a great sign for the health of the market or the broader economy. The Dow opened Wednesday by immediately falling 350 points, then recovered 250 points, then lost another 360 points and then bounced back 290 points. So much for efficient markets!
And this was the latest in a string of triple-digit moves in the Dow in recent weeks, both up and down. That's not great for the blood pressure, and it was the kind of action we got in the wild days of late 2011, when the U.S. got its credit rating downgraded and everybody was worried about a possible breakup of the euro zone.
The Dow and the S&P 500 indexes have tumbled nearly 7 percent from record highs they set less than a month ago, and the tech-heavy Nasdaq stock index is down 8 percent after hitting a 14-year high at about the same time.
Investors have rushed for safe havens, including U.S. Treasury debt. The interest rate, or yield, on the 10-year Treasury note tumbled as low as 1.87 percent on Wednesday, its lowest since May 2013. Low interest rates are great news for people who want to borrow money or refinance their mortgage. But they typically show up when the economy is in the dumps and there's not a lot of demand for loans.
Same deal with oil prices: They are collapsing, with New York-traded crude oil falling to nearly $80 a barrel at one point on Wednesday. That is great news for people who drive cars, but prices are falling because demand for oil is falling because economic activity is slowing down around the world.
For the most part, economic worries are still focused overseas, particularly Europe. Germany, the continent's engine, is finally succumbing to its own austerity fetish and slipping into a recession. But Wednesday morning brought worse-than-expected reports on U.S. retail sales and producer prices and New York-area manufacturing. That raised questions about the strength of the U.S. economy, which has been relatively strong.
Throw in a sudden market freakout in Greece driven by political turmoil, along with a dash of ebola panic, and you've got the recipe for a scary witch's brew for markets.