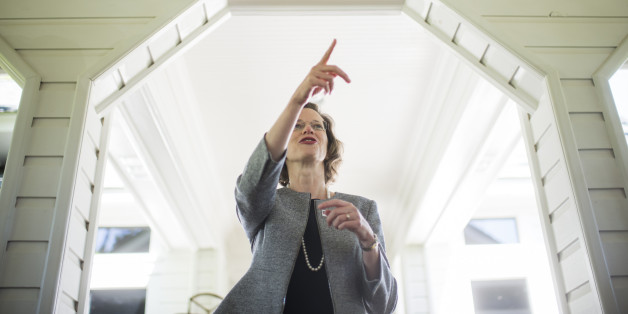 Democrats get some good news from two new polls from Georgia, but surveys elsewhere continue to show a GOP advantage in the battle for the Senate. Two national polls show likely voters tipping to Republicans in U.S. House races. And Stephen Colbert finds a reason to love HuffPollster's charts. This is HuffPollster for Wednesday, October 15, 2014.
ENCOURAGING NEWS FOR NUNN IN GEORGIA - Two new polls in Georgia show Democrat Michelle Nunn running even or slightly ahead of Republican David Perdue. A new automated telephone poll sponsored by Atlanta's WXIA and conducted by SurveyUSA gives Nunn a 3-point advantage (48 to 45 percent). Another automated poll released on Tuesday by Atlanta's Channel 2 Action News, and conducted by Republican political consulting firm Landmark Communications, found a 46 to 46 percent tie. With the exception of previous Landmark surveys, which have consistently favored Nunn, other Georgia polls conducted since August have given Perdue nominal leads, usually in the low single digits. The new polls narrow Perdue's advantage as measured by Pollster's poll tracking model to just under 4 percentage points (46.9 to 43.2 as of this writing). The model rates Perdue's probability of winning at just 62 percent.
[11Alive, Landmark, Pollster Georgia chart]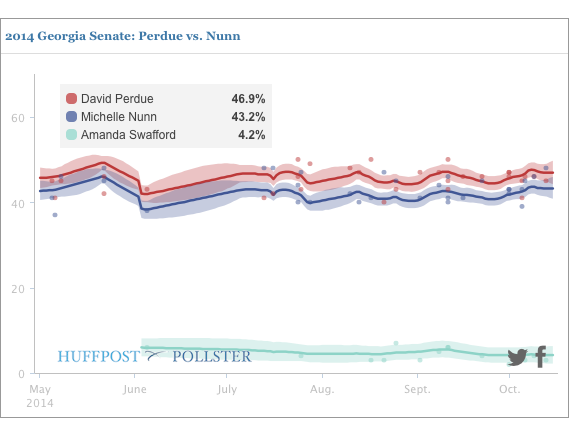 Have GA polls been understating Nunn's support? - The New York Times' Nate Cohn recently argued that previous Georgia polls may be understating the size of Georgia's African American electorate. Georgia publishes statistics on the racial composition of registered voters and past electorates. Cohn estimates, based on past turnout and recent registration reports, that the 2014 electorate should be nearly 29 percent black, but says that many recent polls have estimated a smaller black electorate, ranging between 24 and 28 percent. The latest Landmark poll was 29 percent African American. [NYT]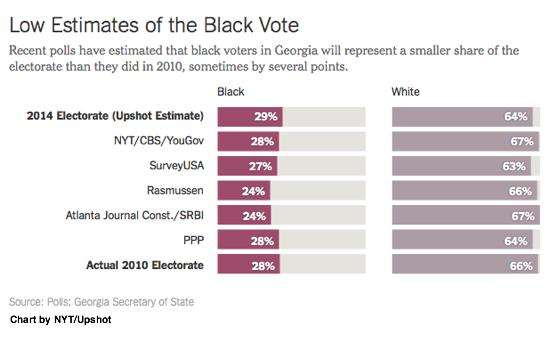 DSCC invests in Georgia - The Democratic Senatorial Campaign Committee may have reached a similar conclusion. Politico reported on Tuesday that the DSCC is purchasing a million dollars in airtime in the state. [Politico]
New Hampshire Senate - A new automated New England College poll is the first since mid-September to find Scott Brown (R) ahead, with a 1-point edge over incumbent Sen. Jeanne Shaheen (D). NEC's past two polls, released late last month, had Shaheen leading by 1 and 7 points. Other recent polling mostly gives her a single-digit margin over Brown. HuffPost Pollster's model has her ahead by just under 3 points, with a 60 percent chance of winning. [New Hampshire chart]
Kansas Senate - The latest round of polling agrees on a close race between Sen. Pat Roberts (R) and Greg Orman (i) but differs on who's ahead -- a new Remington (R) poll joins Fox and CNN in giving Roberts the edge, while PPP's (D) latest survey still gave Orman a 3-point advantage. The Pollster model finds Roberts up by about a point, with the race continuing to look like a tossup. [Kansas chart
Overall Senate Outlook - Polls released in other states on Tuesday generally reaffirmed the current polling snapshot. The HuffPost Pollster poll tracking model continues to show Republicans with leads of 3 percent or better in enough states that would add up to 50 Senate seats, and narrower edges in Iowa, Colorado and Kansas, which would bring their seat count to 53 (although Kansas independent Greg Orman has pledged to caucus with Republicans should they win a majority. The model puts the probability of a Republican majority at 62 percent, as of this writing. [HuffPost Forecast]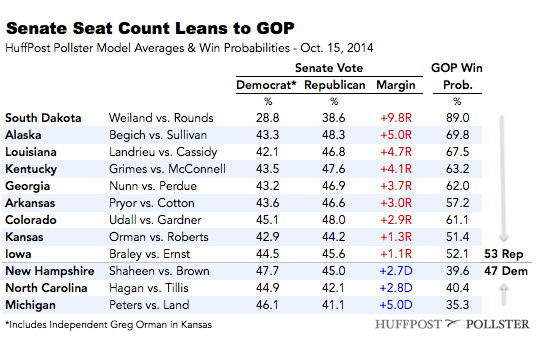 NBC/WSJ AND ABC/WASHPOST SHOW NATIONAL GOP ADVANTAGE Mark Murray: "Republicans hold a slight advantage over Democrats in the midterm elections that take place less than three weeks from now, according to a new national NBC News/Wall Street Journal poll. But their edge over Democrats (two points among likely voters) is narrower than it was at this same point in 2010 (seven points), suggesting the GOP won't see the wave-like gains it made in the last midterm cycle....In the poll, 46 percent of likely voters prefer a Republican-controlled Congress, versus 44 percent who want Democrats in charge. That two-point GOP lead is greater for Republicans than it was at this same point during the 2012 presidential election (when it was even at 45 percent), but it's less than the seven-point advantage they enjoyed in 2010 (50 percent to 43 percent). But among a wider swath of all registered voters, Democrats have a four-point edge over Republicans, 46 percent to 42 percent, suggesting that a stronger turnout could benefit their candidates." [NBC News]
'Potential for unexpected results' Janet Hook: "Pollsters for both parties who conducted the [NBC/WSJ] survey predict Republican gains in the House and Senate...But they also said the unusually volatile environment, combined with the large number of close races for control of the Senate and governors' offices, raised the potential for unexpected results. 'Something weird will happen on election night,' predicted Bill McInturff, the Republican pollster who conducted the survey with Democrat Fred Yang. 'When you are sitting on top of an unstable, ticked-off electorate, there is a joker in the deck that ought to give us a little bit of caution.' The slight preference for a GOP Congress comes amid continued low job-approval ratings for President Barack Obama, including a record-low 31% approval for his handling of foreign policy among registered voters, with 61% disapproving." [WSJ]
Post/ABC finds enthusiasm higher for GOP - Dan Balz and Scott Clement: "Heading into the final weeks of the midterm campaign, the political landscape continues to tilt in favor of the Republican Party, with President Obama's overall approval rating at the lowest level of his presidency and GOP voters signaling greater likelihood than Democrats that they will cast ballots, according to a new Washington Post-ABC News poll...On the question of which House candidate, Republican or Democrat, people plan to vote for, Democrats hold a tenuous edge of 46 percent to 44 percent among registered voters. But among likely voters, Republicans hold a more sizable advantage, 50 percent to 43 percent....The question has been an imperfect indicator of election results, but generally Democrats need a bigger advantage to do well in elections." [WashPost]
ABOUT THOSE TWO COLORADO POLLS - Nate Cohn published an unusually candid interview with SurveyUSA's Jay Leve on Tuesday about differences in methodology and results from two recent polls his firm conducted in Colorado, one sponsored by the Denver Post and the other by North Carolina's High Point University. The two polls had similar readings of the overall standings, but very different results for racial composition and results by race. Republican challenger Cory Gardner led Sen. Mark Udall by 2 percentage points in the Denver Post survey and by 4 points in the High Point survey. However, the Denver Post poll had more than double the number of Hispanic respondents (16 percent vs 6 percent) and showed Gardner leading among that subgroup (45 to 43 percent) but running a point behind Udall among white voters (44 to 45 percent). The High Point survey, showed Udall running stronger among Hispanics (52 to 31 percent) but behind among white voters (42 to 48 percent). [NYTimes, SUSA-Denver Post, High Point]
Not surprisingly, the polls also used different sampling methods. Both interviewed voters with landline phones using an automated, recorded voice. The Post survey, like most of SurveyUSA's polls, sampled randomly generated landline phone numbers (a technique pollsters refer to as RDD, or random digit dialing) but interviewed cell-only voters via the Internet selected from a non-random "opt-in" panel of individuals who had previously volunteered to be interviewed online. The High Point survey sampled voters drawn from official voter lists (which pollsters refer to as RBS, or registration based sampling). Those with mobile phones were interviewed by live interviewers.
Why was the Hispanic share of the electorate greater in the High Point RBS survey? Leve: "We need to weight our respondents 'back' to something. In R.B.S., we're weighting it back to the voter file. The problem is that in Colorado, like many states, the voter's race does not appear on the voter list file, so as a result, the R.B.S. study was not weighted to race at all — it was weighted to gender and age, but not race. And that explains why it is whiter. In R.D.D., we weight to census targets for gender, age, and race, and end up with larger pool of Hispanics, for better or for worse....We [also] didn't weight for party registration. The party affiliation figures are for self-identified party-ID, not party registration."
Why the differing results by race? Leve: "I don't know that I've ever seen a good sample of Hispanics. It's a real challenge. It's a tough population to poll....the Hispanic data that you're looking at in Colorado, that shows a Republican ahead among Hispanics, is also at odds with common sense. So I can't defend it except that we give people the opportunity to self-identify as Hispanic, and we record it...Are there people who specialize in Latino polling who conduct elaborate studies and then in turn prove, to their satisfaction and probably mine, that the Latino population is overwhelmingly Democratic? Yes. Is there something that we can do better? I'm sure that there is. At the moment, though, it is what it is. It's what the respondents tell us when we give them a chance to identify as Hispanic and we ask them for whom they'll vote." [NYTimes]
A REVIEW OF POLLS ON MONEY AND POLITICS - Paul Herrnson and Kathleen Weldon summarize historic polling data on Americans attitudes on money and politics from the polling archives of the Roper Center: "Not surprisingly, polls have always shown the public to be concerned about the influence of money on politics. From a 1973 Harris poll, in which nearly nine in 10 said that spending in political campaigns had become excessive, to a 2012 ABC News/Washington Post poll that found three-quarters concerned about the amount of money being spent on political campaign advertising by companies, unions and wealthy individuals, the public has remained firmly convinced that there's just too much money in politics." Herrnson and Weldon also review past polls on contribution and spending limits, public financing and better disclosure and skepticism about efforts to enforce laws. [HuffPost]
POLLSTER MAKES A COLBERT CAMEO - Stephen Colbert, at 4:30, on the state of the Colorado Senate race: "What is clear is that all of the charts in Colorado now look like a recently lit joint." [Comedy Central]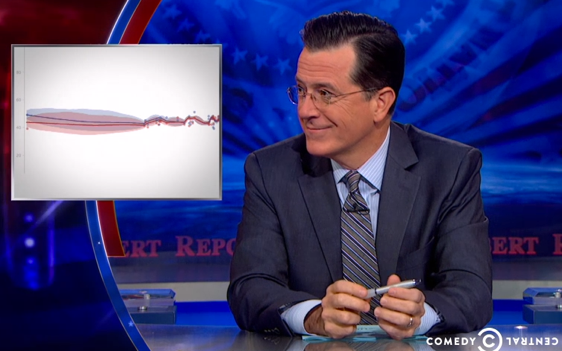 HUFFPOLLSTER VIA EMAIL! - You can receive this daily update every weekday morning via email! Just click here, enter your email address, and and click "sign up." That's all there is to it (and you can unsubscribe anytime).
WEDNESDAY'S 'OUTLIERS' - Links to the best of news at the intersection of polling, politics and political data:
-Nate Silver looks at what would happen if this years' polling is skewed. [538]
-Kyle Trygstad reviews three endgame scenarios for the Senate elections. [Roll Call]
-Chris Christie's NJ ratings are back in the red for the first time in over three years. [Rutgers Eagleton]
-Americans are more likely to say they'd prefer a male boss than that they'd prefer a female boss, although most don't care. [Gallup]
-Alex Lundry (R) reports on how much Republican attitudes have changed on same-sex marriage. [Daily Caller]
-AAPOR's New England Chapter hosts a discussion of polling and pollsters on Friday in Boston with panelists including pollsters Doug Schwartz of Quinnipiac University, Andy Smith of UNH and Brian Schaffner of U. Mass Amherst. [NEAAPOR]
-Michael Dimock is named as the new president of Pew Research. [Pew]
BEFORE YOU GO
PHOTO GALLERY
Candidates' Kids On The Campaign Trail