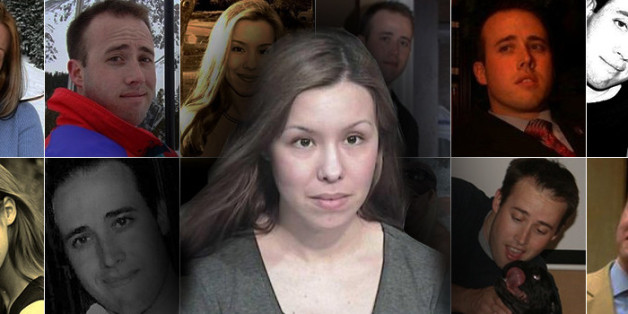 The story of Jodi Arias, the bespectacled murderess awaiting sentencing in the brutal slaying of her ex-boyfriend, has routinely captured headlines around the world.
For five months in 2013, the Arias jury -- and trial watchers from around the world -- were captivated and sickened by the brutality of Arias' crimes and the perverse sexcapades, the most lurid details of which came directly from the defendant's mouth during 18 days on the witness stand.
Arias sought to portray herself as a physically and emotionally battered woman, forced to succumb to her boyfriend Travis Alexander's perverted desires. The prosecution argued that she was an eager partner, who turned into an obsessive stalker once rejected.
Arias' over-the-top jealousy came to a boil on June 4, 2008. Alexander was found dead in his bathroom shower, with more than two dozen stab wounds over his naked body. His throat had been cut from ear to ear and he was shot once in the head.
At first, Arias told police she simply wasn't there. She even reached out to her ex-boyfriend's family to mourn with them. Then, when damning photographs tied her to the crime scene, she maintained that masked intruders stormed Alexander's home, and that she kept silent in fear of reprisals.
She would later tell jurors that she'd been so abused by Alexander, she couldn't recall specific details of the incident. An expert called to the witness stand by her lawyers attributed this to post traumatic stress disorder.
Arias' changing story no doubt played a part in the jury finding her guilty of first-degree murder. Her bizarre accounts of her personal life -- and her obsessive behavior -- only made it harder for the jury to sympathize with her.
"It is like a field of lies has sprouted around her as she sat on that witness stand ... every time she spat something out, another lie, another weed would grow," Maricopa County prosecutor Juan Martinez told jurors.
But when the trial reached the penalty phase, the same panel of jurors were deadlocked over whether to spare her life or give her the death penalty.
Next week, the penalty phase retrial is set to play out in a Phoenix courtroom as Martinez once again attempts to convince a new jury to send Arias to death row.
The retrial, which The Huffington Post will be live blogging, will take a new panel of jurors through the same salacious evidence. The defendant's guilt is no longer in question, but her sentence remains in limbo.
This timeline follows the case from the moment Arias and Alexander met, up to the latest developments.
Readers are warned that some images in the slideshow are graphic.
Like Us On Facebook |

Follow Us On Twitter |

Contact The Author
BEFORE YOU GO