The Kansas City Royals might need to install a "Moose Crossing" sign along the third-base line at Kauffman Stadium.
With superlative defense becoming the norm as the Royals embark on their thrilling run through the 2014 MLB postseason, third baseman Mike Moustakas got in on the act during the team's 2-1 win over the Baltimore Orioles in Game 3 of the American League Championship Series on Tuesday. His finest -- and riskiest -- moment came with the game tied, 1-1, in the sixth inning. Orioles outfielder Adam Jones popped up a pitch from Royals reliever Jason Frasor, sending the ball floating into foul territory. It was headed into the seats, and so was Moustakas. He leaned over the railing separating the fans from the field and made a remarkable catch as he fell into a seating area near the dugout.
"I was trying to find the fence, and I saw it was going to be a little out of my reach, so I crawled over and reached and caught it, and the people in dugout suite picked me up and kind of helped me," Moustakas said after the game, via The Associated Press.
"It was pretty cool. A lot of credit goes to those people over there for not letting me fall and hurt myself," he added.
The fans at Kauffman Stadium serenaded the 26-year-old who has spent his entire career in Kansas City with chants of "Mooooooose."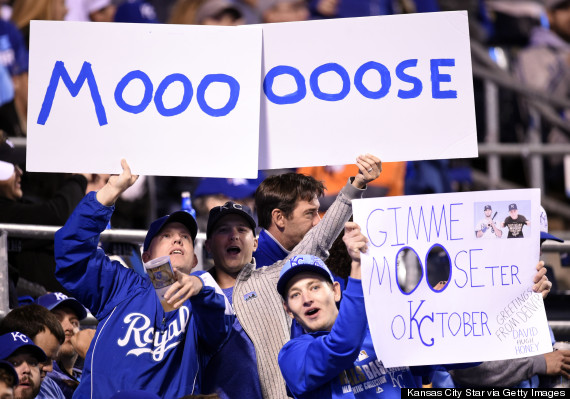 Moustakas gave them plenty to cheer about during the Royals seventh straight win to open the 2014 postseason.