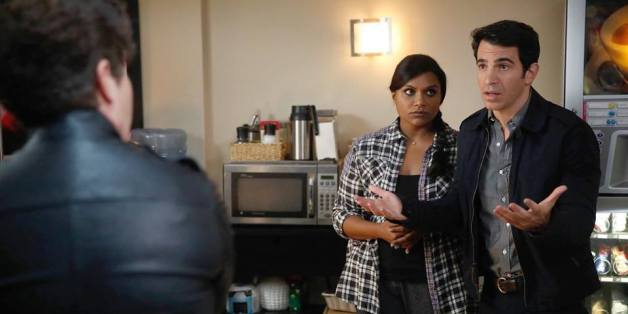 So it appears "The Mindy Project" has definitely hit a mid-season slump -- only five episodes into its 15-episode third season.
The latest episode of "Mindy," written by Jeremy Bronson, punches up the excitement with two high-profile cameos -- from Niecy Nash as Dr. Jean Fishman and Shonda Rhimes as Shonda Rhimes -- but falls short of the show's usual standard of dishing out lightning-quick one-liners, relying instead on a number of tired sitcom cliches. The episode also falls victim to a number of strange leaps of logic that muddle its storyline. This is not the "Mindy" crew at their best.
"The Devil Wears Lands' End," a title that seems to have little to do with the episode's action, begins with Peter (Adam Pally) in need of a new partner for the Dartmouth beer pong tournament because his former partner, Pubes, has to go to his father's funeral. Meanwhile, the practice is ticked off at getting the graveyard shift on the OB on-call schedule from the hospital's new chief of obstetrics (played by Nash) and Kaling's character decides to woo her new colleague with a girls' night out on the town.
Of course, the plan backfires, but the ensuing michegoss never quite turns the dial up all the way to 10 and the episode ends up right where we started.
Saving graces:
Mindy and Morgan (Ike Barinholtz) apparently use the same ringtone ("I'm so fancy..")
Danny (Chris Messina) "checks out the competition" and pages through Richie's "meat mags."
Jeremy (Ed Weeks)'s look, American accent and everything as Dartmouth frat bro Barf is spot-on. He nailed this.
Mindy looted during Hurricane Sandy.
Danny being mistaken for a woman, thanks at least in part to his long eyelashes.
Danny throws his wine on Mindy. "I can't have a baby!"
The night's best lines:
Danny: "I still don't think we should have brought a gift to a second wedding. It's rewarding failure."
Mindy: "I told Jeremy that if he ever wants me to go anywhere, he has to trick me into believing Pharrell is doing a meet-and-greet."
Danny: "I can't do a c-section at 11 p.m. on a Sunday with a gut full of ma's lasagn.'"
Mindy: "I was named 'New York's 'It' Girl' by a magazine I made at the carnival."
Peter: "We did used to share a work toothbrush." Jeremy: "We did?" Beverley (Beth Grant):"We all did!"
Mindy: "She has a case of Mindy fever and we all know there is no cure for that!"
Peter: "Mindy, you're not gay. You asked me to help you mail yourself to Chris Hemsworth."
Mindy: "Danny, I hate facing consequences. That's why I haven't opened my mail in like two years."
Peter: "Who's the mayor of Shondaland now?!"
Shonda: "Writing's how I pay the bills, but my passion is bear pong."
Mindy: "I just threw a dirty dish out the window because i didn't want to deal with it"
Jean: "Nobody wants a biscuit!"
Questions and concerns:
Would Mindy really call a cactus a "stupid bitch"?
Jean says she spends all her nights since moving to New York at the Statute of Liberty, and yet she is married with a somewhat possessive wife and owns multiple dogs? Something doesn't add up.
Danny's reaction to finding out about Mindy's tryst with Jean feels completely out of character.
How does Jean know where to go when Mindy calls her before the last scene?
Why does it seem like Peter got most of the best lines, not to mention a better storyline, in this episode?
Can someone give Tamra (Xosha Roquemore) more to do in the next episode?
"The Mindy Project" airs on Tuesdays at 9:30 p.m. EDT on Fox.
BEFORE YOU GO
PHOTO GALLERY
We ♥ Mindy Kaling