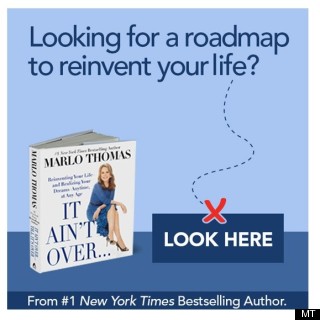 "One of the reasons I started my website is that I wanted a place for women to come together and dream. We women need to know that we don't have to hang on to an old dream that has stopped nurturing us—that there is always time to start a new dream. This week's story is about Sari Davidson – a working mom who couldn't find a product she needed to solve a problem, so she invented it herself. Now, it's helping moms everywhere!"—Marlo, MarloThomas.com
"Oh, dammit!"
Sari Davidson's one-year-old son, Jake, had just downloaded his sippy cup onto the kitchen floor. In recent weeks, Jake had elevated his cup-chucking to a minor art form:
He dropped it from his high chair.
He upended it into his car seat, where the slow dribble would soak his clothes.
He let it slip quietly over the side of his stroller, where its absence would go unnoticed until Sari was five blocks away.
When Sari reacted with exasperation, it just made Jake laugh. "Oh, you booginhead!" she'd say booginhead being the family term for someone who does something he or she shouldn't do, just to get a reaction out of mom.
But one day Sari reached her limit—she had to find a tether for that sippy cup. So she looked in stores. She looked in catalogs. She questioned her friends.
"Nope, never heard of such a thing, but let us know if you find something," they told her. Flying sippy cups were driving them crazy, too.
As it turned out, Sari never did find a sippy cup leash. But she did find her niche.
From the time she was little, Sari had wanted to be in business. In grade school, she'd sometimes join her father when he had to work on Saturdays, taking the train from their home in Smithtown, New York, to his office at Wells Fargo Bank in Manhattan.
"I'd pretend to carry a briefcase and sit at a desk and type," she recalls. "I always saw myself as a businesswoman."
At the University of Arizona, Sari studied business. "If they'd offered a program in entrepreneurship, I would have studied that," she says, "but they didn't. So I majored in human resources."
After college, she put that degree to good use, working in HR at, among others, New Line Cinema and Microsoft. But Sari felt something was missing—she still wanted to run her own show.
But it wasn't until that day in 2005, when Jake sent his sippy cup skittering across the kitchen floor once too often that Sari Davidson, inventor and entrepreneur, was born.
Using dog leashes and an $80 sewing machine that she had set up in the corner of her living room, Sari fashioned a number of straps that would attach to a cup to keep it from going airborne.
Article Continues Below Slideshow
PHOTO GALLERY
Sari Davidson
"It was like a crafts project," she says. "I would work something up, then take it down to the park to see what other parents thought. One of them suggested we use suction material to attach the strap to the bottle or cup. That's how I came up with the name SippiGrip."
In early 2007, finally happy with her invention, Sari formed BooginHead LLC and began the task of learning how to make and sell her invention.
Her break came when she demonstrated the SippiGrip at a children's products trade show in Las Vegas. Target took a look and was impressed enough to offer Sari a spot in its Parent-Invented Product Program.
"It was like getting an MBA," she says. The program taught Sari about finance, manufacturing, and marketing, prepping her for many of the challenges BooginHead would face before it could become a sustainable business.
But the actual manufacturing was difficult. Sari hoped to find a factory in the United States, but couldn't locate one that would make such small quantities, so she turned to China.
"Communicating with people who live far away and speak a different language created lots of unexpected issues," she recalls.
But when the first batch rolled off the assembly line, she says, "It was all worth it. To see a product that I had first stitched together in my living room being mass-produced—with packaging, a brand, and a logo—it was thrilling."
Now all she had to do was get her product into stores. "Working in the Target program I learned a lot about how stores think. From the beginning, my ultimate goal was to get the product into Babies R Us, and Target taught me to time my pitch to exactly when they were looking at new products. I was also able to show Babies R Us that I'd already learned the ropes of dealing with a large retailer."
Now the SippiGrip is available not only through Babies R Us but also at Walmart, Amazon, and boutiques from Los Angeles to New York.
In recent years, SippiGrip has been joined by BooginHead's PaciGrip (a pacifier attachment), PaciPouch (a small bag that can be attached to a stroller to hold pacifiers), SplatMat (easy-to-clean mats for under high chairs), and Squeez'Ems (reusable food pouches for puréed food)—all Sari's inventions.
"We're always trying to be innovative and give parents what they need," Sari says. "For example, after reading reviews online about the PaciGrip, I realized it needed to work with all types of pacifiers. So I changed the design— and it's now my bestselling product."
In 2010, BooginHead passed $1 million in sales, so Sari decided to quit her job and devote herself to BooginHead full-time. The company now has nine employees, and Sari's sales are up to $3 million.
The best part, though, is that Sari is now what she always wanted to be: an entrepreneur and her own boss.
"Taking a chance on BooginHead led me toward a more fulfilling life," she says, "the kind of life I want to show my children it's possible to lead. With some structure, a good support system, and the right entrepreneurial spirit, any dream is possible."
To find out more about Sari's journey -- and to read 59 other inspiring stories -- buy your copy of "It Ain't Over Till It's Over." Click here.

Add Marlo On Facebook:
Follow Marlo on Twitter:
Sign up to receive my email newsletter each week - It will keep you up-to-date on upcoming articles, Mondays with Marlo guests, videos, and more!