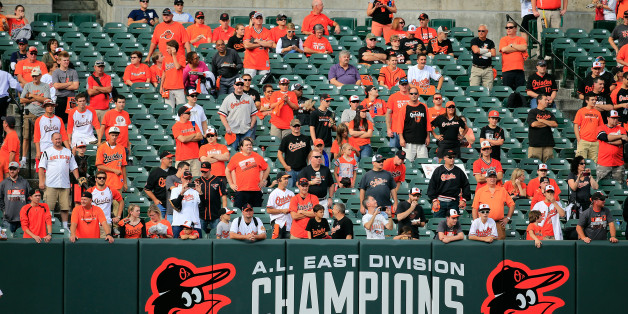 The deficit facing the Baltimore Orioles might seem insurmountable. Against these Kansas City Royals, it might prove to be insurmountable. But fans of the O's need to remember that the greatest comebacks can begin with a sprint of just 90 feet.
After losing the first three games of the best-of-seven 2014 American League Championship Series to the red-hot Royals, the Orioles will look to become just the second team in MLB postseason history to win a series after facing such a deficit. The first team pull off the feat was the 2004 Boston Red Sox, who lost the first three games of that year's ALCS to the New York Yankees. Down to their final three outs and trailing the Yankees 4-3 in Game 4 of the '04 ALCS, the Sox began their historic comeback when Kevin Millar drew a lead-off walk in the bottom of the ninth inning and pinch-runner Dave Roberts stole a base that won't ever be forgotten in Boston.
After swiping second off Yankees closer Mariano Rivera, Roberts came around to score a game-tying, series-altering run on a subsequent single by Bill Mueller. The Red Sox went on to win the game, 6-4, in the 12th inning, avoiding the series sweep. With new life, the Red Sox stunned the Yankees by winning the next three games to reach the World Series. The team would then reel off four straight wins over the St. Louis Cardinals to break the "Curse of the Bambino" and capture the franchise's first World Series title since 1918.
With the Red Sox feat already indelibly inked in baseball lore, the question facing the Orioles isn't "Can it be done?" but instead "Who is our Dave Roberts?" Of course, it would probably help to also find a David Ortiz.
#WeWontStop pic.twitter.com/M7iwnhKIlL

— Baltimore Orioles (@Orioles) October 15, 2014