New York City police released footage Wednesday showing two of four suspects accused of beating a transgender woman unconscious on the street.
The suspects followed the victim through the Bushwick neighborhood of Brooklyn at about 11:20 p.m. Sunday, shouting homophobic epithets before they attacked, according to the New York Daily News. The 28-year-old victim was in critical condition at the hospital on Monday.
Witnesses said they could hear the suspects yelling at the woman, who was trying to escape.
"What are you doing on this block?" one of the assailants shouted.
The victim and the four alleged attackers began arguing, as three of them kicked her to the ground. The fourth threw a Plexiglas board, striking the woman in the head and knocking her onto the sidewalk, DNAinfo reports.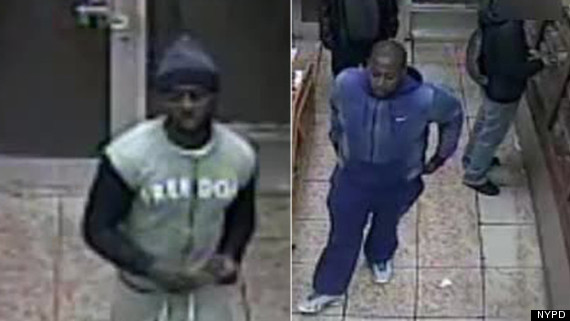 Two of the suspects were caught on a local store's surveillance camera.
One witness -- who was reportedly accompanying the victim to a friend's house -- flagged down an officer as the suspects fled.
"It's pretty disturbing in New York City, where you think of as such a safe place for LGBT folk, that things like this can still happen," the friend told DNAinfo. "I've lived in Brooklyn all my life; you want to think that you're safe."
The victim has been utilizing LGBT youth homeless services provided by New Alternatives for years. She reportedly moved to Brooklyn from Utah in the early 2000s to pursue her career in illustration.
Two of the suspects were caught on a store's surveillance camera. CBS New York reports:
One was described by police as a black man wearing a gray sleeveless sweatshirt with the word "freedom" on it along with a dark long sleeve shirt, gray sweatpants, white sneakers and ski cap.

The other, described by police as black man with close cut hair, was wearing a blue Nike hooded sweatshirt with blue sweatpants.
Anyone with information is asked to call Crime Stoppers at 1-800-577-8477 or visit nypdcrimestoppers.com.
Like Us On Facebook |

Follow Us On Twitter |

Contact The Author