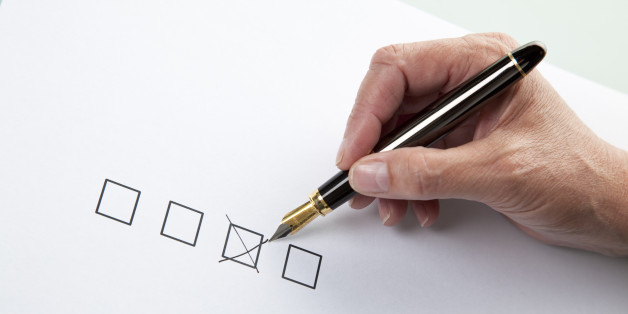 We take a closer look at the likelihood that this year's polling could be wrong. Prominent modelers offer advice on how to interpret their work. And most voters think things are 'going to hell in a handbasket.' This is HuffPollster for Thursday, October 16, 2014.
COULD THE SENATE POLLS BE WRONG? For the last four weeks, HuffPost's poll tracking model has given Republicans slightly better than a 50/50 probability of winning a majority in the Senate, largely on the basis of leads of 3 percent or less by Republican candidates in critical states like Iowa, Colorado and Arkansas. On Tuesday HuffPollster noted the real potential for late shifts or polling errors of the same magnitude, a possibility that explains why considerable uncertainty remains about our current forecast of a Republican takeover.
RealClearPolitics election analyst Sean Trende added more data on this issue Thursday morning, sharing an analysis showing that polling leads of 1 to 2 percentage points in the final three weeks of the election translate into victory just over 60 percent of the time. Even candidates with leads of 3 to 4 percentage points sometimes end up behind on Election Day.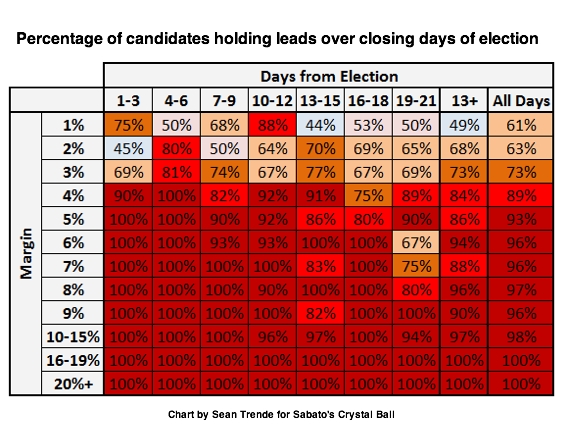 With just under three weeks remaining before Election Day, however, the late shifts and errors would need to be in the same direction across the Senate battlegrounds for Democrats to retain the 50 seats they need to hold a Senate majority (with Vice President Joe Biden casting the tie-breaking vote). Could that happen this year? The answer is...maybe.
"Be wary of Senate polls," Emory University political science professor Alan Abramowitz tweeted on Tuesday, adding that the RealClearPolitics Senate race polling averages in 2010 "underestimated D performance in all 7 tossup states." HuffPollster data scientist Natalie Jackson checked the backtesting conducted on our current model and the same result. Our final run of the model before the 2010 election would have underestimated the performance of Democratic candidates in all seven of the Senate races rated as late toss-ups, and would have miscalled winners in two states, Nevada and Colorado.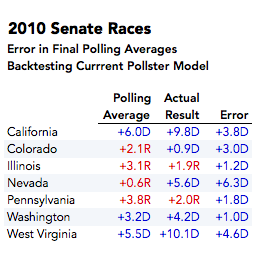 We also looked at the the prior midterm election in 2006, and found a similar pattern. The polling model understated the Democratic performance in five of seven races rated as late toss-ups (we used the Cook Political Report classifications for both years. Cook and RealClearPolitics rated the same seven states as toss-ups on 2010).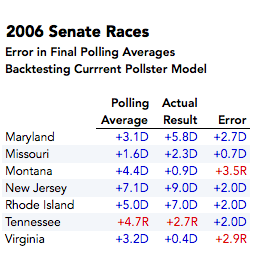 Finally, we recalled the way polls tended to understate Barack Obama's performance in most of the battleground states two years ago. The estimates generated by HuffPollster's poll tracking model understated Obama's 2012 peformance in 7 of 11 battleground states.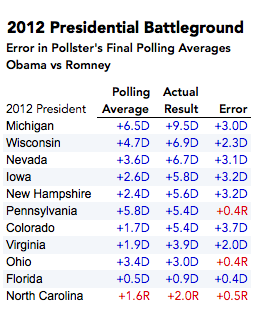 On the one hand, we see that the final poll averages understated the performance of Democratic candidates in 20 of 25 statewide contests in the last presidential election and the last two midterm elections, a pattern that is all but impossible by random chance alone. Note also the errors of roughly 3 percentage points on the margin in Iowa two years ago and Colorado in both 2010 and 2012. A repeat this year could make for an outcome that is much closer than the current polling averages make it appear, provided that the margins in the key Senate battlegrounds remain close. Again, that potential explains why HuffPollster's forecasting model still gives Democrats a 39 percent chance of keeping control of the Senate, as of this writing.
On the other hand, these findings come with a series of cautions. First, even with the overall pattern, the polling averages miscalled just 2 of 25 contests, and one of those was the most extreme outlier, the 6.3 percent polling error in Nevada in 2010.
Second, the pattern above involves the final poll averages, not the current estimates, and doesn't take into account the potential for late trends over the last three weeks. Since early September, HuffPollster's poll tracking models have shown slight movement in the Republican direction -- roughly a percentage point or two on the margin -- in handful of the most crucial battlegrounds, Alaska, Arkansas, Colorado, Louisiana and Iowa. Continuing GOP gains in those states would greatly lessen the potential for bias in the poll averages to result in missed calls favoring Democrats. In his latest analysis, Trende offers an explanation for those shifts and an argument for why they may continue.
Third, as FiveThirtyEight's Nate Silver reported on Wednesday,"the direction of the bias has been inconsistent," over the long run, "favoring Democrats in some years and Republicans in others if we look farther back in time." Errors in polling averages favored Republicans by large margins in 2002 and 1994. He also discounts the potential that the recent pattern of bias is meaningful, nothing that the pattern of bias has typically "ping-ponged between the parties" in a way that makes the pattern in past elections a poor predictor of the future.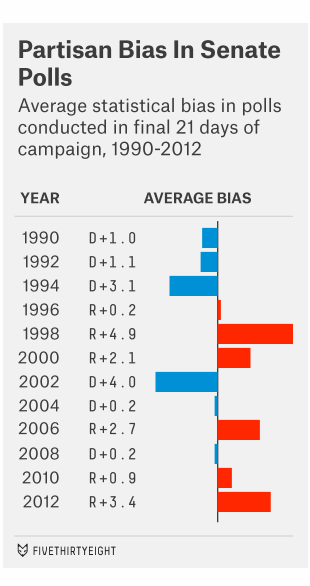 "One reason for the lack of a long-term bias," Silver argues, "is that pollsters are capable of making adjustments to their surveys." He ads that recent bias may have resulted from polls that failed to sample cell-phone only households, a flaw "that may be corrected now." That may prove to be true, though quite a bit has changed about polling over the last 10 or 15 years beyond the cell phone challenge. Response rates have also fallen fast, potentially increasing the degree to which non-response bias leads to an overrepresentation of the most likely voters in surveys.
Ultimately, however, it is all but impossible to predict whether the polls are currently overstating or understating either party in 2014. "Sometimes the polls are biased," as Silver puts it, "in the opposite direction of what you were hoping for."
A CLOSER LOOK AT RECENT POLLS
Colorado Senate - A Quinnipiac University poll released Thursday gives Republican Cory Gardner a 6-point lead over Sen. Mark Udall (D), 47 percent to 41 percent, down slightly from 8 points in September. The survey finds Udall increasing his lead among women, to 9 points from 3 last month, but continuing to trail by 19 points among men. Gardner has led in the last 5 surveys of the race, by margins of 2 to 6 points. The Pollster model gives Gardner about a 2-point edge, and just under a 60 percent chance of winning. [Colorado chart]
Iowa Senate - Quinnipiac also released a survey Wednesday in Iowa, showing Republican Joni Ernst's lead over Democrat Bruce Braley narrowing to 2 points, from 6 in a September poll. Polling for the Des Moines Register found similar movement in the race, with Ernst's lead in their polling dropping from 6 points to 1. Per Quinnipiac, the movement comes largely among independents, who moved toward Ernst, as well as among women, who solidified their support of Braley. HuffPollster's model gives Ernst a 1-point edge, and barely better than even chances of winning. [Iowa chart]
National outlook - The new polls in Colorado and Iowa leave the Pollster forecast in about the same place. The poll tracking model continues to give Republicans narrow advantages in those states and leads of larger margins elsewhere, and still points to a 53 seat GOP Senate majority. As of this writing, our model puts the overall probability of Republicans taking control of the Senate at 61 percent. [Pollster Forecast]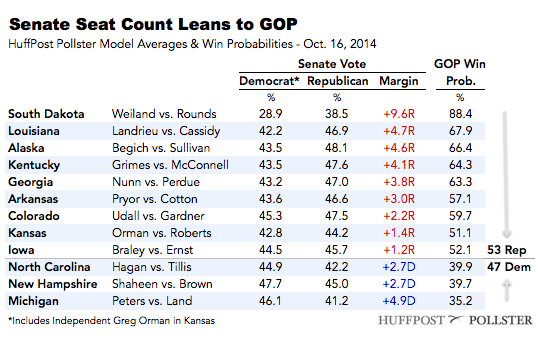 A NEW MEASURE FOR VOTER DISCONTENT - Dana Blanton: "The world's 'going to hell in a handbasket'" according to a majority of voters in the latest Fox News poll. And that's draining support for President Obama's policies. But will it help Republicans on Election Day? Unclear….Despite all that negative sentiment toward the administration, the poll shows Republicans have failed to make significant gains this election season -- mostly because voters think they stink too….Three weeks before Election Day, the spread on the generic House vote has narrowed despite enthusiasm remaining higher among the GOP. Economic issues dominated the 2012 presidential election. This year there's ISIS. Ebola. Ukraine. The number of voters prioritizing economic issues has dropped from 45 percent in 2012 to 32 percent now." [Fox]
MAKING SENSE OF MODELS - Mark Mellman (D): "The question models present is, 'Can we learn something about a reality too complex to apprehend by simplifying it and looking at a few factors?' And the occasional mistake doesn't obviate the fact that the models reveal some important things about the world of politics….In most races, candidates, their big moments, their gaffes, their strategists and their strategies, make precious little difference...When candidates and their teams make a difference, it's usually because they are running against the tide of history, not with it….The models teach us that historical tides count for a lot." [The Hill]
'How not to be fooled by odds' - David Leonhardt: "Now that The Upshot puts odds of a Republican takeover of the Senate at 74 percent, we realize that many people will assume we're predicting a Republican victory. We're not. There really is a difference between saying something will almost certainly happen and saying that it is more likely to happen than not….Maybe more important than any explanation, we have also come up with a list of outcomes that happen about 26 percent of the time — the flip side of 74 percent — which gives a sense for how common 26 percent still is...The odds of rolling a 9, 10, 11 or 12 with two dice...The percentage of mothers with children under 18 who stay home with their children...The share of Americans who live in California, Texas or New York." [NYT]
Do models make you smarter? Drew Linzer: "Nice @DLeonhardt on interpreting election odds, but...[t]he uncertainty around election outcomes is almost all from lack of knowledge; it's not the same randomness as when flipping coins, eg...Elections (generally) don't come down to luck. The way to use win probabilities is as @DLeonhardt says: 'have they made you smarter?'" [@DrewLinzer here, here and here]
LITTLE PUBLIC SUPPORT FOR EARLY VOTING LIMITATIONS - HuffPollster: "Republican-controlled legislatures in several states have sought to restrict early voting this year, but new polling finds little public support for the controversial measures. A North Carolina law that shortened early voting by a week, among other restrictions, went into effect earlier this year following a lengthy court battle, as did an Ohio lawpushing back the start of early voting. Most Americans, though, say they'd largely prefer their states' programs to either stay the same or be expanded, according to a new HuffPost/YouGov poll. Sixty percent of Americans say it's a good thing for states to allow early voting, while just 14 percent say it's a bad thing. A 39 percent plurality say the current policy on early voting in their state is about right, while another 20 percent would like to see expanded access. Only 11 percent say access in their state should be reduced." [HuffPost]
HUFFPOLLSTER VIA EMAIL! - You can receive this daily update every weekday morning via email! Just click here, enter your email address, and and click "sign up." That's all there is to it (and you can unsubscribe anytime).
THURSDAY'S 'OUTLIERS' - Links to the best of news at the intersection of polling, politics and political data:
-Americans still tend to prefer their representative over Congress in general. [Gallup]
-72 percent of Americans favor a quarantine for people who have recently been to countries in western Africa with a major Ebola outbreak. [YouGov]
-Brendan Nyhan digs into the partisan divide on Ebola. [NYTimes]
-Regina Nuzzo reports on the future of election forecasting. [Scientific American]
-Seth Masket asks how much declining Democratic favorability matters. [Mischiefs of Faction]
BEFORE YOU GO
PHOTO GALLERY
Senate Seats Up For Grabs In 2014