It's said that a black cat crossing your path will lead to bad luck, but for these roommates, their two kitties brought them nothing but fortune.
Hunan and Adore, two tuxedo cats, were rescued and brought to the ASPCA at 4 weeks old. They were strays, suffering from severe upper respiratory infections, which caused both of them to experience serious eye problems. Though kittens are usually adopted quickly, the two had a bit of an extended stay at the adoption center, which is why their current owners, Kaylie Cordingley and Sam Bell, who took the cats home to their new Brooklyn apartment in July, say it was fate that brought them together.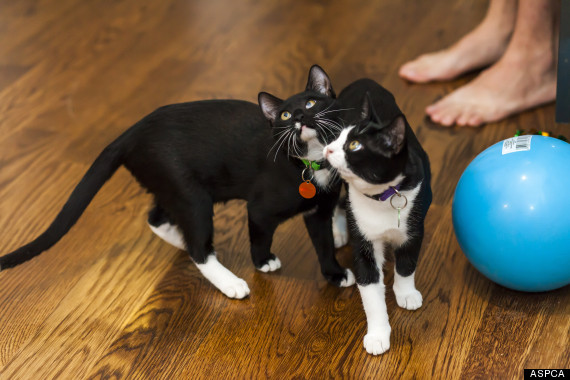 "When Sam and I got to the ASPCA, we met many great cats but we didn't find that immediate connection until we got to the kitten room ... when the staff took [Hunan and Adore] out to play, they immediately were running all over the room and falling over and running into things," Cordingley told HuffPost in an email.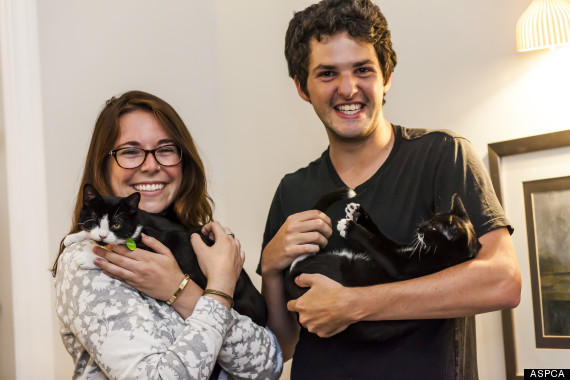 The roommates, who had just moved to New York City around the time of the adoption, say that their affectionate and funny rescue cats were exactly what their new home was missing. However, caring for the spunky cats has not been without its challenges. Hunan, whose respiratory infection was so serious it caused her to lose an eye, and Adore, who lives with clouding in her eye, also due to the infection, have needed special attention due to their medical issues.
Within the first two weeks of living with Cordingley and Bell, Hunan was rushed to pet emergency after having difficulty breathing. It was an experience that Cordingley says taught her the responsibility involved with caring for a special needs pet, and also one that made her realize how rewarding it was.
"After all we have been through with our cats, I think that caring for a cat with special needs, medical or otherwise, can be an incredibly enriching experience," she wrote in an email. "If you have the means and stamina, I would recommend caring for a cat who needs the special attention the most."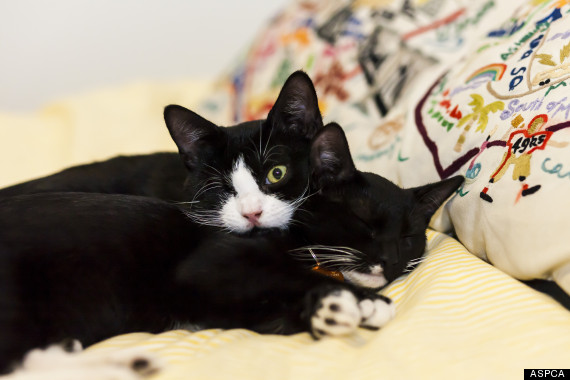 A few months have gone by since they first adopted the kittens and the two can confidently say that the felines, who both have bubbly and expressive personalities, have shattered the superstitions surrounding black cats. "Both cats are so kind, affectionate, forgiving and funny that they have turned cat-skeptics into believers," Cordingley wrote.
"I feel extremely lucky for having these two amazing cats in my life, and that positivity has flourished in our own lives too," Bell added. In fact, he says with the two tuxedo cats, "life couldn't be any better!"
BEFORE YOU GO
PHOTO GALLERY
Cats on Cats on Cats