In a small community near where John Wayne Gacy abducted and murdered dozens of young men and boys in the 1970s, tensions have been simmering for weeks over a Halloween haunted house featuring a room dedicated to the notorious serial killer.
The so-called "Gacy room," part of the Rob Zombie's Great American Nightmare attraction that opened this fall in the Chicago suburb of Villa Park, has forced both supporters and detractors to question society's tolerance for wringing entertainment value from real-life horrors.
"I find it to be very despicable. I think it's cruel," Terry Sullivan, an attorney who co-prosecuted the Gacy trial, told The Huffington Post on Thursday about the room in the haunted house, which is open to all ages. "There are many victims of Gacy that are still here and still in the area. I realize that it is part of history. But if it's going to be part of history, I don't think that it should be put into a Halloween scene or have any deadpan humor attached to it."
The real Gacy abducted at least 33 local young men and boys, strangling and suffocating them before burying many of them in the crawlspace of his Chicago home. He was apprehended in 1978 by police in the city of Des Plaines -- mere miles from Villa Park -- and was executed in 1994.
The Villa Park haunted house's Gacy room is one of 13 inspired by infamous killers like Ed Gein and Ted Bundy. Visitors to the Gacy room are greeted by a live actor dressed as Gacy's alter-ego, Pogo the Clown, blowing up balloon animals until they pop. Seated on a nearby sofa are a pair of mannequins dressed as young Boy Scouts.
(Story continues below.)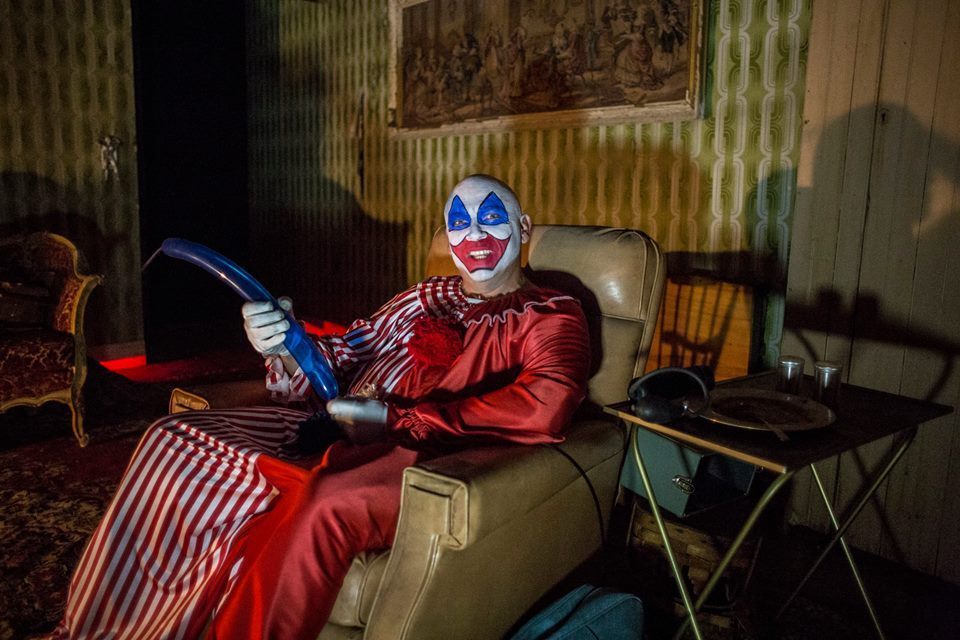 An actor portrays Gacy's Pogo the Clown alter-ego in the Gacy room of the Great American Nightmare attraction.
Steve Kopelman, who co-produced the attraction, said he hasn't heard complaints about the Gacy room. A 33-year veteran of the haunted house industry, Kopelman blamed reporters for turning the issue into a "media frenzy."
"If the media hadn't made a big stink about it, I doubt anyone would even know about it," he said. "Someone who had to deal with this 40-something years ago isn't really the audience for the haunt."
"I'm not the victim's family, so I can't tell you what they feel or what this does to them," Kopelman also told HuffPost. "But I can't say enough that the people who are probably hurt by this probably wouldn't have found out if were it weren't for the media."
Jennifer Bishop-Jenkins, founder of victims advocacy group IllinoisVictimsCalling told the Daily Herald, a local paper, she considers entertainer Rob Zombie the "lowest form of human slime" for trying to profit off the tragedy. "Would you go to a spoofy entertainment thing about a rape or a child molestation?" she said. "There's nothing funny about it."
Kopelman said the haunted house didn't raise an eyebrow during its run in Pomona, California, last year. But Bob Egan, another co-prosecutor of the Gacy case, says this year's Chicago-area attraction is contentious because of its proximity to families of Gacy's real-life victims.
"I've got no quarrel with this person's right to do this, but you exercise a little common sense of where to do it," Egan told HuffPost. "If it was in Nebraska or Florida, I'd have no problem because there's no proximity to the victims' next-of-kin."
"But this is an active cold case," said Egan, who currently works with the Cook County Sheriff's Department, which handled the Gacy investigations. "You just don't go into a geographic area and make light of something like this."
Sam Amirante, who served as Gacy's defense attorney, said families of the Gacy victims have been "pretty understanding" of the public's fascination with the case. Though he finds the Villa Park haunted house "a little insensitive" because of how geographically close it is to the crime scenes, Amirante recognizes the producers' right to free expression.
"As a person who was his lawyer, I don't like it. I don't like that kind of exploitation," Amirante told HuffPost. "But where do we draw the line? I think we've come to a point in our own society now where we worry too much about where we're going to offend somebody."
Kopelman said the Great American Nightmare haunted house won't return to Chicago next year -- not because of the controversy, but because the creators want to keep the attraction fresh. Kopelman fully expects to up the ante again next year.
"I'm sure there is a line [I wouldn't cross], but I don't know what that is," he said.
Sullivan, who blasted the house as "pornography at its worst," remains unconvinced that line will ever be found.
"We're pushing it now," he said, "and I don't know where it's going end."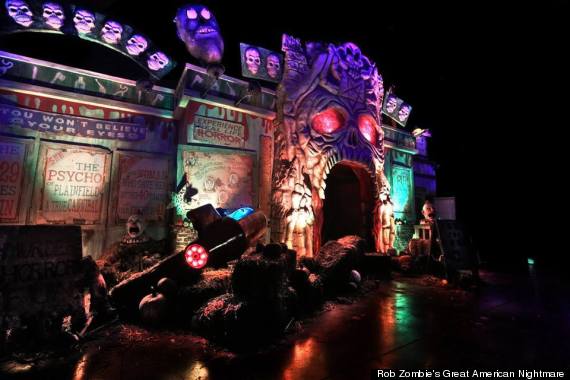 The entrance to one of the three haunted houses that make up the Great American Nightmare attraction.
BEFORE YOU GO
PHOTO GALLERY
John Wayne Gacy Home Excavation Dec. 1978 through Jan. 1979