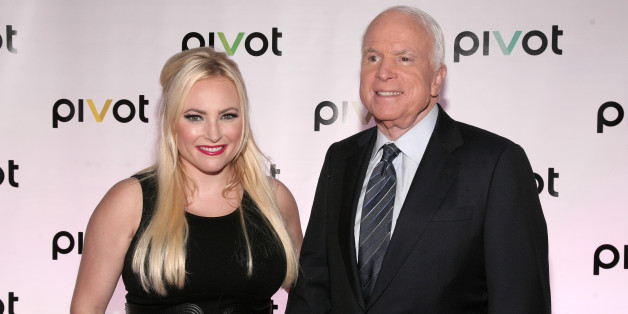 The relationship between Sens. John McCain (R-Ariz.) and Rand Paul (R-Ky.) is more than tense, according to McCain's daughter Meghan.
"They hate each other," McCain, a co-host on Pivot TV's "TakePart Live," said Wednesday on Howard Stern's SiriusXM radio show. "Oh yeah, they hate each other. I think publicly, or I just spouted that on this show."
After Stern joked that Sen. McCain could "kick [Paul's] ass" in a fistfight, Meghan agreed, calling her father "tough."
"My father's 76 years old, he can still throw down," McCain said, although her father is actually 78. "He climbs the Grand Canyon every year on his birthday in August ... to prove he still can."
It's no secret that Paul and McCain aren't always on the friendliest terms. Last month, McCain accused Paul of disseminating misinformation after Paul falsely claimed that the former GOP presidential candidate was photographed with Islamic State militants during a Syria visit last year.
"I can't believe Rand is still repeating this stuff, which came from a Hezbollah newspaper in Lebanon!" McCain, who has clashed with Paul over funding moderate Syrian rebels, told The Daily Beast in September. "He's getting his information from Hezbollah. It's outrageous ... I don't know if Rand is dishonest or misinformed."
Despite the ongoing foreign policy disputes between the two Republican lawmakers, McCain has stated that he would support a Rand Paul presidency if he were the GOP nominee in 2016.
"I've seen him grow and I've seen him mature and I've seen him become more centrist," McCain said in a New Yorker interview in late September. "I know that if he were President or a nominee I could influence him, particularly some of his views and positions on national security. He trusts me particularly on the military side of things, so I could easily work with him. It wouldn't be a problem."
H/T The Hill
BEFORE YOU GO