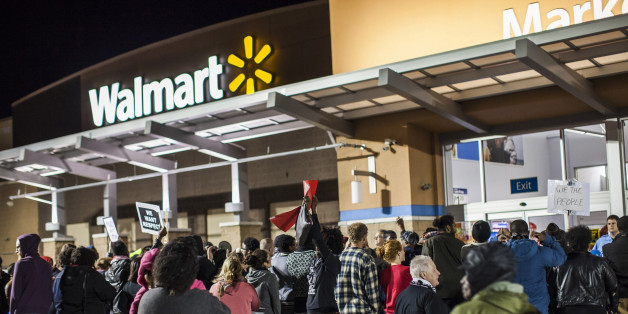 Walmart has removed ammunition from the shelves of several St. Louis-area stores amid renewed protests against police brutality.
Employees removed bullets and ammunition after demonstrators gathered outside Walmart stores in Ferguson and Maplewood, Missouri on Monday, CBS-affiliate KMOV-TV reported.
"If there is a history of violence and looting and other activity that are going on or things that are putting associates and customers at risk -- then yes, decisions can be made based on those circumstances," Walmart spokesman Brian Nick told KMOV.
Bullets were removed from some stores in the area on Monday, and were gone from several by Wednesday. It's unclear whether this was a coordinated effort among the stores.
Tensions in the area have simmered since Michael Brown, an unarmed black teenager, was shot and killed by Darren Wilson, a white police officer, in Ferguson this August. Things reached a boiling point in recent weeks, partially fueled by the release in late September of a video that showed white police officers shooting John Crawford III, a black man killed in early August after wielding a pellet gun in a Walmart in Ohio.
Now, as a St. Louis County grand jury weighs whether to bring charges against Wilson, some of the scattered gatherings of protesters in the area have fixated on Walmart.
More than 50 people were arrested Monday night, several inside the Maplewood Walmart, according to the St. Louis Post-Dispatch.
Though the ammunition was removed from shelves and locked up in the back of the stores, it was still available for purchase at the Ferguson location, which was looted in August in riots that broke out the day after Brown's death.
This isn't the first time Walmart has pulled firearms and associated merchandise from its shelves amid tensions. Following the 2012 massacre at Sandy Hook Elementary School in Newtown, Connecticut, the world's largest retailer yanked a semiautomatic assault rifle from its website. However, the gun remained available in some stores, The Wall Street Journal reported.
That move, in turn, was not without precedent. In 2001, following protests marking two years since the mass shooting at Columbine High School in Jefferson County, Colorado, Kmart stores across the country pulled ammunition from their shelves.
Walmart did not immediately respond to a request from The Huffington Post for comment.