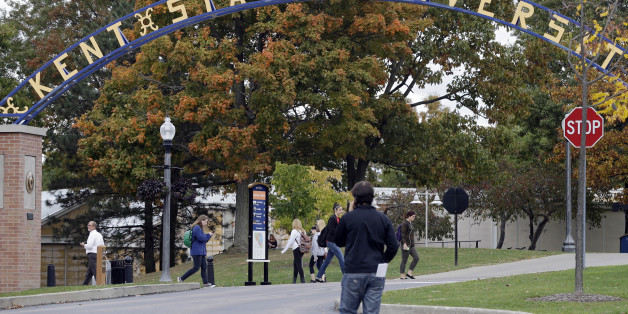 Something is spreading on college campuses, and it appears to be an "abundance of caution."
The University of Texas at Austin confirmed Friday that one of its students was on the same Oct. 13 flight as a Dallas nurse who later tested positive for Ebola. But the student is not showing any symptoms and is in constant contact with health officials, UT-Austin President Bill Powers said in a statement.
Powers explained that "in an abundance of caution, the student, who lives in a private residence, is staying home from class and away from campus activities."
Caution looks like the favored approach at college campuses nationwide.
A student at Yale University was tested for Ebola on Thursday. The hospital confirmed Thursday evening that the student had tested negative, but said it would wait for official confirmation of the test results from the Centers for Disease Control and Prevention in an "overabundance of caution."
In Ohio, relatives of that Dallas nurse, Amber Vinson, who had recently been with her were asked by their employer, Kent State University, to stay off campus for 21 days "out of an abundance of caution."
A Louisiana State University employee who recently helped train Liberian police officers was also asked to stay off campus for three weeks, according to the Chronicle of Higher Education, for similar reasons.
Although Pulitzer Prize-winning photographer Michel du Cille left West Africa three weeks and has shown no symptoms of Ebola, Syracuse University canceled his scheduled participation in a campus journalism program, the National Press Photographers Association reported. The University of Georgia scrapped a similar appearance by a Liberian journalist on its campus.
Confusion
prompted alarm
at Southwestern College in Chula Vista, California, after incorrect reports suggested a student was possibly sick with Ebola and was being quarantined. That was not true. A portion of the campus was cordoned off Thursday by college authorities after a student told a professor that he or she was missing classes because a family member had reported flu-like symptoms and was hospitalized. But Southwestern College made it clear there was no chance of Ebola on its campus:
The University of Minnesota pushed back on a false claim that university researchers had suggested Ebola could be airborne. No Minnesota faculty member said that, the university declared. An unaffiliated researcher from Chicago had discussed "the potential for a virus to become airborne" in an online commentary, according to the Star Tribune. The rumor that Minnesota researchers were promoting that idea was spread by a Twitter account that resembles an official university account but has no actual connection to the university.
So what is the CDC actually telling colleges to do with their students and staff regarding Ebola? The agency recommends providing instructions for health monitoring to anyone who has been in affected countries within the past 21 days. However, the CDC notes:
If the students have had NO symptoms of Ebola for 21 days since leaving a West African country with Ebola outbreaks, they do NOT have Ebola. No further assessment is needed.
Most health experts have urged people not to panic over Ebola, with some noting that Americans are far more likely to die from the flu.