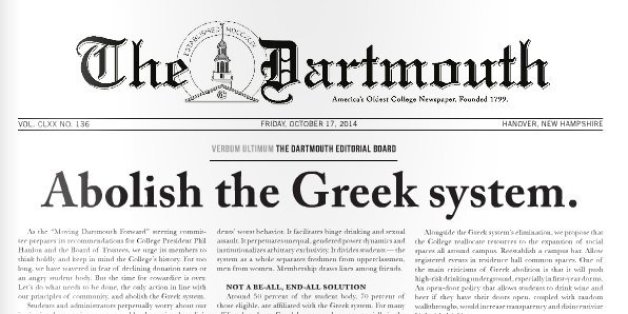 The Dartmouth, the student newspaper for Dartmouth College, published a front-page editorial Friday calling for the end of the Ivy League school's popular Greek system.
"An understanding of what's at stake drove this decision," Dartmouth editor-in-chief Lindsay Ellis wrote in a note explaining the decision to place the editorial on the front page.
"The presidential steering committee will soon release its recommendations on social life to the Board of Trustees and to College President Phil Hanlon, who has spoken openly of his commitment to ending Dartmouth's social woes," Ellis said. "As an editorial board, we have discussed these same woes for months, debating how Dartmouth will move forward as an institution. Despite the meaning many find in the Greek system -- which, as an affiliated woman, I've witnessed firsthand -- we kept returning to the same conclusion. The Greek system has to go."
The editorial reads:
No, Greek life is not the root of all the College's problems or of broader societal ills. But as a system, it amplifies students' worst behavior. It facilitates binge drinking and sexual assault. It perpetuates unequal, gendered power dynamics and institutionalizes arbitrary exclusivity. It divides students — the system as a whole separates freshmen from upperclassmen, men from women. Membership draws lines among friends.
Roughly two-thirds of the student population are members of fraternities or sororities. Given the high participation rate, fairly or not, the Greek system has frequently been associated with problems of racism, binge drinking and other social issues on campus.
Recently, hundreds called on Dartmouth to make significant changes to the Greek system as part of Hanlon's effort to address problematic behavior on campus. Last month, the fraternities announced they would do away with pledging, as one way that may cut back or eliminate hazing.
Part of what the Dartmouth newspaper suggested is becoming a problem is these extra rules may cause more harm than good in the frat houses:
This year, attempts to crack down on the Greek system have chipped at the very positive elements that members and unaffiliated students value, like the system's inclusivity. Piling on regulations and rules will swap open doors for invite lists and trust for paranoia. These actions will only create more problems for students and administrators in the long run.