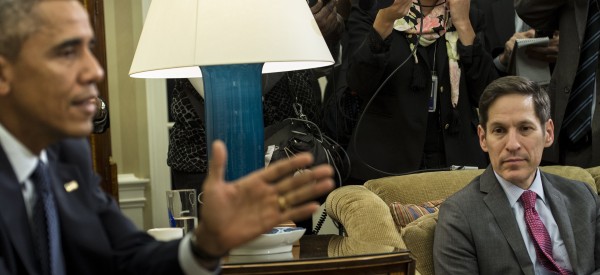 TOP STORIES
OBAMA CONSIDERING NAMING EBOLA 'CZAR' President Obama indicated he is considering appointing an Ebola 'czar,' or point person, to manage the government's response to the crisis. In a congressional hearing yesterday, House members attacked the U.S.'s Ebola response. Here's how the director of the CDC is juggling the Ebola outbreak and the criticism of his performance. A video of Nina Pham, the first nurse to contract Ebola in the U.S., shows her in high spirits and joking with her care-giving team. The second U.S. nurse to contract Ebola may have put passengers on a second flight at risk. A health care worker who handled Ebola specimen is quarantined on a cruise ship in the Caribbean. And here are all the Ebola patients who've been treated outside of West Africa.

ON THE GROUND IN LIBERIA "Much of West Africa is following a no-hands rule to avoid contagion from the deadly virus, but doctors and nurses here, protected by layers of plastic and rubber armor, routinely touch the sick. Without a drug that can cure the disease, they offer patients fluids and medications to treat symptoms, but also the simplest of comforts, like feeding them or cleaning them up." American soldiers are working non-stop to prop up Liberia's failing healthcare infrastructure. And six American ambulances make up almost a third of Liberia's national fleet. [NYT]
ISIS ASSAULT ON KOBANI SLOWED U.S. airstrikes combined with an unlikely alliance with Syrian Kurds have stopped ISIS' gains in the city for now. And here's why Kobani matters.
HONG KONG PROTEST NEGOTIATIONS TO BEGIN NEXT WEEK "After nearly three weeks of pro-democracy protests, including violent confrontations with police, the two sides in this city's standoff haven't talked directly and haven't budged on their demands. But with the first negotiations to begin next week, there were signs of possible compromise emerging behind the scenes, even as both sides maintained their hard line publicly." Police cleared one of the protest zones in a "dawn sweep" this morning. [WSJ]
FAILURE TO REGISTER FOR THE DRAFT HAUNTS "This may be a nation with an all-volunteer military, one that ended conscription more than 40 years ago, but federal law still requires men ages 18 to 25 to register for a draft that does not exist. There are few exemptions and no second chances … The odds of this country returning to a draft are almost zero, but the price for failure to register is high and is largely born by the men who can ill afford to pay it: high school dropouts, disconnected inner city residents, ex-offenders and immigrants — legal and unauthorized — who do not know that failure to register can jeopardize citizenship." [WaPo]
TORNADO SWARMS THE NEW NORM Researchers say single twisters are much rarer than a swarm of tornadoes these days. [HuffPost]
BIDEN'S SON DISCHARGED FROM NAVY FOR COCAINE USE "Vice President Joe Biden 's son Hunter was discharged from the Navy Reserve this year after testing positive for cocaine, according to people familiar with the matter. Hunter Biden, a lawyer by training who is now a managing partner at an investment company, had been commissioned as an ensign in the Navy Reserve, a part-time position. But after failing a drug test last year, his brief military career ended." [WSJ]
WHAT'S BREWING
THE SAN FRANCISCO GIANTS ARE HEADED TO THE WORLD SERIES Call it "Even Year Magic," call it skill -- the Giants are headed to the big game. [HuffPost]
AMAL CLOONEY IS THE MOST INFLUENTIAL WOMAN IN LONDON And not because she married that guy from E.R. [London Evening Standard]
WHY NEIL PATRICK HARRIS WILL ROCK THE OSCARS Besides the fact that everybody loves him. [Variety]
THE FACEBOOK SAFETY CHECK "In times of disaster or crisis, people turn to Facebook to check on loved ones and get updates. It is in these moments that communication is most critical both for people in the affected areas and for their friends and families anxious for news. We want to provide a helpful tool that people can use when major disasters strike, so we've created Safety Check – a simple and easy way to say you're safe and check on others." [Facebook]
SO MUCH FOR ANONYMITY Whisper, the secret app, is tracking its users. [The Guardian]
THE STRADIVARIUS VIOLIN HEIST "It just isn't every day that a high-school dropout and twice-convicted felon, your basic street criminal, as he was described, is the alleged mastermind of a crime that no one in law enforcement the world over had ever quite seen. Maybe it wasn't the crime of the century, but it definitely was the crime of the century in Milwaukee." [Vanity Fair]
EAT LESS WITHOUT NOTICING Salad and slow cookers are your friend. [HuffPost]
COULD TIRE FIELDS HAVE A CANCEROUS LINK? While a direct scientific link has yet to be proven, many athletes are concerned the black tire crumbs on many professional turf fields could be causing cancer. [HuffPost]
ON THE BLOG
WHAT BOOTS ON THE GROUND MEANS "The crowds of summertime tourists are mostly gone from Arlington National Cemetery now, and on a rainy weekday morning the yellowing leaves drift down silently to the manicured grass, and the rows of glistening white headstones wind over rolling hills into the distance and the silence seems immense and respectful. I had come to visit an old friend, a Marine sergeant who was killed in Afghanistan just over five years ago." [HuffPost]
BEFORE YOU GO
~ Kate Moss's latest topless cover proves she does not age.
~ Here's who New York Times staffers follow on Twitter.
~ Lots of beautiful maps.
~ Blake Lively and her baby bump could not be cuter.
~ Some candy's just better fun-sized.
~ Here's the first new Foo Fighters song.
~ This is how far away Ebola is from you.
~ Your Twitter timeline looks different for a reason.
~ And this tumblr will change the way you look at J. Crew catalogs forever.
Send tips/quips/quotes/stories/photos/events/scoops to Lauren Weber at lauren.weber@huffingtonpost.com. Follow us on Twitter @LaurenWeberHP. And like what you're reading? Sign up here to get The Morning Email delivered to you.