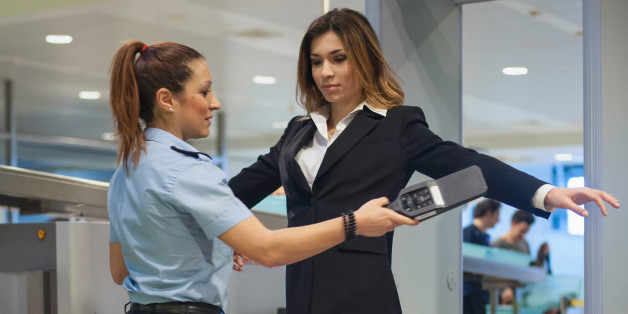 Take off your shoes, remove your belt, chug that half-empty bottle of water -- we know the general rules of airport security all too well.
But what's going on behind the scenes, and which hacks will get you through security faster? Allow us to share some of our most riveting security secrets.
You can get through without ID (most of the time).
Apparently, the Transportation Security Administration knows the pain of leaving a driver's license at home. "We understand passengers occasionally arrive at the airport without an ID, because of losing it or inadvertently leaving it at home," the TSA website reads. "If this happens to you, it does not necessarily mean you won't be allowed to fly." Security agents will use other public "databases" to confirm your identity, after which you'll be good to go, in most cases (unless you're from D.C., in which case things can get real squirrelly).
An app can tell you how long the security line will be.
The My TSA app lets you check approximate security line wait times at a number of airports and add your own wait time for others to see. WhatsBusy will also predict your wait time in minutes.
Jam and salsa are NOT acceptable carry-ons.
These squishy substances qualify as "liquid and gel items" according to TSA carry-on rules. That means that unless you have a super-tiny salsa jar containing less than 3.4 ounces (the limit for liquids, gels and aerosols), you will not be having a chip-and-dip fiesta in midair. The TSA also famously confiscated a cupcake in 2011, citing concerns over the frosting (which, to be fair, may have been of the "cupcake in a jar" variety). In any case, it's probably best to snack before you pack.
...however, there's no limit on breast milk.
As long as you keep it to "reasonable quantities," you may bring more than three ounces of breast milk onboard an aircraft. Just be sure to declare it at the security checkpoint. (Be forewarned, though, that the TSA has had some issues with it in the past.)
Undercover air marshals fly among you.
"Federal Air Marshals must operate independently without backup, and rank among those Federal law enforcement officers that hold the highest standard for handgun accuracy," reads the TSA website. These marshals -- who try their best to look and act like regular passengers -- board flights and keep an eye out for anything suspicious. Yes, their numbers have decreased in recent years, but there are still roughly 3,300 around, according to a former federal air marshall who spoke with USA Today.
You should totally follow the TSA on Instagram.
Their hilarious feed includes such confiscated wonders as ninja stars, batarangs and WAY too much marijuana.
You can be a security VIP.
If you qualify for TSA Pre✓, you'll head to a separate security lane for quicker screening at participating airports. In this lane, you won't have to take off your shoes, belt or jacket, and liquids can stay in your carry-on bag (no dumping into those plastic bins necessary!). To join, you must be a U.S. citizen or Lawful Permanent Resident and visit a designated application center to pay an $85 fee. Or sign up for Clear -- for $179/year (for individuals), you'll get to skip long lines at nine U.S. airports.
You can bring a screwdriver on a plane.
As long as it's less than seven inches long, you may pack a screwdriver (or wrench, or pliers, for that matter) in your carry-on bag. The more you know.
But snow globes? They're a bit more dramatic.
The Internet rejoiced during the 2012 holiday season, when updated TSA regulations announced that snow globes would be allowed in carry-on bags (provided they contained less than 3.4 ounces of liquid, of course). Gone are the days of those nasty, joy-sucking "no snow globe" signs.
Bag inspection wasn't mandatory for all passengers until the 1970s.
The era of bag X-rays and metal detectors didn't emerge until serious concerns erupted after a bomb scare and hijackings in 1972. The Air Transportation Security Act made weapon-detection screenings mandatory for all passengers and their carry-ons.
You CAN carry more than three ounces of liquid onboard.
...but it's gotta be from the duty-free shop (womp, womp). Oh, and you have to be traveling "internationally into the United States with a connecting flight." And the liquids "must be in transparent containers." And the store must pack them "in a secure, tamper-evident bag." Still... things are lookin' good for you and that liter of tequila.
BEFORE YOU GO
PHOTO GALLERY
Best Airport Security Checkpoints (PHOTOS)