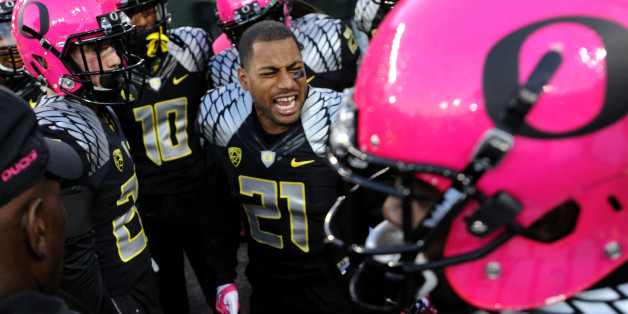 Colors in the rainbow observed by Isaac Newton: 7.
Combinations of Oregon football uniforms: Way, way more.
In Eugene, they dress for the attention that comes with success. The Oregon Ducks football team doesn't just dazzle with its high-octane offense but with its high football fashion statements. Thanks to Oregon alum and Nike founder Phil Knight, the Ducks aren't just at the vanguard of college football when it come to scoring proficiency but also sartorial splendor. The team has moved beyond the school's traditional green-and-yellow color scheme and worn dozens of uniform combinations in recent years that included metallic helmets, iridescent numbers and all manner of special accents for special occasion. There have been hot pink helmets, Darth Vader-like gear and even all-white uniforms that managed to look bold and fresh.
"Nothing is off the table," Nike creative director Todd Van Horne after Oregon showed off a metallic green helmet in 1999, according to UniformCritics.com.
Showing just how far the team has shaken up its own look over the years, Oregon rocked throwback 1994 uniforms against the Washington Huskies on Oct. 18.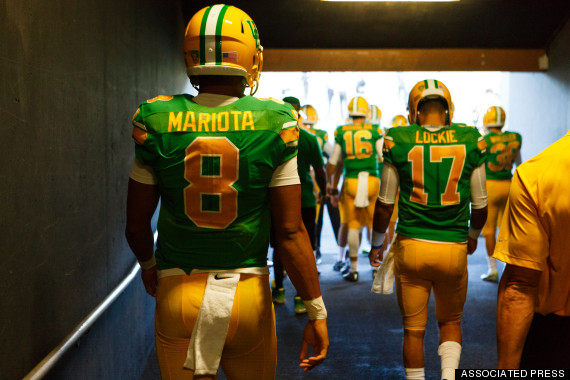 In their own way, those classic '94 uniforms seemed revolutionary in a college football landscape that has been irrevocably altered by the trailblazing, retina-challenging gear that Oregon has rocked in the ensuing 20 years. Here are a few dozen photographs of those audacious uniforms:
PHOTO GALLERY
PHOTOS: Oregon Football Uniforms