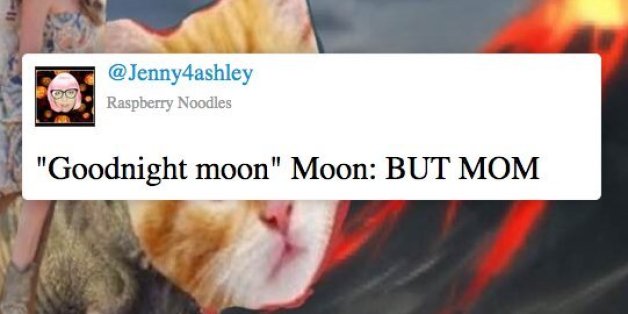 Kids may say the darndest things, but parents tweet about them in the funniest ways. So each week, we round up the most hilarious 140-character quips from moms and dads to spread the joy. Scroll down to read the latest batch and follow @HuffPostParents on Twitter for more!
Bribes, negotiations, promises, threats, bargaining..also see: Parenting.

— Domestic Goddess (@DomesticGoddss) October 19, 2014
Kids are easy to care for until they learn to roll over. After that you're never
sure what they're up to for the rest of their lives.

— Susan W (@Maxine12333) October 15, 2014
My 2-year-old's Elsa socks were dirty, so I gave her the ones with Anna on them.

This is hour number two of her temper tantrum.

— That's Parenting (@ThatsParenting) October 15, 2014
Three things are sure in life:
Death
Taxes
Your toddler will open the stall while you're using a public bathroom.

— Paige Kellerman (@PaigeKellerman) October 19, 2014
I love how my kids ask me to do ten things at once like I'm some kind of wizard. I am, but they don't need to know that.

— OneFunnyMummy (@OneFunnyMummy) October 14, 2014
Thanks, mom who got a piñata for her son's birthday party

Now my 4-year-old is running around my house hitting stuff to see if it has candy

— Exploding Unicorn (@XplodingUnicorn) October 17, 2014
2-year-olds are evolution's way of saying, "haha, have another kid, I dare you." It's population control craftsmanship at its finest.

— Adam Mordecai (@advodude) October 16, 2014
My toddler just finished a crossword puzzle. He colored it blue.

— The ParentNormal (@ParentNormal) October 16, 2014
My 3yo's autobiography shall be called "I WANT YOU TO HELP ME TO DO IT BY MYSELF I DON'T NEED HELP WHY AREN'T YOU HELPING ME??"

— SnuggleMummy (@NinsMum) October 16, 2014
4yo immensely disappointed that I didn't jump through a window as promised when he wouldn't stop pulling on me.

— carly kimmel (@carlykimmel) October 19, 2014
"It's okay if I don't like you, right?" - My almost-4-year-old, figuring it all out.

— Kate Spencer (@katespencer) October 19, 2014
Me: "Why is your brother crying?"
5yo: "I bumped my hand on the ground!"
Me: "That's why he is crying?"
5yo: "I also hit him in the face."

— ReasonsMySonIsCrying (@ReasonsMySonCry) October 16, 2014
I used to think my mother-in-law liked me. Then she gave my son a recorder.

— Jen Simon (@NoSleepInBklyn) October 17, 2014
"I want a Rit. Can I have a Rit?"
"A Rit? You mean Ritz?"
"Yeah, but I just want one, so Rit."
-- Evan

— Scary Mommy (@ScaryMommy) October 11, 2014
Half a pickle & croutons for breakfast cause I'm an adult. Also my kids ask for weird things and change their minds and I hate wasting food.

— Lurk @ Home Mom (@LurkAtHomeMom) October 18, 2014
My 3 year old asked me if I'm the one that put her drawings in the recycle bin so now I'm telling her about the Trash Fairy.

— Brian Hope (@Brianhopecomedy) October 11, 2014
My kid forgot I asked her to clean up her toys 5 mins ago, but not that she asked me to dress up as DJ Lance Rock for Halloween 3 weeks ago.

— Doyin Richards (@daddydoinwork) October 17, 2014
When it comes down to it, parenting is basically snuggling and slowly watching everything you've ever owned be destroyed.

— AnotherBottleofWhine (@KateWhineHall) October 19, 2014
Mom I'm hungry.
Mom I'm hungry.
Mom I'm hungry.
Mom I'm hungry.
Mom I'm hungry.
Mom I'm hungry.

Oh, you're hungry? I had no idea.

— YKIHAYHT (@YKIHAYHT) October 15, 2014
If you wait long enough to make dinner, everyone will just eat cereal.

It's science.

— Sarcastic Mommy (@sarcasticmommy4) August 6, 2014
4 insisted her hands remain dry during bath time.

-and other reasons why I drink

— JuneBug (@jenyb4) October 16, 2014
I love you kids so much I want you to experience the adventurous joy of dreaming from your beds in silence for many hours RIGHT NOW PLEASE.

— Kim Bongiorno (@LetMeStart) October 20, 2014
Parenting tip: Put your kids to bed at 5:30 PM and the time they actually go to bed will be 9:00 PM.

— Abe Yospe (@Cheeseboy22) October 14, 2014
"Goodnight moon"
Moon: BUT MOM

— Raspooky Jam (@Jenny4ashley) October 9, 2014
Read last week's Funniest Parenting Tweets Of The Week and browse all past collections below.
Want more parenting humor? Visit HuffPost Parents on Pinterest.
Follow HuffPost Parents's board Parenting Humor on Pinterest.
BEFORE YOU GO
PHOTO GALLERY
Cute Kid Notes