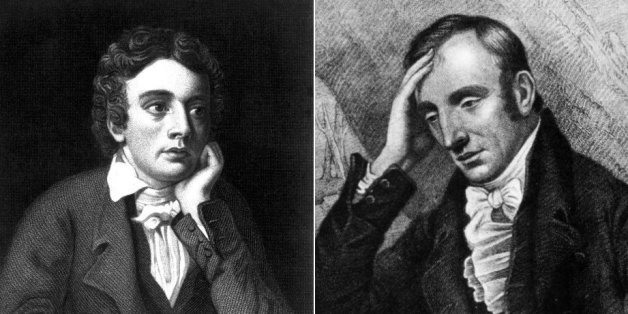 If you could invite five people, living or dead, to a dinner party, who would you pick? It's a parlor game we've all probably played, and the answers usually throw together some highly unlikely dining companions -- Jesus and Eminem, Shakespeare and Hillary Clinton. A few times in history, however, there have been actual dinner parties that almost could be an answer to this question. For example, on December 28, 1817, the artist Benjamin Robert Haydon held a dinner attended by not only the writer Charles Lamb, but both John Keats and William Wordsworth -- a gathering many poetry buffs would give up an appendage to have attended. In his new book The Immortal Evening: A Legendary Dinner With Keats, Wordsworth, and Lamb, excerpted below, Stanley Plumly brings that dinner to life, using it as a focal point to examine the careers of these great men and the relationships between them.
"In December Wordsworth was in town, and as Keats wished to know him I made up a party to dinner of Charles Lamb, Wordsworth, Keats and Monkhouse, his friend; and a very pleasant party we had." Haydon, in this reference in his Autobiography, confuses a couple of things: first, Keats may well have "wished to know" Wordsworth, but he has, in fact, already met him, if not that long ago, probably only the week before the immortal dinner, and at the instigation of Haydon himself; and, second, Monkhouse, though part of a circle of acquaintances Keats moves in, is connected to Wordsworth, not Keats. Sometime between the twenty-second and twenty-seventh of December, right before the Sunday dinner party, Haydon wrote Monkhouse, near whose Queen Anne Street home the Wordsworths are staying, to ask if the young, aspiring poet might meet the pioneering poet of "The Excursion" and "Tintern Abbey": "Will Mr. Wordsworth be home tomorrow morning at Lambeth as Keats is down and very anxious to see him -- or will he do you think be so occupied with business as not to be able for a few minutes to see us."
While the exact day is unspecified, a meeting time is arranged in the last week of the year. Here is where literary history and actual history sometimes misally. Two of the three figures mentioned in Keats's sonnet "Great Spirits Now on Earth Are Sojourning" have, over the course of the past year, become his close friends -- Hunt and Haydon, who, though themselves somewhat polarized, have acted as mentors to Keats. Wordsworth, the third figure, is a star out of the twenty-two-year-old Keats's ken, so this initial encounter with the great writer " 't will be an Era in my existence," as Keats has said of his first meeting with Leigh Hunt. Whatever the case, Keats's introduction to Wordsworth seems to have been an event witnessed in imagination if not in fact by other eyes.
Twenty-eight years after the meeting, Haydon reports in a letter to one Edward Moxon:
If Keats Complained he had a right -- because Wordsworth did not behave to Keats when I introduced Keats to him as he ought --

I have a letter of Keats wherein he expresses the most glorious respect & love of Wordsworth, and expresses the highest turmoil of pleasure at my sending the first sonnet he addressed me to Wordsworth --

When Wordsworth came to Town, I brought Keats to him, by his Wordsworth's desire -- Keats expressed to me as we walked to Queen Anne St. East where Mr. Monkhouse lodged, the greatest, the purest, the most unalloyed pleasure at the prospect. Wordsworth received him kindly, & after a few minutes, Wordsworth asked him what he had been lately doing, I said he has just finished an exquisite ode to Pan -- and as he had not a copy I begged Keats to repeat it -- which he did in his usual half chant, (most touching) walking up & down the room -- when he had done I felt really, as if I had heard a young Apollo -- Wordsworth drily said

"a Very pretty piece of Paganism" --

This was unfeeling, & unworthy of his high Genius to a young Whorshipper like Keats -- & Keats felt it deeply -- so that if Keats has said any thing severe about our Friend; it was because he was wounded -- and though he dined with Wordsworth after at my table -- he never forgave him.
Whatever Keats's opinions about Wordsworth in the future, those opinions, like the opinions of many in his generation, probably have more to do with Wordsworth's "egotistical sublime" and his Tory conversion to a safer politics than interpersonal matters. Haydon adds, "It was nonsense of Wordsworth to take a bit of Paganism for the Time, the Poet ought to have been a Pagan for the time -- and if Wordsworth's puling Christian feelings were annoyed -- it was rather ill-bred to hurt a youth, at such a moment when he actually trembled, like the String of a Lyre, when it has been touched."
Excerpted from The Immortal Evening: A Legendary Dinner with Keats, Wordsworth, and Lamb by Stanley Plumly, © 2014 W.W. Norton & Company, Inc.