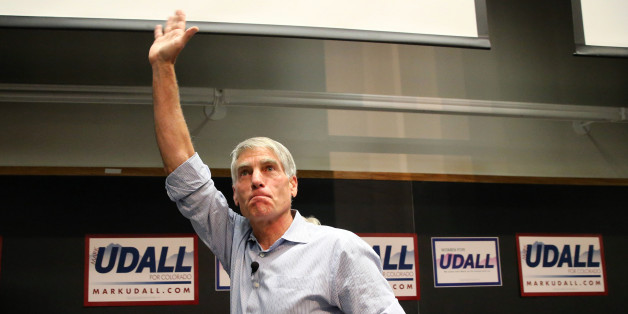 Democrats produce two polls showing their candidate with an edge in the Colorado Senate race. Nearly 2 million Americans have already voted nationwide. And the more you dislike the opposition, the likelier you are to turn out on Election Day. This is HuffPollster for Monday, October 20, 2014.
COLORADO: HIDDEN UDALL EDGE? - With just over two weeks remaining before Election Day 2014, the only new U.S. Senate surveys reported over the weekend were a pair of Colorado polls, sponsored by separate Democratic political action committees, that both give their candidate, Sen. Mark Udall, a narrow, three-point advantage edge over Republican challenger Cory Gardner.
The first, conducted for the Senate Majority PAC by pollster Mark Mellman, finds 44 percent support for Udall and 41 percent Gardner, with 15 percent undecided. The second, conducted by Benenson Strategy Group for Project New America, found half as many undecided voters (7 percent) by a similar advantage for Udall (47 to 44 percent).
The surveys are a departure from other recent polling on the race. Each of the six non-partisan polls released since the beginning of October, including online, live-caller and automated surveys, gives Gardner a lead of between 2 and 6 points. The Pollster model now gives Gardner a nominal edge over Udall, with about a 55 percent chance of winning -- currently one of the closest Senate races in the nation.
Polls sponsored by campaigns and partisan organizations typically show a statistical bias favoring their sponsors, usually because these organizations release results selectively, holding back bad news and sharing favorable results. In this case, however, many Democrats argue that they have methodology on their side. The two new Democratic polls both used "registration based samples" -- samples drawn from official lists of registered voters -- and used the past turnout and partisanship data available on those lists to model the likely electorate.
By contrast, all but one of the public polls relied entirely on self-reported measures of intent to vote, past turnout and interest in the campaign to select "likely voters" and most relied on samples of randomly generated phone numbers (a process known as "random digit dial") rather than official voter lists. The one partial exception was the Fox News poll, which used voter files to identify past voters or recent registrants, excluding from their sample those who said they were unlikely to vote.
These methodological differences may explain why the public polls have shown wide variation of Latino voters as a percentage of the Colorado electorate. "The expected share of the Colorado electorate that is Latino varies from a low of five percent to a high of 16 percent," according to an analysis published on Friday by David Damore, a senior analyst at Latino Decisions. "In comparison," he writes, "the 2012 exit polls estimated that Latinos were 14 percent of the Colorado electorate and 12 percent in 2010." (The two most recent Democratic surveys of the state didn't include information on the composition of their samples.)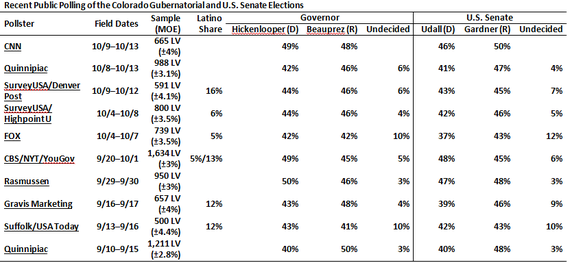 Damore also questions the assumption "that the size of the Latino electorate is constant" implicit in these findings. "This assumption is unlikely to hold given the relative youth of the Latino population relative to other racial or ethnic groups."
Polling averages have erred in Colorado in the last two general elections, understating Democratic margins by roughly three percentages points in both 2010 and 2012, as HuffPollster reported last week. "Pollsters," Damore argues, citing the variation in polling on the Latino electorate, "are failing to learn the lessons from prior election cycles."
NEWHOUSE (R) ON 'LESSONS LEARNED' FROM 2012 - John Harwood reports on what the "low of losing" taught Republican pollster Neil Newhouse, who "failed to foresee the success of the Democrat's 2012 voter ID and mobilization" as pollster for Mitt Romney: "The factors behind those miscalculations have altered the way Mr. Newhouse is gathering and interpreting polling data this year. And the lessons concern approaches to anticipating voter turnout, which once again looms large in an array of closely contested Senate campaigns. The first: Throw out old models about lower turnout among certain groups, like African-Americans; the data-driven efficiency of Democratic campaigns has made them obsolete...The second lesson flows from the first. Campaigns have long used measures of interest and enthusiasm as proxies for a voter's commitment to show up on Election Day. For the Romney campaign, an 'intensity' advantage produced only intense disappointment. 'I've become skeptical about how much voter enthusiasm really plays into turnout models,' Mr. Newhouse said...The third lesson involves the most accurate way to measure voter opinion. The modern polling industry developed around 'random digit dial' calls drawn from lists of telephone numbers. But in recent years, as states have improved electronic record-keeping, campaigns have turned to placing survey calls from official lists of registered voters. The Obama campaign considered surveys from these files vital for accurately gauging the race, while their opponents were still relying on some polls drawn from lists of telephone numbers. Now Mr. Newhouse has come around." [NYT]
LIKELY VOTERS ARE ALSO MORE LIKELY TO BE POLARIZED - HuffPollster: "The Americans most likely to vote in this year's midterms are also the most likely to be highly partisan and antipathetic toward their political rivals, according to the results of a Pew Research Center panel released Friday. The report estimates that while just about 40 percent of eligible Americans will turn out to vote, 73 percent of those with consistently conservative views and 58 percent with consistently liberal views will make it to the polls. Another motivating factor in turnout is strong dislike for the other party. Democrats who view the Republican Party very unfavorably are 12 points more likely to vote than Democrats as a whole, while Republicans with very unfavorable views of Democrats are 16 points more likely to turn out than the GOP as a whole." [HuffPost, Pew Research]
READING THE EARLY VOTING SPIN - Michael McDonald: "With early voting in full swing, more than 1.9 million people have cast a ballot in the 2014 midterm elections....Predictably, dueling spin about early voting has emerged from the Democratic and Republican camps. Republicans point to a better showing among early voters than the 2010 election, and point to this as evidence of greater enthusiasm among their voters. Democrats counter that new Republican voter mobilization efforts have merely shifted the furniture around such that people who would have voted on Election Day are now casting an early vote....This time both camps have truth to what they are saying. Republicans are doing much better than 2010 in key states like Iowa. Democrats are doing better, too, but they start from a higher base. While I cannot verify the claim that Democrats are mobilizing their Iowa supporters who may drop off in a midterm election, evidence from Iowa polling, from activity among persons without a party registration, and statistics from other states, support their claim." [HuffPost, Early vote statistics from McDonald's Election Project ]
HUFFPOLLSTER VIA EMAIL! - You can receive this daily update every weekday morning via email! Just click here, enter your email address, and and click "sign up." That's all there is to it (and you can unsubscribe anytime).
MONDAY'S 'OUTLIERS' - Links to the best of news at the intersection of polling, politics and political data:
-A new Politico poll finds Americans anxious and skeptical. [Politico]
-Without Romney, the 2016 GOP field lacks a frontrunner. [WashPost, ABC]
-Nate Cohn thinks the 2014 election may be the "best general election in a decade." [NYT]
-Harry Enten contemplates why fewer public polls have been conducted in 2014 than 2010. [538]
-Sean Trende says it's not smart "to bet on any particular type" of polling miss. [RCP]
-Jennifer Jacobs considers 11 measures of who's leading the Iowa Senate race. [Des Moines Register]
-Steve Koczela says recent history suggests a polling tie would give an edge to Democrat Martha Coakley in Massachusetts. [WBUR]
-Frank Newport reviews how partisans perceive their respective parties on the issues. [Gallup]
-Chris Wilson (R) reviews the state of the 2014 elections. [WPA]
-AAPOR's New England Chapter posts a video of a panel discussion featuring AAPOR President Michael Link and pollsters Doug Schwartz of Quinnipiac University, Andy Smith of UNH and Brian Schaffner of U. Mass Amherst. [NEAAPOR]
-CEO Jim Clifton explains the relaunch of the Gallup.com website. [Gallup]
-Lettuce, mayonnaise and tomatoes are the most popular sandwich fillings, according to an extensive review of sandwich data. [538]
BEFORE YOU GO
PHOTO GALLERY
The Second-Term Curse