The Ebola epidemic has claimed over 2,400 lives in Liberia alone, a harrowing number that accounts for more than half of the outbreak's total death toll according to the CDC. The New England Journal of Medicine estimates the current outbreak has a 70 percent mortality rate -- but what of the 30 percent who survive?
Getty Images photographer John Moore visited treatment centers in Liberia to document Ebola survivors and their stories, giving names and faces to the horrifying epidemic. The series is a powerful testament to both the strength of the survivors, and the fact that their troubles don't necessarily end once they've recovered.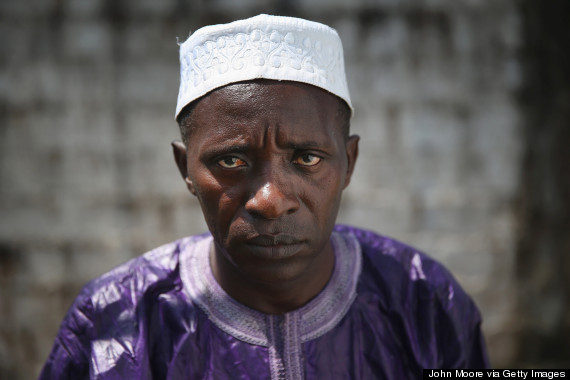 Mohammed Bah, a survivor, stands in a Doctors Without Borders treatment center.
"I've been rejected by everyone. I'm alone with my two children," survivor Mohammed Bah told Moore. Despite his clean bill of health -- Ebola survivors in Liberia are issued an actual certificate confirming their recovery -- his community has refused to accept him back.
But survivors of Ebola may actually be key to fighting future outbreaks, not vessels for further spread. They are believed to be immune to the strain of the virus that first infected them, meaning they can nurse Ebola patients without worry of infection. Their blood, filled with antibodies, is being considered for tests for potential treatments for the disease.
Several of Moore's subjects are currently working in the treatment centers, sharing the strength that made their recuperation possible and caring for patients still sick. Others, like Sontay Massaley, were photographed on their way out the door, celebrating their recovery and release.
Check out more powerful photos below.
PHOTO GALLERY
The Survivors: Portraits Of Liberians Who Recovered From Ebola
H/T Mic
BEFORE YOU GO
PHOTO GALLERY
Ebola virus myth-busting