Clear the way, ye animated movies of 2016. We may have found the year's "Frozen."
Walt Disney Studios has announced comedy-adventure "Moana" will open in late 2016. The CG-animated movie hails from John Musker and Ron Clements, the duo that wrote and directed "The Little Mermaid," "Aladdin" and "The Princess and the Frog."
A Disney press release described the titular character as a "spirited teenager on an impossible mission to fulfill her ancestors' quest." The movie was initially expected to open in 2018, and concept art reportedly appeared online last year alongside the news that Mark Mancina ("The Lion King," "Tarzan") will arrange the music.
Disney released the first official concept art for the film on Monday: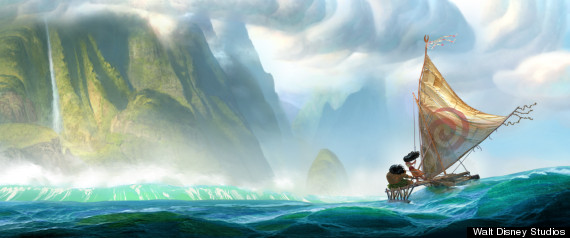 The full plot synopsis, per Disney's press release:
In the ancient South Pacific world of Oceania, Moana, a born navigator, sets sail in search of a fabled island. During her incredible journey, she teams up with her hero, the legendary demi-god Maui, to traverse the open ocean on an action-packed voyage, encountering enormous sea creatures, breathtaking underworlds and ancient folklore.
"Moana is indomitable, passionate and a dreamer with a unique connection to the ocean itself," Musker said in the press release. "She's the kind of character we all root for, and we can't wait to introduce her to audiences."
BEFORE YOU GO
PHOTO GALLERY
Celebrity News & Photos