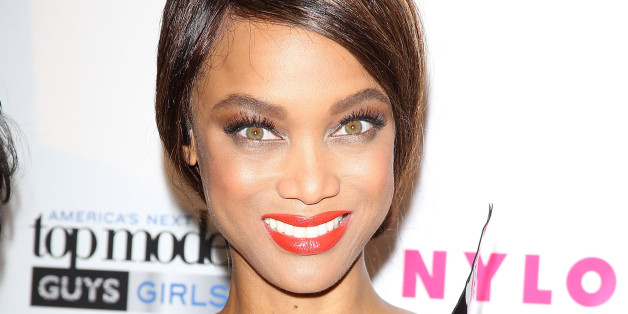 A woman can be a Victoria's Secret Angel in "bra and panties" and a feminist -- just ask Tyra Banks.
In an interview with Yahoo! Beauty's Annie Tomlin on Oct. 16, Tyra Banks discussed kicking off the 21st season of her show "America's Next Top Model," her new cosmetics line and some of the groundbreaking achievements she's had in her career that have brought her to identify as a feminist.
"I do consider myself a feminist, yeah. Totally," she told Tomlin.
As the first black model to grace the cover of Sport Illustrated's swimsuit issue in 1996 and the first black Victoria's Secret angel in 1997, Banks is no stranger to breaking boundaries.
The 40-year-old supermodel explained that a large part of feminism is accepting people of all colors and seeing the beauty in each individual:
Even when I was a model with my bra and panties on for a Victoria's Secret fashion show. Sure, I was stompin', and I know guys were like, 'Woo, look at Tyra.' But I know that my body being thicker on that runway meant something. A lot of the things I did in my modeling career as a woman of color was part of that feminism -- of expanding the definition of beauty and making women feel beautiful, no matter what color their skin is.
"Right now, with women in power, and not apologizing for being strong or wanting to make money or to be on top, that's my message -- and that's all feminism," Banks says. "I just feel like you should be able to have a fierce face at the same time."
Fierce and feminist.
Head over to Yahoo! Beauty to read the rest of the interview.
BEFORE YOU GO
PHOTO GALLERY
28 Famous Male Feminists