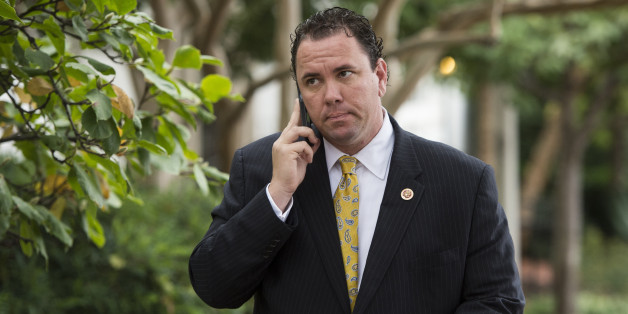 While kissing babies may be good politics, kissing a congressional staffer hasn't been at all beneficial to a married Louisiana lawmaker's campaign.
Rep. Vance McAllister (R-La.), who became known as the "kissing congressman," raised less than $15,000 from just 13 donors from July through September. According to The Washington Post, McAllister had to lend his campaign $795,000.
Late last year, surveillance video surfaced of McAllister passionately kissing his scheduler, Melissa Hixon Peacock, who was married to a longtime friend and political supporter of the congressman. Under initial pressure to resign, McAllister announced that he would not seek re-election. But this past June, he changed his mind, explaining that his district "needs a strong, conservative voice in Congress."
Nonetheless, the self-proclaimed socially conservative congressman has lost plenty of political support since the kissing scandal. In his 2013 special election campaign, for example, he had the backing of the reality television stars of "Duck Dynasty," who have become conservative celebrities.
But this time, a member of the "Duck Dynasty" clan is actually running to unseat McAllister. A new ad from Republican Zach Dasher, one of eight candidates trying to oust the congressman, features his uncle and "Duck Dynasty" patriarch, Phil Robertson. At an outdoor festival in September, Robertson even said that McAllister was not "godly."
The pressure may be getting to McAllister. The congressman recently told Politico that he has put on nearly 40 pounds since the scandal made headlines. The weight gain caught the attention of House Speaker John Boehner (R-Ohio), who reportedly told the congressman that he is "getting a little thick."
BEFORE YOU GO
PHOTO GALLERY
GOP Women In Congress