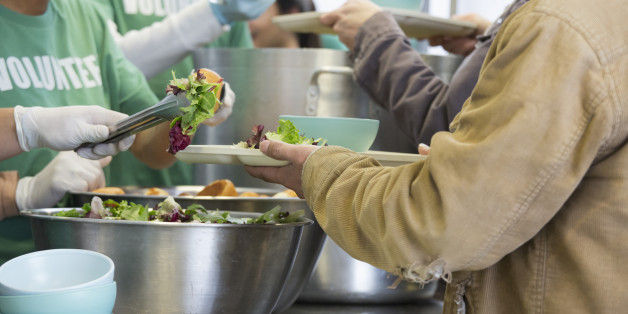 Ignorance regarding the root causes of homelessness have led many communities across the U.S. to restrict food-sharing around town, a new report claims.
In all, 31 American cities have tried various methods of discouraging or prohibiting individuals or organizations from sharing food with their homeless populations since January 2013, according to a survey released on Monday by the National Coalition for the Homeless (NCH). Of those cities, 21 have been successful through legislative measures, such as restricting the use of public property and implementing stringent food safety regulations that affect some organizations' abilities to feed the hungry.
The report points to several "myths" that seemingly justify such restrictions -- namely, the idea that feeding the homeless enables them to continue living at the bottom of the economic ladder.
According to the NCH's report:
Individuals do not remain homeless because of food-sharing programs; people remain homeless for reasons such as: lack of affordable housing, lack of job opportunity, mental health or physical disability. With all of the existing barriers that prevent individuals from finding work, earning an adequate wage, affording a safe home and caring for themselves, remaining homeless is rarely a choice at all.
Some advocates argue restricting food-sharing opportunities goes hand-in-hand with a growing trend of anti-homeless laws sweeping the U.S., such as bans on sleeping on public property or begging on sidewalks.
"If the biggest crimes we had to worry about in this country were sitting, sleeping (in public places) and eating and sharing food, we would be in a freaking good state," Paul Boden, director of the Western Regional Advocacy Project, told Al Jazeera. The Western Regional Advocacy Project is responsible for launching the Homeless Bill of Rights campaign -- an effort to introduce laws in California and Oregon protecting homeless individuals from targeted discrimination.
The report by the NCH pointed out that communities across the country have passed restrictive policies regarding food-sharing, with Florida and California leading the U.S.
But not all findings in the report were negative. The NCH noted successful collaborations between cities and service providers, as well, including one in St. Augustine, Florida between faith-based groups and the local government that allows between 60 and 100 people in need to be fed every evening.
BEFORE YOU GO
PHOTO GALLERY
The Hungriest States In America