Cutting an odd figure as he's flanked by a squad of gun-toting fighters, a 17-year-old Australian is the centerpiece of a new video released by the Islamic State. In the clip, the teen, who has since been identified as Abdullah Elmir from southwest Sydney, rails against various world leaders in an unmistakably Aussie accent.
The video, which is about 90 seconds long, was uploaded online on Monday. It is issued in English as a direct message to the West, "especially to the people of Australia." Elmir makes threats such as putting "the black flag on top of Buckingham Palace" and "on top of the White House."
Beyond featuring the type of person you may associate more with a youth hostel than a terror group, the 90-second video is strange in other ways. It contains an odd mix of awkward edits and numerous pans over a crowd of young, shifty-eyed fighters who can't really decide which camera to look at or how to stand.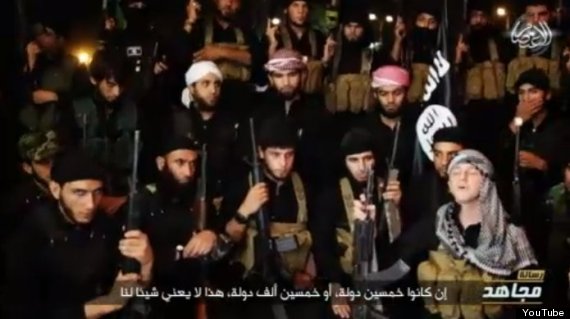 In June, Elmir told his parents that he was going on a fishing trip, but never returned. He left with a 16-year-old friend known as Feiz, who was reportedly intercepted by his father en route to Iraq, while Elmir carried on, according to The Australian Associated Press.
Elmir's parents say their son was "brainwashed," and friends described him as a normal teen.
The use of a foreign fighter as a mouthpiece, especially an English-speaking one, is consistent with previous propaganda issued by the Islamic State. Speaking with the Australian Broadcasting Corporation, terrorism expert Greg Barton said that videos like this are blatant recruitment tactics intended to lure more young foreigners.
Though Elmir's speech may seem awkward or banal to the average viewer, Barton explains that "for teenagers or 20-something young men, it's probably quite moving."
BEFORE YOU GO
PHOTO GALLERY
Syria War In October