Weeks of intense battles between Kurdish fighters and Islamic State militants near Kobani have left the Syrian town deserted and destroyed. The extent of the destruction became clear last week with before-and-after satellite images shot by DigitalGlobe.
Islamic State militants launched an assault on the city of Kobani on the border between Syria and Turkey in mid-September, prompting hundreds of thousands of the town's mainly Kurdish residents to flee. Backed by over 100 U.S.-led coalition airstrikes, Kurdish fighters inside Kobani have so far been able to repel several attacks by the extremists.
But the satellite images, released by the United Nations Institute for Training and Research (UNITAR), laid bare the enormity of the destruction in the violence-wrecked town.
UNITAR explains that the contrast between satellite images of Kobani on September 6 and October 15 show "widespread damage" because of the fighting. The photos also show new roadblocks and trenches in Kobani, while roads are almost entirely empty of traffic.
Hundreds of abandoned vehicles near the Syrian side of the border illustrate the panicked flight of Kobani's residents. Just across the border in Turkey, the images show a new refugee camp built to house the refugees.
DESTROYED BUILDINGS
BEFORE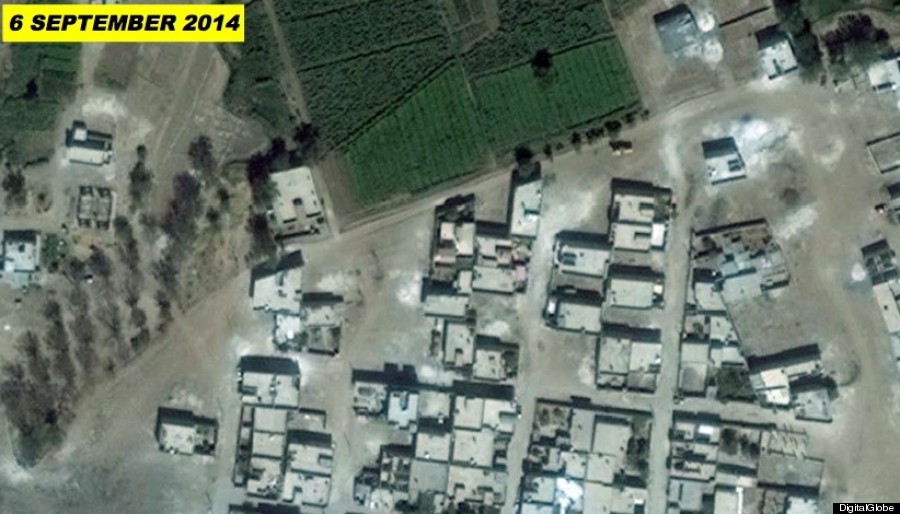 AFTER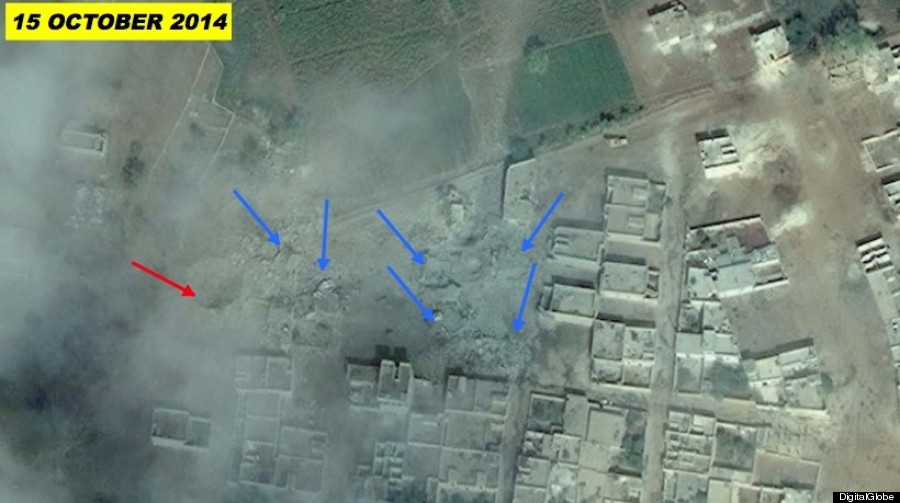 UNITAR: The figure shows a portion of the northern part of the town of Kobani where several buildings are destroyed or severely damaged (blue arrows), possibly by air strikes. A large crater is also visible next to the damaged structures (red arrow).
ABANDONED CARS
BEFORE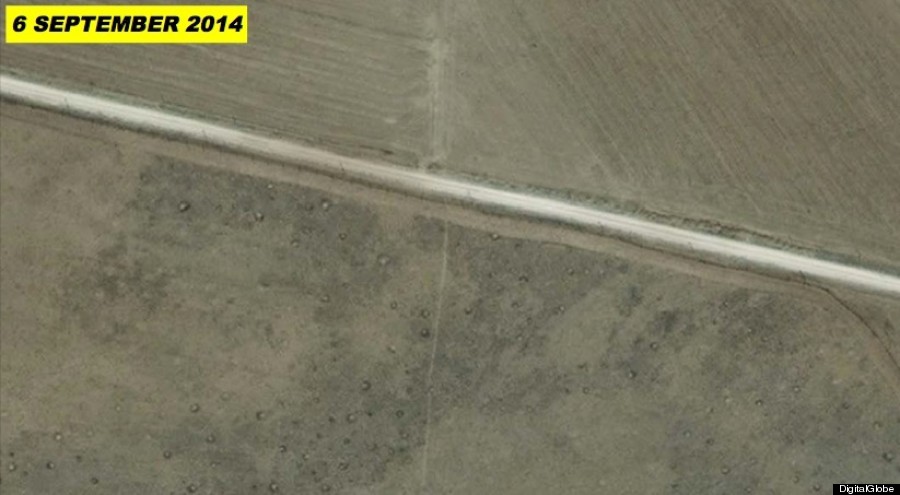 AFTER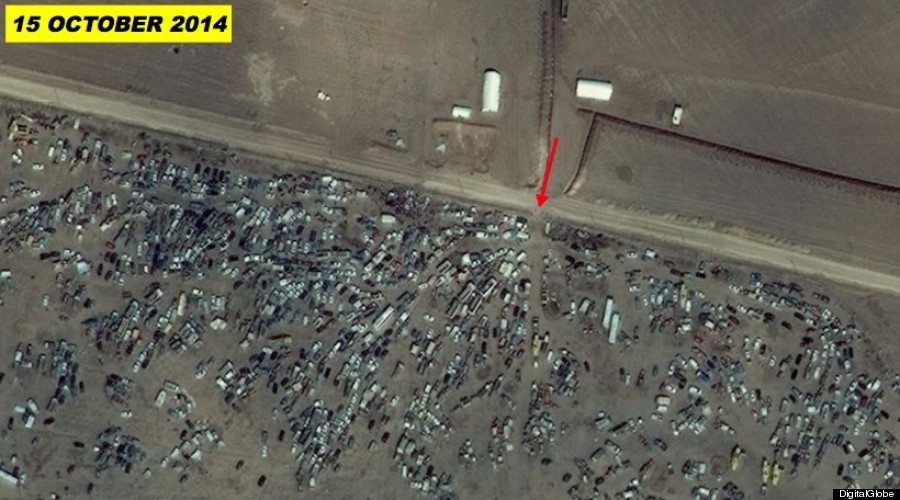 UNITAR: Hundreds of vehicles are also visible on the Syrian side of the border clustered around a border crossing point (red arrow). In addition on the Turkish side of the border a portion of the ground has been prepared for the storage of cars.
NEW REFUGEE CAMP
BEFORE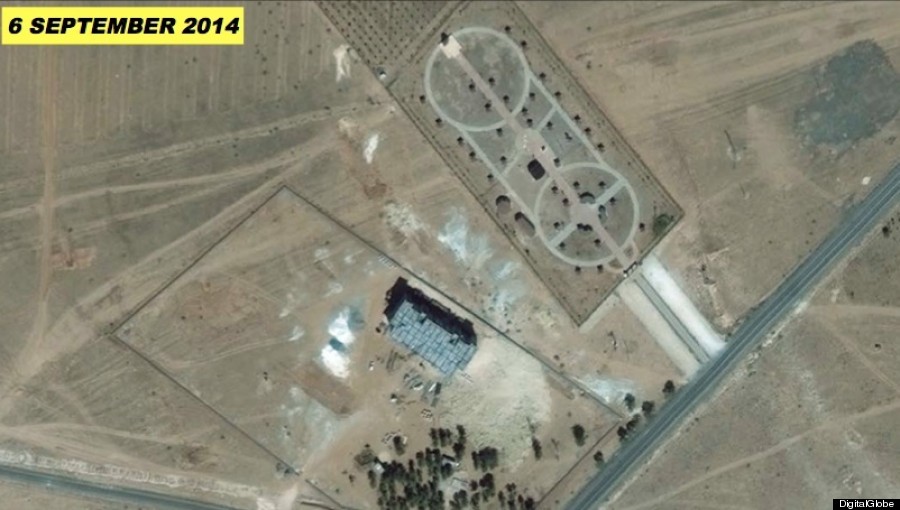 AFTER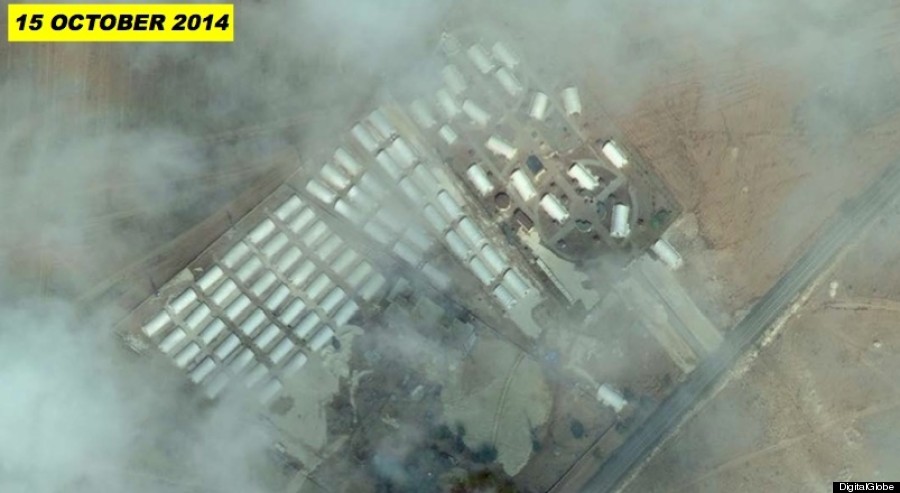 Close to the border, on the Turkish side a refugee camp has been created in order to acommodate increased number of refugees fleeing Kobani.
BEFORE YOU GO
PHOTO GALLERY
Syria War In October