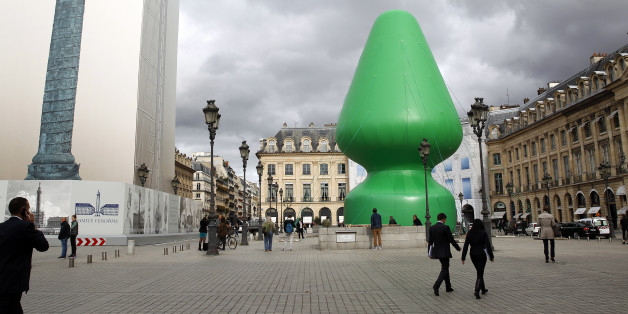 France's President François Hollande is A-OK with the giant "butt plug" sculpture, in case you were wondering. So Paul McCarthy can sleep softly tonight knowing that his 80-foot inflatable sex toy tree has the country's national stamp of approval.
"France will always stand beside artists, as I stand beside Paul McCarthy, whose work was marred, regardless of what one's opinion of the work was," Hollande auspiciously declared to AFP. "We must always respect the work of artists. France is always ready to welcome artists and designers from all over the world. France is not herself when she is curled up, plagued by ignorance and intolerance."
In the off chance you have no idea what #PlugGate is, here's your primer:
An artist created a massive green "Tree" sculpture earlier this month, as part of a moderately famous art fair in Paris, that resembles... a butt plug. The work is purposefully cheeky -- and by that, we mean the artist Paul McCarthy, the art fair and local authorities were pretty aware of its slight sex toy-esque appearance. But that didn't stop conservatives and the general public from wagging its collective finger at the massive objet d'art. McCarthy, who is well known for his naughty aesthetic, was even attacked while installing the behemoth.
#PlugGate reached its highest point of social media mania when a vandal destroyed "Tree," cutting its guide wires and deflating the entire structure. The Twitterverse mourned.
Bring Back our Plug #PlugGate #FIAC pic.twitter.com/ujT7yOXBsA

— Paris ZigZag (@ParisZigZag) October 18, 2014
I plug Paris! The Great Lobby love pluging Paris!

Venez pluguer Paris avec nous!

#LMPT #ONLR #PlugGate pic.twitter.com/rSMUxPEk6E

— PuissantLobbyLGBT (@Lobby_LGBT) October 20, 2014
Woke up to sad news that #pluggate in #Paris has been deflated - good news is I hear it's coming to #Hollywood pic.twitter.com/GuiKW6o6hi

— Megan Mulrooney (@Megan_Mulrooney) October 20, 2014
#PlugGate McCarthy "comprend les réactions suscitées par son œuvre" et prévois déjà une installation "moins ambigüe". pic.twitter.com/vTShCDm9hV

— Wildvertiser (@wildvertiser) October 18, 2014
The piece has not been reinstalled. Now all we're left with are the words of Monsieur le Président. "[France] would plunge into decline if it refused to be itself, if it was afraid of the future, afraid of the world," he added to AFP.
Thankfully, the Internet has drastically changed the way we view art around the world, and the plug will live on through memes. Vive l'arbre.
BEFORE YOU GO
PHOTO GALLERY
Paul McCarthy's "Tree"