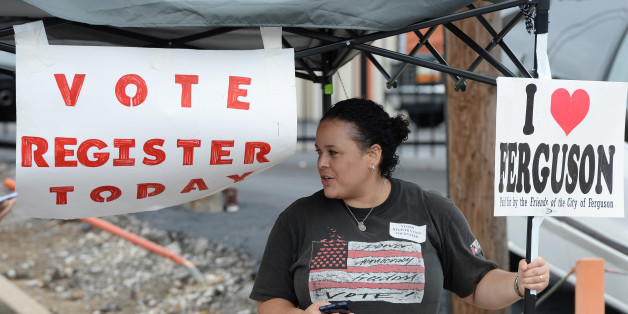 Georgia's Democratic party has a message for voters: Cast your ballot early if you don't want to see a repeat of the fatal shooting of a black, unarmed teenager in Ferguson, Mo.
"If you want to prevent another Ferguson in their future...vote," says a mailer distributed by the group which was, first reported in the Atlanta Journal Constitution. Accompanying the text is a picture of two young children holding up "Don't Shoot" signs.
Georgia Dems invoke Ferguson in attempt to drive voter turnout http://t.co/qdHlGbKBgD pic.twitter.com/s0LKUrO4kJ

— Wesley Lowery (@WesleyLowery) October 21, 2014
The August shooting of 18-year-old Michael Brown is recounted inside the mailer, which has already drawn backlash from some conservatives. "What are we going to do about it? If we want a better, safer future for our children, it's up to us to vote for change," it says, before touting early voting as "an easier, more convenient option" and listing nearby polling places.
Closer to home, politicians and activists including the Rev. Al Sharpton have tried to increase voter registration in Ferguson itself. Officials erroneously announced a surge in registration after the shooting, before sharply correcting the number downwards.
What's happening in your district? The Huffington Post wants to know about all the campaign ads, mailers, robocalls, candidate appearances and other interesting campaign news happening by you. Email any tips, videos, audio files or photos to openreporting@huffingtonpost.com.
BEFORE YOU GO
PHOTO GALLERY
Politicians React To Ferguson