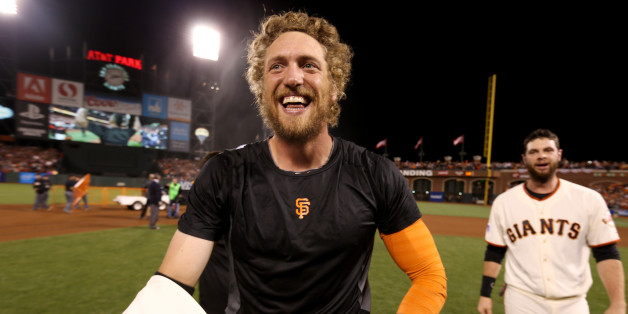 "All across the nation such a strange vibration
People in motion
There's a whole generation with a new explanation
People in motion people in motion"
There is no city quite like San Francisco. From its natural beauty to its intellectual and cultural idiosyncrasies, the City by the Bay is nothing if not unique. The same can be said of San Francisco Giants outfielder Hunter Pence. From his artisanal approach to handshakes to the circuitous routes he traverses in the outfield and his green way of traveling to home games at AT&T Park, Pence is a one-of-a-kind player in an age in which media scrutiny and advanced scouting and training methods have helped homogenize the look of America's pastime.
"Zany, yeah, that's a good word [for Pence]; he's zany," Giants catcher Buster Posey told the Pittsburgh Post-Gazette before his team began its run to the 2014 World Series with a win over the Pirates in the National League Wild Card Game.
A Texan by birth, Pence has became a fan favorite in the Bay Area since arriving during the 2012 season. Playing with an inimitable -- and sometimes inexplicable -- style that no young player will likely be coached to emulate any time soon, Pence has earned an All-Star nod and even a few stray MVP votes while holding down right field for the Giants.
"My favorite Giants player -- and probably my favorite player in all of Major League Baseball, come to think of it -- is Hunter Pence. He's my favorite player because he's the embodiment of chaos," wrote Riley Breckenridge for The McCovey Chronicles, SB Nation's Giants blog, during the 2013 season. "He's a mechanical disaster that yields surprisingly beneficial results. He's wrong producing right. He's us. Right? Maybe? No? K, let's move on anyway. He's flawed and weird and probably certifiably crazy, but he's getting it done somehow. Again, he's us."
Pence is far from the greatest player ever to put on a Giants uniform since the team moved to San Francisco for the 1958 season and he wasn't even the most important player on his own team as it prepared for the 2014 World Series. But there is something about him, about his motions and his strange vibrations that make him a perfect fit for his current home.
Here are 27 characteristics and moments that make Pence perhaps the most San Francisco Giant ever:
Pence helps the environment by driving a scooter.
He made doing things his way, the right way.
.@SFGiants @HunterPence's swing is a bit unorthodox, but it gets the job done: http://t.co/DFEkzwxq. #PerfectIssue pic.twitter.com/eh9OrmNa

— ESPN The Magazine (@ESPNMag) January 26, 2013
He wants to make the world a better place ...
To everyone headed back to school, spread the word #OnlyLove pic.twitter.com/5MElxYbMBb

— Hunter Pence (@hunterpence) September 2, 2014
... and will question societal norms.
When did coffee start being called Joe and why?

— Hunter Pence (@hunterpence) March 21, 2013
If he can't get the pitch he loves, he'll hit the one he's with.
Tech Savvy? Check.
Join @HunterPence in the #SFGiants 1st ever @Twitter + @VineApp Chat today at 3pm #SFGVine pic.twitter.com/UzILSIht58

— #OctoberTogether (@SFGiants) May 29, 2013
And a gamer.
I'm live on @Twitch right now playing @Diablo, come hang out: http://t.co/rVgDba0tYx pic.twitter.com/Z0nLzF80MB

— Hunter Pence (@hunterpence) August 19, 2014
Pence's passion inspires his peers.
He has an artisanal approach to handshakes ...
... but will hand out high fives for free.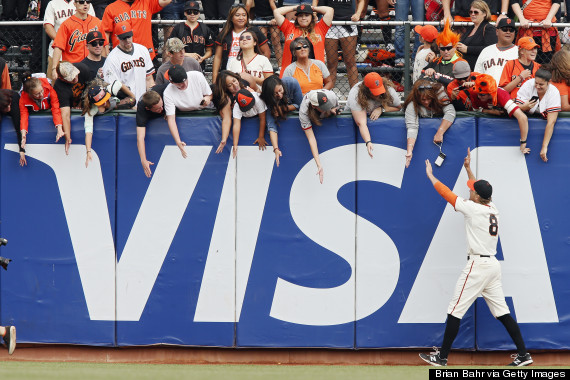 And has a vision to share with the masses.
Just one batting glove? Hunter makes his own style.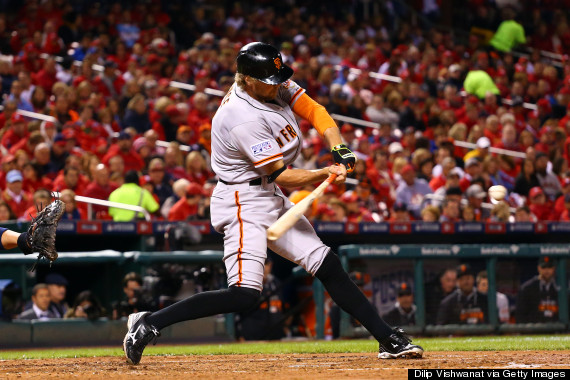 Yes, he's getting into soccer.
And Believes In Kale ...
Just found Avacado Oil for my kale!! Happy day. :)

— Hunter Pence (@hunterpence) November 14, 2013
... enough to retweet your National Kale Day message.
Happy national kale day @hunterpence pic.twitter.com/em7FcRjRhB

— lauren hernandez (@28LaurenTaylor_) October 2, 2014
When not making routine plays adventurous, he makes amazing catches.
He can be very professional when it comes to the media ...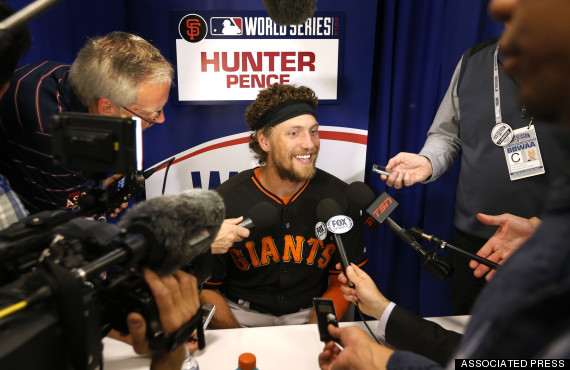 ... but remains a merry prankster.
This is how you photobomb! Sorry for scooting through your shot @CBSSF #Believe pic.twitter.com/3Hh98M0OWY

— Hunter Pence (@hunterpence) October 9, 2014
Other cities, like New York, might try to joke about him ...
The weekend of @hunterpence signs. pic.twitter.com/0d0gm7eik9

— MLB Fan Cave (@MLBFanCave) August 3, 2014
... but Hunter doesn't let it get him down.
He's ready for your drum circle.
If he's not busy reading philosophy ...
"I've read a ton of books," Pence said in October 2014 when asked about the inspiration for his speeches, via SFGate.com. "Not one in particular, but I consciously try to find the good in everything in every situation that happens. Was it Voltaire who said, 'I choose to be happy because it's good for my health"? Why not? Even through some of the toughest things that'll ever happen to you, there's something that makes you stronger, something you can reframe to make it good. It's what I believe. I don't know if it's true or not, but it makes me feel better.
... he actually appreciates Candlestick.
Sports fans everywhere will miss Candlestick....no I didn't play there

— Hunter Pence (@hunterpence) December 24, 2013
And he knows Wille McCovey deserves all the love.
I want to send a birthday shout out to a big inspiration. Happy Birthday Willie McCovey!

— Hunter Pence (@hunterpence) January 10, 2014
Tony Bennet is on his side.
Thanks Tony! RT @itstonybennett: I'm supporting my @SFGiants. #VotePENCE by texting N4 to 89269. Good luck Hunter!

— Hunter Pence (@hunterpence) July 10, 2013
In his 30s, Pence remains young at heart.
Wishing a happy 30th birthday to @HunterPence, who still plays the game like he did here! @MLB @SFGiants pic.twitter.com/MGREMMIPLH

— BHSC (@BHSCouncil) April 13, 2013
He will inspire (and retweet) local artists.
@hunterpence Hi Hunter, hope you like this drawing I did during the ASG. pic.twitter.com/IOOkuDwtmG

— Sarah W. (@toasterposey) July 17, 2014
Perhaps most importantly, though, he loves being in San Francisco ...
It feels so good to wake up in San Francisco

— Hunter Pence (@hunterpence) October 13, 2012
... and his love has been rewarded.
Hey @hunterpence, what'd I say? We gotcha. #ScooterReturned @SFGiants pic.twitter.com/TkSZOP6mZP

— Brëtt Miröki (@JocoGent) May 28, 2014
BEFORE YOU GO
PHOTO GALLERY
All-Time World Series Champions