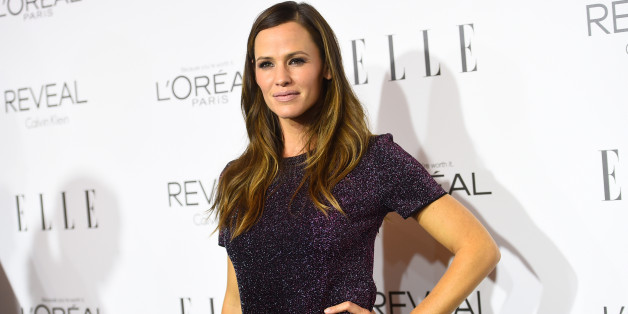 Jennifer Garner is not immune to sexism in the entertainment industry -- and she made a point to shed light on the issue with a speech at Elle's annual "Women in Hollywood" event Monday.
The 42-year-old star was one of multiple actresses honored by Elle for "the creative contributions they have made to the world of film—both in front of and behind the camera." When Garner took the stage at the Four Season Hotel in Beverly Hills, she questioned why it's necessary to schedule an event like "Women in Hollywood" to acknowledge actresses, according to E! News.
"I mean, the 'Men in Hollywood' event is every day. It's called Hollywood," she said, according to Yahoo Celebrity UK. "Fifty-one percent of the population should not have to schedule a special event to celebrate the fact that in an art that tells the story of what it means to be human and alive, we get to play a part!"
Garner added that Hollywood's gender divide was particularly apparent when she and husband Ben Affleck attended a recent press junket together. Afterward, the two compared notes about the questions they were asked.
"[E]very single person who interviewed me, I mean every single one -- and this is true of the red carpet here tonight, Elle -- asked me, 'How do you balance work and family?' and he said the only thing that people asked him repeatedly was about the tits on the 'Blurred Lines' girl [Affleck's 'Gone Girl' co-star, Emily Ratajkowski], which, for the record if we're talking about them, they are real and they are fabulous. Take a look and enjoy."
"As for work-life balance, he said no one asked him about it that day," she continued. "As a matter of fact, no one had ever asked him about it. And we do share the same family. Isn't it time to kinda change that conversation?"
While sexism may be prevalent in Hollywood, at home Garner says she and Affleck have an equal, supportive partnership. In an interview with Elle for the magazine's November 2014 issue, she described how motherhood changed her professional perspective and how Affleck has supported her along the way.
My ambition shifted when I had kids in a way that I didn't anticipate. I became more ambitious for my life as a whole, and for that kind of health and happiness of the overall family unit. And that very much includes my husband and very much includes me. My husband is always the one saying to me, 'You have to work, you have to work. This is part of who you are. We'll figure it out.' That's powerful, when your partner has that serious mantra.
BEFORE YOU GO
PHOTO GALLERY
Actresses Told They Weren't Pretty Enough