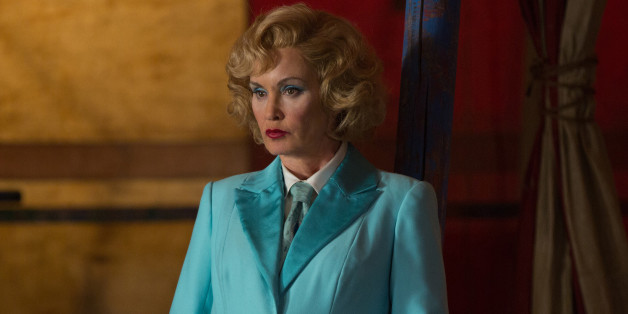 The following post contains spoilers about "American Horror Story: Freak Show."
Ryan Murphy teased "American Horror Story" fans on Twitter last month by revealing Jessica Lange would cover a Lana Del Rey song in "Freak Show." Now we finally know which one.
The fourth season's purposefully anachronistic musical numbers have, so far, included Jessica Lange's Elsa Mars singing a magical rendition of David Bowie's "Life On Mars" (blue suit included) and Sarah Paulson's Dot covering Fiona Apple's "Criminal." Prepare yourself for something even better: Lange singing Del Rey's "Gods & Monsters," from her "Paradise" EP.
On Monday, a YouTube account called American Horror Story Venezuela leaked a video of Lange covering the song online. The clip is very brief, but shows Lange's Elsa Mars performing the song on stage as Amazon Eve plays the piano. According to Redditor OceanNights, the cover will appear in Wednesday's forthcoming episode.
Video of the song has since been taken down from YouTube, but you can see versions of it on Vine and Tumblr.
Ryan Murphy has said before that this season will have "maybe only five numbers," so that still means we have two more to go. He told Entertainment Weekly that there will be a Kurt Cobain cover, so who will the fifth be? Maybe Pepper will sing a Meat Loaf song.
H/T Reddit
"American Horror Story: Freak Show" airs on Wednesdays at 10:00 p.m. ET on FX
BEFORE YOU GO
PHOTO GALLERY
"American Horror Story"