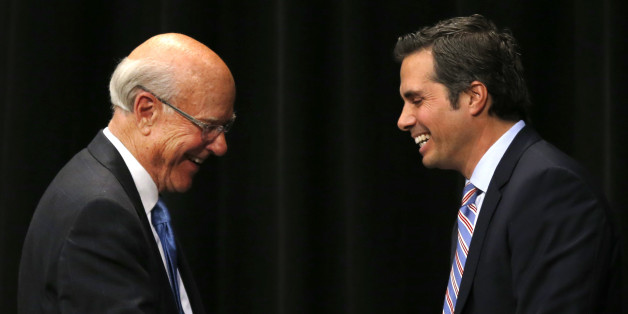 A new poll finds a tie in the Kansas Senate race. Americans' media habits are polarized, but few live in ideological bubbles. And while pollsters won't cop to 'herding,' most suspect that others do. This is HuffPollster for Tuesday, October 21, 2014.
NEW POLL FINDS TIE RACE IN KANSAS - A new Monmouth University Poll finds a tie race for Senate in the unusual contest pitting Republican Sen. Pat Roberts against independent challenger Greg Orman. The Democratic nominee, Chad Taylor, dropped out of the race in September and his name will not appear on the ballot. The Monmouth poll of just 429 likely voters find 46 percent support for both Roberts and Orman with just 5 percent undecided. Five polls conducted earlier in October found results ranging between a five point lead for Orman and a five point lead for Roberts. The current estimate produced by HuffPollster's poll tracking model gives a slight but largely meaningless half point edge (44.2 to 43.6 percent as of this writing). The probability of a Roberts win stands, based on this estimate, is exactly 50 percent. [Monmouth, Pollster Kansas senate chart]
The poll also gave Democratic challenger Paul Davis a 5 percentage point lead over Republican governor Sam Brownback (50 to 45 percent). That's a slightly better result for the Democrat compared to four other recent surveys that showed either a tie or a slight Brownback advantage, though three surveys in late September gave Davis a narrow advantage. The HuffPollster poll tracking model gives Davis a one point advantage, as of this writing (47.8 to 46.8 percent), but barely better than a 50/50 shot at winning in November. [Pollster Kansas governor chart]
The new statewide election poll is the first conducted by the Monmouth University Polling Institute this cycle outside of its home state of New Jersey. Monmouth pollster Patrick Murray tells HuffPollster via email that the Kansas survey is the first of a series being conduct over the next two weeks, with new polls in Iowa and Colorado due out later this week. In Kansas, Monmouth used live interviewers to call voters on their landline and mobile phones using a sample drawn from the official list of registered voters in Kansas, a technique more popular among campaign than news media pollsters. In this case, according to Monmouth's report, they weighted their sample on region, age, gender and party registration to match data culled from "registration list information on the pool of voters who participated in recent midterm elections."
Because the Monmouth poll tracked data from the official voter lists, they were able to report both the actual actual registration status of respondents as recorded on the voter file along with the party identification they self-reported on the survey. The differences were biggest for Republicans, indicative of the unique political environment that Republicans face this year in Kansas. The Monmouth sample consisted of 60 percent registered Republicans but just 42 percent reporting they identify with the GOP. [Monmouth, h/t @Nate_Cohn]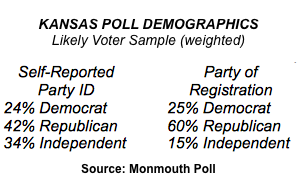 Kentucky Senate - At the beginning of October, SurveyUSA's Bluegrass Poll caused a minor stir when it showed Alison Lundergan Grimes (D) with a 2-point edge over Senate Minority Leader Mitch McConnell. Their most recent survey, released Monday night, continues to find a close race, but this time gives McConnell a 1-point advantage. "If they are both equally successful in mobilizing the vote, she loses," University of Kentucky Political Science professor Steve Voss told the Courier-Journal. Grimes' unfavorability rating also ticked up, putting her underwater for the first time, although she remains more popular than McConnell. [Courier-Journal
A second Kentucky poll was also released Monday: the debut effort of Western Kentucky University's Social Science Research Center. The survey, which used live callers to reach landlines and cell phones, found McConnell ahead by 5 among registered voters, with a smaller 3-point edge among likely voters. The poll found that most of Grimes' supporters say they're voting in protest against McConnell, while McConnell's supporters are more likely to say they're voting because they support him.
WKU]
McConnell has led in all of the seven most recent public surveys, save for the previous Bluegrass poll, by margins of between 1 and 8 points. Most of the polling suggests a race that continues to be competitive, but with a clear, abiding edge for the Republican incumbent. HuffPost Pollster's Senate model gives McConnell a 4-point lead and about a 63 percent chance of winning in November. [Kentucky Chart]
National overview - The new polls leave our model's overall assessment of the race for Senate essentially unchanged. The poll tracking model continues to give Republicans narrow advantages in enough states to give Republicans a 52 seat majority. Kansas would add a 53rd seat in that scenario regardless of its outcome, since independent Greg Orman has pledged to caucus with the majority party. Nevertheless, these margins remain narrow in many states, well within the range of potential late shifts and polling error, so our model continues to give Republicans a 66 percent chance to win a Senate majority. The Senate contest is leaning Republican but that outcome is far from certain. [HuffPost Senate Forecast]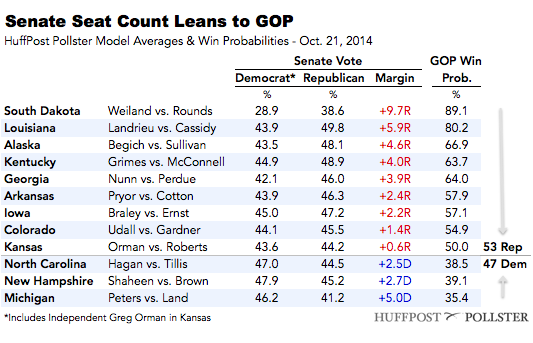 PARTISANS' MEDIA HABITS ARE AS POLARIZED AS THEIR POLITICS - Amy Mitchell, Jeffrey Gottfried, Jocelyn Kiley and Katerina Eva Matsa: "When it comes to getting news about politics and government, liberals and conservatives inhabit different worlds. There is little overlap in the news sources they turn to and trust. And whether discussing politics online or with friends, they are more likely than others to interact with like-minded individuals, according to a new Pew Research Center study…. The study also suggests that in America today, it is virtually impossible to live in an ideological bubble. Most Americans rely on an array of outlets – with varying audience profiles – for political news. And many consistent conservatives and liberals hear dissenting political views in their everyday lives. Yet as our major report on political polarization found, those at both the left and right ends of the spectrum, who together comprise about 20% of the public overall, have a greater impact on the political process than do those with more mixed ideological views." Among the study's findings: consistent conservatives watch mainly Fox, while consistent liberals are more likely to use a variety of sources; consistent liberals are more likely to defriend people on Facebook over politics. [Pew Research]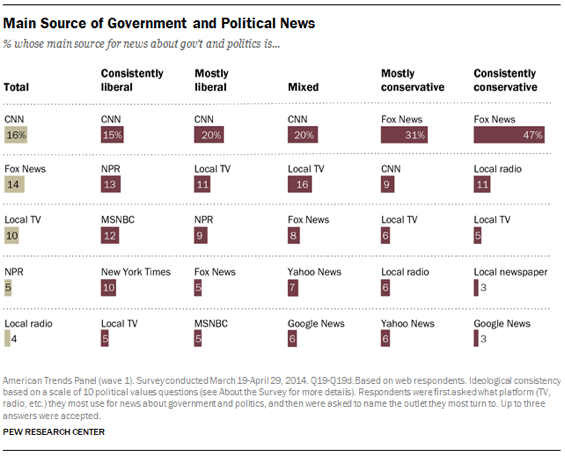 OBAMA'S APPROVAL RATING REMAINS MOSTLY STEADY AT A NEAR LOW - Jeffrey M. Jones: "President Barack Obama's job approval rating averaged 41.5% during his 23rd quarter in office, which began on July 20 and ended on Oct. 19. That ranks as one of his lowest quarterly approval ratings to date. The only two that were lower were the 41.2% in his 20th quarter -- after the troubled launch of the health insurance exchanges last fall -- and the 41.0% in his 11th quarter during the negotiations to raise the federal debt limit and its fallout on the U.S. economy….Typically the president's party's fortunes in the midterms are heavily tied to his popularity. For example, the Republicans suffered heavy losses in the 2006 midterm elections under Bush, losing majority control of both the House of Representatives and the Senate. Republicans also performed poorly in the 1974 midterms, just after what would have been Richard Nixon's 23rd quarter in office. He resigned in August just after his 23rd quarter began, with his only job approval rating measured during that quarter at 24%.
In contrast, presidents who were relatively popular in their 23rd quarters -- including Reagan and Clinton -- saw their parties perform better in the midterms." [Gallup]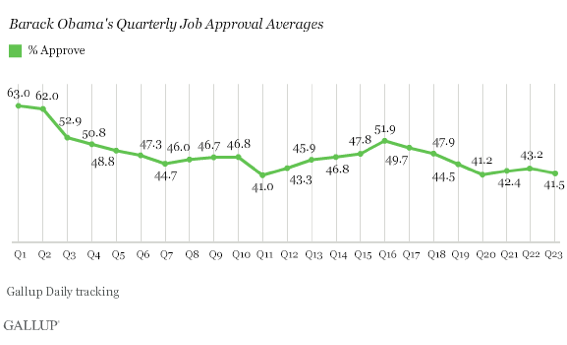 FEW AMERICANS VOTING BASED ON HEALTH CARE - Kaiser Family Foundation: "With the 2014 midterm election less than one month away, the latest Kaiser Health Tracking Poll finds the ACA continues to be a second-tier issue on voters' minds, and many say they are tired of hearing candidates talk about the law. Just over a quarter (27 percent) of registered voters say the health care law will be an "extremely important" issue in their vote and about another third (35 percent) say it will be "very important". But when asked to choose the MOST important issue, just 8 percent pick health care, ranking behind the economy (16 percent) and dissatisfaction with government (12 percent) and similar to other issues like education (10 percent), the situation in Iraq and Syria (9 percent), and immigration (6 percent)....At this point in the election season, slightly more than half (53 percent) of registered voters say they are tired of hearing candidates for Congress talk about the health care law and would prefer they move on to other issues, while 44 percent say they feel it is important for Congressional candidates to continue debating the issue." [KFF]
POLLSTERS SAY THEY DON'T 'HERD,' BUT SUSPECT OTHERS DO - Carl Bialik polls the pollsters about ethics: "Earlier this year, my colleague Harry Enten reported on evidence he found suggesting that some pollsters were copying others' results, revising their numbers to fall into line with those of their peers. I asked our pollsters if any ever do that. All 22 who answered said they don't….One respondent wasn't convinced we'd get meaningful results from the question, even though we granted anonymity. 'Um, you think anyone is going to answer this honestly?' said the pollster, who didn't want to be named. When we asked the same question about other pollsters, our respondents were more inclined to suspect copying. Of the 14 who answered, eight thought some pollsters adjusted their numbers to match published polls' results….Sometimes, reporters publish results of polls — then hear from polling organizations that they have recalled the poll, like a faulty car. All but three of the 20 pollsters who responded to our question about it said recalling polls was sometimes appropriate." [538]
HUFFPOLLSTER VIA EMAIL! - You can receive this daily update every weekday morning via email! Just click here, enter your email address, and and click "sign up." That's all there is to it (and you can unsubscribe anytime).
TUESDAY'S 'OUTLIERS' - Links to the best of news at the intersection of polling, politics and political data:
-A new poll of Latino voters finds them "frustrated with the president and angry with the GOP." [Latino Decisions]
-Nate Cohn says Republicans in the House can afford to alienate Hispanic voters and still win. [NYT]
-The vast majority of uninsured Americans aren't aware that the next ACA open enrollment period is approaching. [NYT]
-Eric McGhee looks at criticism that The Washington Post's election model has too high a level of certainty. [WashPost]
-Andrew Gelman prefers probabilities rounded off to the nearest 10 percent. [AndrewGelman.com]
-The American Association for Public Opinion Research calls for papers for a mini-conference on reassessing today's survey methods. [AAPOR]
-A UNC undergraduate launches an election forecasting website. [Daily Tarheel]
BEFORE YOU GO
PHOTO GALLERY
Presidents & Their Dogs