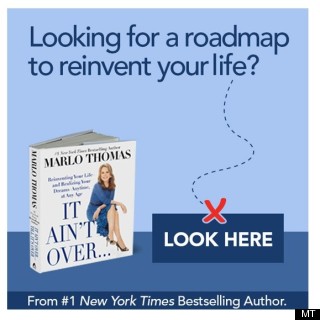 "One of the reasons I started my website is that I wanted a place for women to come together and dream. We women need to know that we don't have to hang on to an old dream that has stopped nurturing us—that there is always time to start a new dream. This week's story is about Julie Azuma – a successful designer who found a way to help her autistic daughter's developmental progress –and ended up helping thousands of other autistic children in the process."—Marlo, MarloThomas.com
What Julie Azuma remembers most from her baby's first year is a sense of bewilderment and despair. A successful designer in the apparel industry, Julie was past 40 when she and her husband adopted an infant from Korea.
And things weren't going well. Baby Miranda would scream and scream, and she couldn't be soothed. She wasn't reaching her developmental milestones on time either—didn't sit up on her own, didn't walk well, didn't talk at all.
When it became clear that the issues were ongoing, Julie took Miranda to a series of pediatricians, neurologists, psychiatrists, and speech-and-language pathologists, all in search of answers that didn't come. "They said she had speech and developmental delays; they said it was because of the adoption; they said a lot of different things," Julie says with a sigh. "They never said she had autism."
Miranda didn't demonstrate autism's defining symptom, which is failure to make eye contact. By the time she was six years old and still not talking, however, it was clear to everyone that something was very wrong. Julie and her husband had adopted a second child, Sophie, who was developing just fine. But even at a special-education preschool, Miranda was not progressing.
"Miranda was six and a half before she was diagnosed, and by that time, sadly, it was tough to change her trajectory," says Julie. Today we know that early, intense therapy can make a tremendous difference in how an autistic child develops, but for Miranda the opportunity seemed lost.
Not about to give up on her daughter, Julie started her research, which was a lot harder in the days before Google. "But I found a book called Let Me Hear Your Voice, which led me to a parent movement that advocated using Applied Behavior Analysis." Now a standard therapy, ABA was then a largely unknown method for teaching language and social skills to children with autism. "This ABA method was the one thing that gave us parents hope."
Article Continues Below Slideshow
PHOTO GALLERY
Julie Azuma
Armed with that hope, Julie now had to put ABA theory into practice for Miranda. That meant finding the very specific developmental products that were crucial to the therapy's success—like wooden blocks, but without letters or numbers (which can be frustrating for children who don't recognize them). And flash cards that showed emotions, actions, household items, and food, but used actual photographs (not illustrations, which may be difficult for children with autism to interpret).
"These products were so hard to find!" exclaims Julie. "I would spend weeks tracking down what I needed. I was a desperate woman; I went from place to place to place." At one point she even asked a friend who was traveling to London to call a British company while she was there, to get her a product that wasn't available in the United States.
Amazingly, though, the new therapy worked. "Within six weeks of starting ABA, Miranda spoke. She was able to say, 'I want orange juice.' It was a revelation," says Julie, who by that time had left her fashion-industry job to stay home with Miranda and Sophie. As tough as the product search had been for Julie, she realized it would be impossible for a working mom. So she began to think about starting her own company to help other families.
"I knew I couldn't afford a real store," says Julie. "I didn't have a lot of start-up money. Then a woman in my class said, 'Why don't you go on the Internet?' It seemed like a great deal: You could have a store for five or six hundred dollars a year, as opposed to paying New York City rents."
Though it made financial sense, this was 1994, when most people didn't even have an email address and e-commerce barely existed. To make things worse, Julie says, she was at the time "completely computer illiterate." Determined to create her store, she found someone to design a website and she set to work learning how to use a computer—even though she didn't have a lot of confidence in herself.
In 1995, Julie launched Different Roads to Learning, an online store at DiffLearn.com. ("There was a limit then on how long your URL could be.") The site initially offered about 30 products, but the problem was getting parents to find it. Word of mouth in this close-knit community, along with a simple black-and-white paper catalog, created traction.
Different Roads to Learning grew slowly. "I was still taking all the packages to the post office myself when I got orders—that's how small we were. But then one day my accountant said, 'Congratulations! You're profitable!' I said, 'That's impossible. I thought we were still in the hole.' That's when I realized, Wow, this could actually be a good business."
Julie doesn't carry orders to the post office anymore. Today, Different Roads to Learning has four full-time employees, carries more than 600 products, and earns $2.5 million in annual sales. The company has also added a book division and four apps—something Julie could never have imagined back in 1995.
"We're still a smallish company," says Julie. "But we've come so far, and so have the kids. Because of early intervention and enough ABA work, they're so much more skilled now. A lot of these kids can be mainstreamed by the time they're five, in kindergarten. That just wasn't happening before. And because we sell to a lot of schools, I like to think that we've been a part of bringing about that change. Sometimes I look back and I'm amazed."
Miranda is still developing language at 25, and lives in a small group home that provides care, support, and vocational training. It's not the way Julie hoped things would turn out,
 but she's glad her older daughter is
 happy and healthy.
Julie becomes reflective when she talks about her own struggles and the emotional obstacles she had to overcome in order to start her business.
"Whenever anybody asks me if they should start a business, I tell them if you have the passion, you've got to go for it," Julie says, "I believe in letting go and not being afraid."
To find out more about Julie's journey -- and to read 59 other inspiring stories -- buy your copy of "It Ain't Over Till It's Over." Click here.

Add Marlo On Facebook:
Follow Marlo on Twitter:
Sign up to receive my email newsletter each week - It will keep you up-to-date on upcoming articles, Mondays with Marlo guests, videos, and more!