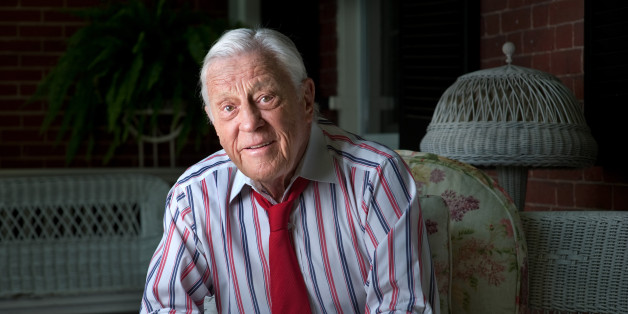 Journalism lost a legend on Tuesday with the death of the great Ben Bradlee at the age of 93.
The iconic newsman, who oversaw the Washington Post's Pulitzer Prize-winning coverage of the Watergate scandal, which led to the resignation of President Richard M. Nixon, was the driving force behind the paper's reinvention and rise to the top. Bradlee's decision to publish the Pentagon Papers against the plea of top government officials in 1971 resulted in the Supreme Court ruling that allowed newspapers to continue to publish leaked documents. He brought life, power and change to newspaper.
Bradlee had been described as "gruff, charming and tenacious." Former New York Times executive editor Jill Abramson characterized him as "luminescent." Former Post owner Donald E. Graham called him "the best American newspaper editor of his time."
"That paper wasn't any good before he got there," New Yorker editor and former Post reporter David Remnick wrote after news of his death broke Tuesday. "It wasn't even the best paper in Washington. It became the second best paper in the country. He gave it its ambition."
President Obama also released a statement on Bradlee, remembering the "true" and "honest" man to whom he once bestowed the Presidential Medal of Freedom.
"For Benjamin Bradlee, journalism was more than a profession –- it was a public good vital to our democracy," Obama said. "A true newspaperman, he transformed the Washington Post into one of the country's finest newspapers, and with him at the helm, a growing army of reporters published the Pentagon Papers, exposed Watergate, and told stories that needed to be told –- stories that helped us understand our world and one another a little bit better."
The Washington Post dedicated four pages to his obituary Wednesday morning:
Ben Bradlee obit: 4 full pages inside the @WashingtonPost http://t.co/iMnwewlQEc pic.twitter.com/OjvJMMaODh

— Brian Stelter (@brianstelter) October 22, 2014
Other journalists expressed their utmost respect and admiration for Bradlee on Twitter:
Ben Bradlee, the legendary WashPost editor during Watergate, is dead at 93. He was journalistic brilliance married to awesome charisma.

— Nicholas Kristof (@NickKristof) October 22, 2014
Seeing Ben Bradlee walking the halls of the Post was one of the great thrills of working there: http://t.co/ON0YqKfxjv

— Ezra Klein (@ezraklein) October 22, 2014
The last of the larger than life newspaper editors. Rest in peace, Ben Bradlee.

— Judy Battista (@judybattista) October 22, 2014
So sad to see the passing of Ben Bradlee, but he truly defined living life to its fullest. Getting to know him even a little bit was a joy.

— Jim Brady (@jimbradysp) October 22, 2014
RIP the only boss I ever had who was truly larger than life: the great Ben Bradlee http://t.co/fUesfz5zFT via @NewsHour

— gwen ifill (@gwenifill) October 22, 2014
He liked egg salad sandwiches, beautiful blondes and taking down a president. I am so glad I knew Ben Bradlee. http://t.co/bU0kpNYabr

— Melissa Bell (@MelissaBell) October 22, 2014
Ben Bradlee had the courage to back 2 young unproven reporters on a story no one cared about. It was only Watergate. Need more like him. RIP

— trey wingo (@wingoz) October 22, 2014
Post ticker pays tribute to Bradlee "remembered for his deep impact on not only journalism, but also on the country pic.twitter.com/gcbpiqMUCw

— Perry Stein (@PerryStein) October 22, 2014