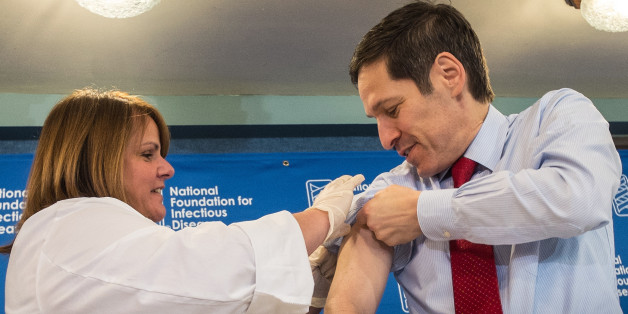 WASHINGTON -- When media outlets aren't hyping the threat of Ebola, they're embracing a much more helpful trend: stories explaining we should really worry about the flu.

Americans have gotten the message -- kind of. They're a little more likely to say the flu is a bigger threat to the nation, a new HuffPost/YouGov poll finds, with 45 percent saying the flu is a greater danger, 40 percent naming Ebola, and the remaining 15 percent undecided.
Experts are far less divided on which poses the bigger risk.
"I don't think there's any question, if you ask 100 infectious disease experts or epidemiologists, what 100 percent of them would say. Influenza is more of a threat to the average American, if by threat you mean 'which is more likely to kill you or make you sick any time in the next year,'" Dr. Art Reingold, the head of epidemiology at UC Berkeley's School of Public Health, told HuffPost.
While Ebola has so far affected just three people on U.S. soil, "influenza and pneumonia" regularly kills tens of thousands of people a year, according to the CDC, making it the eighth-leading cause of death as of 2010.
Although Americans' concerns about Ebola have risen since news of this year's outbreak first surfaced, most still believe that the threat will remain manageable, and that they're unlikely to be personally affected.
Fifty-two percent now say they're confident there won't be a large Ebola outbreak in the U.S., down only slightly from the 56 percent who said so in early October. Fifty-five percent say they're not particularly concerned that they or someone in their family will get Ebola.
Yet most don't think news coverage is overhyping Ebola either. Forty-four percent say there's been about the right amount of media attention paid to the disease, while just 26 percent say the media is giving it too much play. Another 17 percent say the disease has actually been undercovered.
The HuffPost/YouGov poll, like other recent surveys, finds something of a partisan divide, with Republicans significantly less confident than Democrats in the ability of the U.S. to avoid an outbreak, and more likely to say that Ebola is more of a threat than the flu.
The results also show another demographic difference: compared with the 45 percent of Americans who plan to get flu shots this year, the 45 percent who don't plan to get the shots are a little more freaked out about Ebola across the board. Those who are getting shots say by a 17-point margin that the flu is more dangerous than Ebola, while those who aren't say by a 6-point margin that Ebola poses a bigger a threat.
Those who aren't getting vaccinated are 7 points more likely to worry that they or someone in their family will contract the virus, although a slim majority still say they're not concerned about being personally affected. They're also 7 points less likely to say they're confident there won't be a large Ebola outbreak and 7 points more likely to say the media isn't paying enough attention to the threat.
The poll didn't ask people to provide their rationale for not getting the shot, but polling during the 2009 H1N1 outbreak found that those who didn't get vaccinated were more likely to have concerns about the vaccine's safety, and to say they didn't trust public health officials -- worries that could also lead people to mistrust the government's ability to keep them safe from Ebola.
Public health experts urge nearly everyone over the age of 6 months who isn't allergic to get the shot, though fewer than half typically do. Because flu and Ebola have similar initial symptoms, like fever, fatigue and aching, some medical professionals expect an increase in ER visits from people who are suffering the former but fearing the latter.
"One of the issues is that if people do get the flu vaccine and reduce their risk of flu, then we'll have fewer people coming to the doctor or the emergency room with a febrile illness, where there might be a suspicion about it being Ebola or something else, " Reingold said. "We would like people to reduce their chances of getting the flu for all kinds of reasons, but that would be one of them."
The HuffPost/YouGov poll was conducted Oct. 15-16 among 1,000 U.S. adults using a sample selected from YouGov's opt-in online panel to match the demographics and other characteristics of the adult U.S. population. Factors considered include age, race, gender, education, employment, income, marital status, number of children, voter registration, time and location of Internet access, interest in politics, religion and church attendance.
The Huffington Post has teamed up with YouGov to conduct daily opinion polls. You can learn more about this project and take part in YouGov's nationally representative opinion polling. Data from all HuffPost/YouGov polls can be found here.