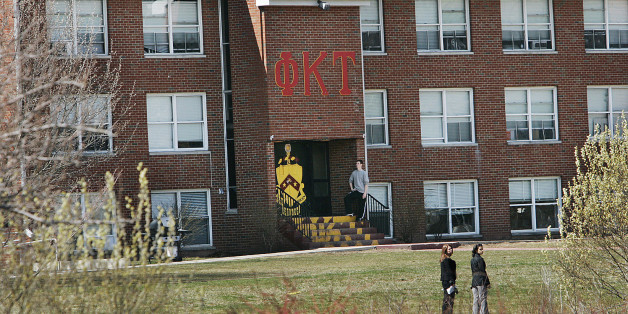 A vast majority of Americans want to see fraternities caught hazing removed from campus, with more leaning toward banning them from a school permanently, a new Huffington Post/YouGov poll finds.
Forty-three percent said frats busted for hazing should be banned from a college campus permanently, with another 40 percent saying that the houses only should be suspended temporarily. Only 7 percent said the houses shouldn't be suspended at all.
Hazing is illegal in most states, and something many college leaders have wrestled with over the past few years in light of dozens of fraternity-related deaths. With intense media focus on hazing deaths, and national attention focused on sexual assault in college, fraternities have found themselves on the defensive, creating education efforts and committees to figure out how to stop problematic behaviors among brothers.
Part of the scrutiny on fraternities, particularly relating to sexual assault, is driven by research showing members are three times more likely to commit rape than non-members, bolstered by stories of people being "roofied" at frat parties.
One change that has been proposed around the nation, and been implemented at a few schools but hotly contested by members of Greek life, is making male-only fraternities admit women. But the HuffPost/YouGov poll found that three out of five Americans do not support forcing fraternities to go coed, a rate virtually unchanged between men and women.
Half of all men and women in the survey believe making fraternities go coed would actually increase the rate of sexual violence, with fewer than one in 10 saying it would cut back on sexual assaults.
Fewer than half of black and Hispanic survey respondents said fraternities should be allowed to stay single-sex, with close to a third saying the organizers should have to include women as members too. Slightly more black and Latino respondents than white respondents said going coed would decrease the incidents of sexual assault, but the percentage who held that view remained a minority of those surveyed.
A plurality of the survey respondents said they had not followed news about hazing and sexual assaults closely.
The HuffPost/YouGov poll was conducted Oct. 16-20 among 1,000 U.S. adults using a sample selected from YouGov's opt-in online panel to match the demographics and other characteristics of the adult U.S. population. Factors considered include age, race, gender, education, employment, income, marital status, number of children, voter registration, time and location of Internet access, interest in politics, religion and church attendance.
The Huffington Post has teamed up with YouGov to conduct daily opinion polls. You can learn more about this project and take part in YouGov's nationally representative opinion polling. Data from all HuffPost/YouGov polls can be found here.