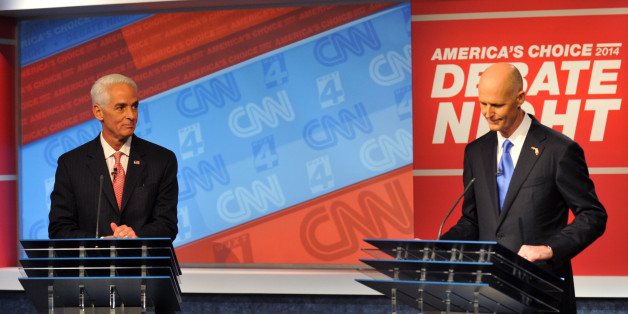 Many of this year's gubernatorial races remain exceptionally close. Most Americans think the GOP will win the Senate. And do early voting numbers really spell doom for Democrats? This is HuffPollster for Wednesday, October 22, 2014.
'GUBERNATORIAL CONTESTS GET CLOSER - While national attention has focused on the battle for the U.S. Senate, 36 states are holding elections for governor and with less than two weeks before election day, a remarkable number are close and highly competitive according to the latest public polling.
In fact the number of close contests for governor has nearly doubled since HuffPost's gubernatorial forecasts launched five weeks ago. Our polls-only tracking models currently show the top candidates in 9 races separated by toss-up margins of 3 percentage points or less: Colorado, Connecticut, Florida, Illinois, Kansas, Maine, Massachusetts, Michigan and Wisconsin. In three more states - Alaska, Georgia and Rhode Island -- just 3 to 4 points separate the leading candidates.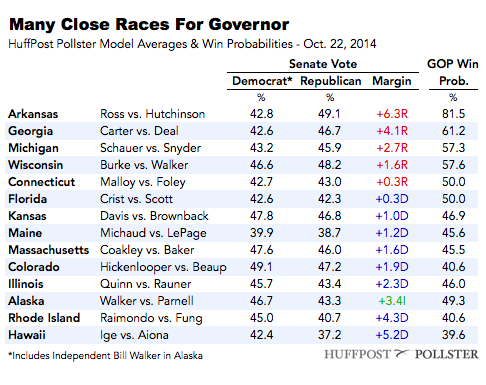 Among the latest gubernatorial polling:
Florida governor - The matchup between Gov. Rick Scott (R) and Charlie Crist (D) is the most-polled race of this cycle, with more than 60 polls released to date, most showing an increasingly close race in the final month. Of the six most recent polls, four have the race literally tied, including a Quinnipiac University survey released Wednesday that gives each candidate 42 percent, with men splitting for Scott and women for Crist. Quinnipiac's previous poll, in September, gave Scott a 2-point lead; in July, they had Crist up by 5. HuffPollster's model has both candidates within a half a point, with even chances of winning. [Florida chart, Quinnipiac]
Connecticut governor - The much sparser polling on the race between Gov. Dan Malloy (D) and Tom Foley (R) is also far less consistent, with surveys in the past month showing everything from an 8-point Malloy lead, to a tie, to a 7-point Foley lead. Quinnipiac, which had Foley ahead by 6 in September, found the race tied in early October, and Malloy up 1 in a poll released Wednesday morning. HuffPollster's model puts the race at a 50/50 tossup. [Connecticut chart, Quinnipiac]
Michigan governor - An EPIC-MRA survey gives Gov. Rick Snyder (R) an 8-point lead over Mark Schauer (D), one of his biggest margins in recent polling. The firm previously had Snyder up 6 in September, Schauer up 2 in August, and Snyder up 8--9 points earlier in the year. A recent Glengariff poll for the Detroit News and WDIV also currently shows Snyder leading by 8, while surveys from Mitchell Research, PPP (D) for the League of Conservation Voters and CBS/NYT/YouGov showed a closer race. HuffPollster's model gives Snyder a 2.7 point lead and 57 percent chance of winning. [Michigan chart, Detroit Free Press]
Colorado governor - Two surveys on Wednesday found rather different results: a PPP (D) poll found Gov. John Hickenlooper (D) just a point ahead of rival Bob Beauprez (R), while a Monmouth poll gave Hickenlooper a 7-point lead. While more polls this month show Hickenlooper leading, SurveyUSA/High Point University and Quinnipiac each gave Beauprez a small edge. The Pollster model gives Hickenlooper a lead just under 2 points, and a 59 percent chance of winning. [Colorado chart, PPP, Monmouth]
Massachusetts governor - A MassINC/WBUR survey released Thursday morning gives Charlie Baker (R) a 1-point edge over Martha Coakley (D) -- the first time their polling, which has been better for Coakley than other pollsters tracking the race, showed her trailing. Several other recent polls also suggest Baker is gaining. [Massachusetts chart, WBUR]
Weakness for Republicans? - Sam Wang: "The most remarkable feature of [the polling data] is the widespread weakness in the Republican field. In five states—Alaska, Pennsylvania, Maine, Illinois, and Rhode Island—an independent (Alaskan Bill Walker, who is running on a fusion ticket with Democratic running mate Byron Mallett) and four Democrats hold the lead. In eight states, the candidates are either tied or within 1 percentage point or less of each other. The only state where the Republican is somewhat favored to take a governorship from Democrats is Arkansas, which was won by Mitt Romney in 2012 and where Asa Hutchinson now leads Mike Ross by a median of two percentage points." [New Republic]
Predicting incumbent governors who can win national office - Patrick Egan crunches the numbers: "For the purposes of identifying high-quality future candidates for national office, we should take note of governors whose actual poll numbers exceed their predicted margins. Such over-performance serves as a rough signal of an incumbent's quality and his or her ability to appeal to a national audience down the road...Five incumbents—New York's Cuomo, plus Republicans Robert Bentley (Ala.), Bill Haslam (Tenn.), John Kasich (Ohio), and Brian Sandoval (Nev.)—lead the pack. Each enjoys a margin in the polls that is at least six points bigger than predicted by state fundamentals." [WashPost]
DO 'DEMOCRATS HAVE AN EARLY VOTING PROBLEM?' - Philip Bump reports on an analysis of early voting data compiled by University of Florida political science professor Michael McDonald: "Two weeks ago...it seemed like Democrats were doing particularly well in Iowa and North Carolina compared to voter registration numbers. Republicans were doing well in other battleground states. Now, that's changed. Compared to overall voter registration, Iowa and North Carolina Democrats are doing much worse than earlier in the month, and Republicans in those states much better. We've also added new states that recently began early voting: Nevada, California and Colorado. In each, Republicans are outperforming Democrats." Bump's analysis included a table showing whether the number of registered Democrats, Republicans or unaffiliated voters that have voted early so far in 2014 "comprises a larger [or smaller] percentage of the early vote than the total voter pool." [WashPost, McDonald's U.S. Election Project early vote data]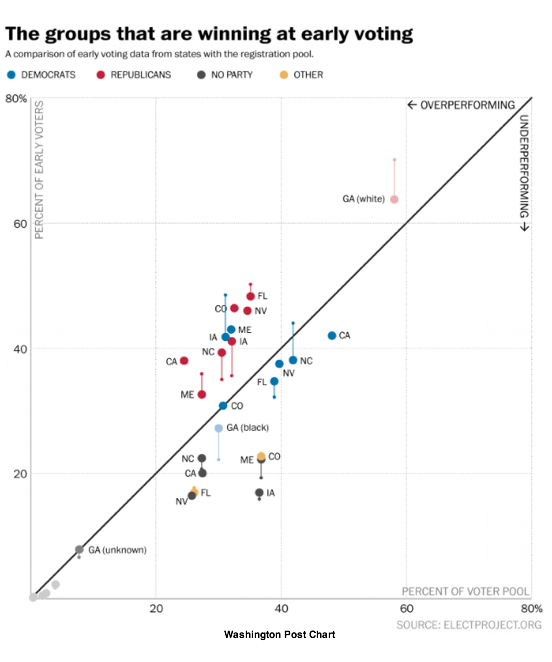 Not so fast... - McDonald, who publishes weekly analysis of early voting for The Huffington Post, identifies four problems with Bump's analysis via email (emphasis added):
Point 1: The analysis that assumes voter files are perfect measures of the electorate, without bias. If Democrats and no party registrants move at higher rates (after all, they are younger, poorer, and less likely to own a home), then deadwood would inflate their share of the voter registration pool. They would always start from the position of underperforming the ratio of their voter registration to the early vote.

Point 2: The analysis has no appreciation for the differences in mail voting and in-person early voting. Where both voting methods are offered, Republicans generally prefer mail balloting and Democrats prefer in-person early voting. Until now, the early vote in most states is composed mostly of mail ballots. In-person early voting is just beginning. Georgia moves greatly in the analysis because in-person early voting has been going for a week. The performance measures are going to move, or continue to move, in Democrats' favor in Florida, Georgia, Nevada and North Carolina as in-person early votes become a greater share of the electorate. In states like Georgia, Nevada, and North Carolina, the overwhelming number of early votes will be in-person. (Even the all-mail ballot state of Colorado has in-person early voting, too, but I do not know for sure what to expect from it since no state has ever offered all-mail ballot elections and in-person early voting.)

Point 3: By the end of the in-person early voting period, I would not be surprised if the analysis shows Democrats are over-performing in states with early dual voting methods. Does that mean Democrats will win? Historically no, since Election Day voters tend to be Republican. The DSCC claims Republicans are simply mobilizing their Election Day voters to vote early. It's difficult to assess the claim, but Republicans have invested heavily in early voting mobilization and their efforts do not appear to be reaching beyond their high propensity voting base, while Democrats are reaching low propensity voters, for reasons I laid out in my last weekly update.

Point 4: Persons without a party registration tend to early vote later than those with a party registration. This is a consistent pattern across states and elections. The no party registration performance will improve as we approach Election Day.
MOST EXPECT THE GOP TO WIN IN NOVEMBER - Jennifer Agiesta and Emily Swanson: "Two weeks before Election Day, most of the nation's likely voters now expect the Republican Party to take control of the U.S. Senate, according to a new Associated Press-GfK poll. And by a growing margin, they say that's the outcome they'd like to see. But the survey suggests many will cringe when they cast those ballots. Most likely voters have a negative impression of the Republican Party, and 7 in 10 are dissatisfied by its leaders in Congress. The Democrats win few accolades themselves. Impressions of the party among likely voters have grown more negative in the past month. In fact, Democrats are more trusted than the GOP on just two of nine top issues, the poll showed." [AP]
WILL MORE COMPLEX POLLING PRODUCE MORE ERRORS? - Democratic campaign pollster Mark Mellman contemplates how, in complex systems, small glitches can spiral into major errors: "Interesting, you may say, but what has this have to do with us? Think complexity. The more complex any process is, the more vulnerable it is to error, and over the years, polling has become much more complex. The rise of mobile phones, low turnouts, greater minority participation and a host of other factors have pushed quality pollsters toward ever more sophisticated and complex methods. And with all that complexity comes with a greater possibility of error...Polling is not a simple process, and its complexity carries within the seeds of other errors. In a couple of weeks we will see just how mistake-prone the process can be." [The Hill]
WEDNESDAY'S 'OUTLIERS' - Links to the best of news at the intersection of polling, politics and political data:
-Americans have grown less confident in the government's ability to deal with an outbreak of Ebola. [Gallup]
-Harry Enten doubts Ebola is affecting the midterms. [538]
-Eric McGee defends the confidence of the Election Lab Forecast of a GOP Senate majority. [WashPost]
-Josh Katz breaks down the states each party needs to win control of the Senate. [NYT]
-DailyKos contributor dreaminonempty finds no decline for third party candidates in Senate and Governor races in recent polls. [DailyKos]
-Derek Willis sees evidence that campaign television ad buys are growing more efficient. [NYT]
-Global Strategies (D) urges campaigns to test the believability of their messages. [GSG]
BEFORE YOU GO
PHOTO GALLERY
United States Governors