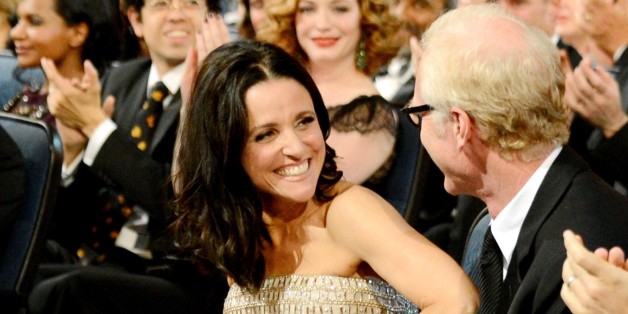 UPDATE, Oct. 23: Deadline.com now reports that Oscars producers Craig Zadan and Neil Meron denied allegations that they approached three other stars before asking Neil Patrick Harris to host the ceremony. In a statement made to Deadline.com, they said, "After every Oscar show there is always a discussion as to who will host the next one. Many names are discussed and sometimes even floated without there being any formal offers. At times, these casual discussions take on a life of their own, and some are eager to break a story without knowing the facts. Neil Patrick Harris received the Academy's formal offer. He is the perfect choice for the Oscars and will be the consummate host."
EARLIER: The Academy of Motion Picture Arts & Sciences apparently had its eyes set on some other people to host the Oscars, according to The Hollywood Reporter. In fact, producers Craig Zadan and Neil Meron reportedly asked three other comedic heavyweights before tapping Neil Patrick Harris, the confirmed 2015 Oscars host.
According to THR, they approached Ellen DeGeneres, who delivered a massive ratings hit during last year's ceremony. Per THR, DeGeneres refused to host again (it would have been her third time as Oscars emcee). Chris Rock was second on the list, and Julia Louis-Dreyfus also declined.
Despite perhaps not being the Academy's first choice, Harris was thrilled to take on the challenge. "It is truly an honor and a thrill to be asked to host this year's Academy Awards," Harris said at the time. He also posted a video in which he crossed the gig off his long bucket list.
Julia Louis-Dreyfus' rep told HuffPost Entertainment they had no comment. The reps for DeGeneres, Rock, Zadan and Meron have not responded. This post will be updated if and when they do respond.
BEFORE YOU GO
PHOTO GALLERY
Celebs Who Go On Reality TV As Judges