A Florida man accused of strangling a woman and dumping her body in a river bragged to a friend about his killing while at a bar, authorities said.
The corpse of 24-year-old Jennifer Hedges was found Oct. 9 floating in the Indian River. The victim, who police said was a prostitute, met with 45-year-old Lance David Berning, the suspect, on the night of her murder.
In a heavily redacted police affidavit obtained by The Huffington Post, investigators detailed the graphic crime, saying that Hedges had been strangled to death by Berning before her feet were tied to concrete and she was dumped in the river.
On Oct. 13, Berning met with a friend at a local bar. Over beers, Berning discussed killing Hedges, saying he had sex and smoked crack cocaine with the woman before killing her, according to the Brevard County Sheriffs' report.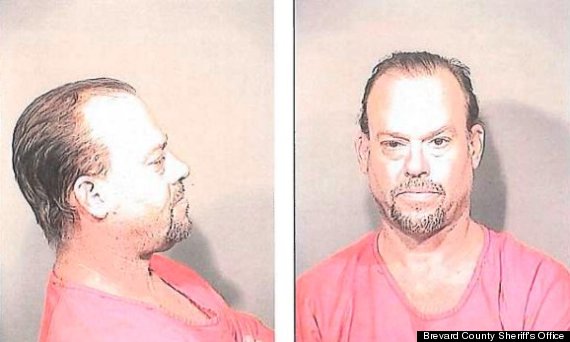 Lance David Berning
The Orlando Sentinel has more:
He blurted out to a friend that he "really got off on it" when he strangled Jennifer Hedges, 24, for getting "prissy" while performing a sexual act on him, according to court documents. He also remarked that he enjoyed the experience so much he planned to kill another victim in about six months.
The report states that Hedges put up a fight during the murder, breaking Berning's windshield and badly biting his palm. Berning allegedly told the friend that he "would get better at disposing a body next time where they do not find it."
According to the Orlando Sentinel, Berning had been arrested 20 times in Florida and served time for crimes including intimidation of a witness, battery, and grand theft. In documents obtained by the publication, police said Berning referred to his crime as a new "hobby."
Police are worried that there could be other victims, and are now looking back into unsolved homicide cases around the area.
The victim's mother, 46-year-old Sherry Hedges, spoke to The Huffington Post and said her daughter had slipped into drug use and prostitution only in the past month after attempting to help another woman involved in both.
"She saw this girl on the street and brought her home and fed her and gave her a place to sleep," Sherry Hedges said. "That's how she got into it."
A similar sentiment of selflessness was echoed on a Facebook page memorializing Jennifer, where a man said he had been homeless and Jennifer offered him a place to stay.
Hedges said her daughter's death has been devastating for her and her six other children.
"She was my heart, my soul," Hedges said between sobs. "Our last conversation we talked about getting her treatment. I had her on a waiting list at a facility that called me yesterday to say they had a bed for her."
Police said they got Berning to admit to his crime through a sting operation involving the friend that had learned of the murder. On Oct. 16, a recorded conversation between Berning and his friend culminated in a confession after the friend asked if anyone had seen the crime, according to the report.
"Nobody saw a fucking thing," the suspect allegedly said. "It was three o'clock in the morning on a deserted fucking street. Nobody saw shit."
Berning was arrested the following day.
Sherry Hedges said the hardest part of her daughter's death will be telling her 5-year-old grandson, Skylar, that his mom is gone.
"She was an excellent mother, she loved him more than life," she said. "He's definitely a momma's boy. He keeps asking where she is, and we just don't know how to tell him."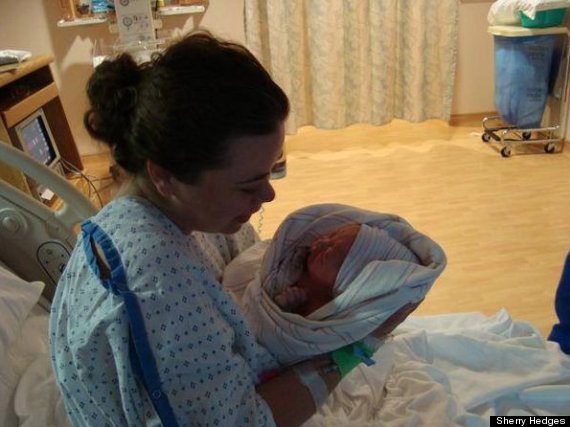 Jennifer Hedges with her son, Skylar, the day he was born.
Though she can't sleep anymore and has "become a recluse," Hedges said she is trying to focus on the positive memories of her daughter, mentioning a scene of Jennifer at the beach, blowing bubbles in the water with her nose.
"She loved being silly and goofy, the beach was her favorite place to be, she loved the ocean."
Jennifer loved "church and the Lord," and went on missions to African nations to feed hungry children, her mother said.
"I just want everybody to know that Jennifer was the kind of person that would have given the shirt off her back to help somebody else," she said. "She was just a nice, loving person."
Like Us On Facebook |

Follow Us On Twitter |

Contact The Author
PHOTO GALLERY
Jennifer Hedges Murder
BEFORE YOU GO