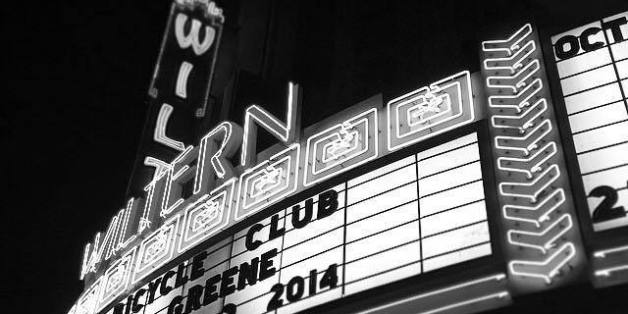 Starting November 1, you're going to want some Red Bull.
The energy drink mega company is launching "30 Days in LA" -- a month long musical celebration featuring a different concert each night all over the sprawling city of Los Angeles. The coolest part? Every day brings a different venue, and they have chosen some unique and offbeat locations: like a downtown LA parking lot, a church, a bowling alley, a skating rink, a drive-in movie theater and even Madame Tussauds wax museum.
Other concerts will take places at some of L.A.'s most intimate and infamous musical establishments. Think The Troubadour, The Fonda, The Roxy and the new theater at the Ace Hotel. The month long romp closes out at the Hollywood Palladium and we are told there will be surprise guests throughout the month.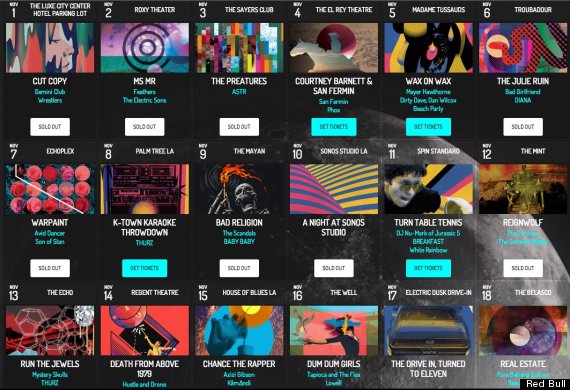 Cut Copy, MS MR, Bad Religion, Warpaint, Future Islands and Chance the Rapper are all performing. Some of the bigger concerts are already sold out, but plenty of tickets are still available for the month of November. And let's be serious: it's L.A., so we are confident that with a little hard work, you can find a way to get tickets to any night that suits your fancy.
For the complete list of acts and venues, check our list below:
November 1: CUT COPY at The Luxe City Center Hotel parking lot
November 2: MS MR at Roxy Theater
November 3: THE PREATURES at The Sayers Club
November 4: COURTNEY BARNETT & SAN FERMIN at The El Rey Theater
November 5: WAX ON WAX at Madame Tussauds
November 6: THE JULIE RUIN at Troubadour
November 7: WARPAINT at Echoplex
November 8: K-TOWN KARAOKE THROWDOWN at Palm Tree LA
November 9: BAD RELIGION at The Mayan
November 10: A NIGHT AT SONOS STUDIOS at Sonos Studios LA
November 11: TURN TABLE TENNIS at Spin Standard
November 12: REIGNWOLF at The Mint
November 13: RUN THE JEWELS at The Echo
November 14: DEATH FROM ABOVE, THE 1979 at Regent Theater
November 15: CHANCE THE RAPPER at House of Blues LA
November 16: DUM DUM GIRLS at The Well
November 17: THE DRIVE IN, TURNED TO ELEVEN at Electric Duck Drive-In
November 18: REAL ESTATE at The Belasco
November 19: NOT YOUR MAMA'S ROLLER DISCO at Moonlight Rollerway
November 20: FUTURE ISLANDS at The Wiltern
November 21: KURT VILE AND THE VIOLATORS at First Unitarian Church
November 22: THE HEAD AND THE HEART at The Theater at The Ace Hotel
November 23: PHOSPHORESCENT at The Legendary Park Plaza Hotel
November 24: THE MOTH STORYSLAM at Los Globos
November 25: JUICY J at The Fonda
November 26: RED BULL STUDIOS BARBECUE at Red Bull Studios
November 27: ROCK AND BOWL TURKEY SHOOTOUT at Shatto 39
November 28: THE LEFT-OVER at Lure Patio
November 29: CHET FAKER at Mack Sennett Studios
November 30: A$AP MOB at Hollywood Palladium