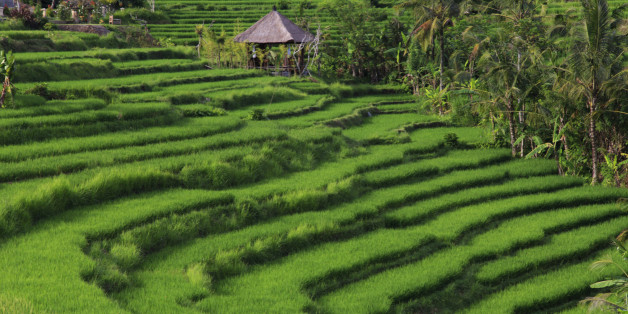 You may be familiar with the picturesque image of rice paddies -- lush, green fields, perhaps stacked in terraces -- but do you know how rice gets from the paddy to your plate? The process is seriously labor intensive, requiring more steps than you might think would be necessary for such tiny, little grains.
A staple found all over the world, rice is grown everywhere from Minnesota to Myanmar. According to the Food and Agriculture Organization of the United Nations (FAO), however, an incredible 90 percent of it is grown and consumed in Asia. Making up anywhere from 50 to 80 percent of calories in a person's diet in Asia, rice is the backbone of millions of people's lives. What's more, demand is skyrocketing due to population growth. The FAO estimates that rice consumption in Asia will increase 51 percent between 1995 and 2025.
It's time we all understood how this critically important crop grows and how it's harvested. Here are the basics you need to know:
PHOTO GALLERY
Everything You Need To Know About Rice
Now that you know how rice is harvested, go and enjoy one of these ridiculously awesome and easy rice bowls. We think you've earned it.
Want to read more from HuffPost Taste? Follow us on Twitter, Facebook, Pinterest and Tumblr.
BEFORE YOU GO
PHOTO GALLERY
Rice Bowls That Make Dinner Ridiculously Easy