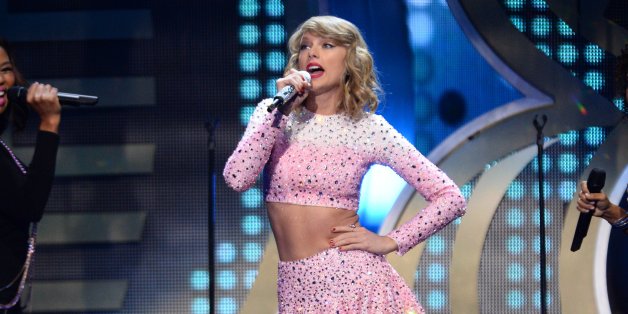 The following article is provided by Rolling Stone.
By STEVE KNOPPER
In addition to being 2014's probable best-selling album, Taylor Swift's "1989," out next week, could be crucial to salvaging the record industry's holiday shopping season in a terrible sales year. Week after week, the biggest music stars have put out what appeared to be blockbuster albums, selling up to a few hundred thousand copies in the first week, then quickly dropping out of the Top 10. Album sales have been down 14 percent all year, and single sales have dropped 13 percent, according to Nielsen Soundscan.
Taylor Swift Reveals Five Things to Expect on '1989'
"She will be the big fish," says Ish Cuebas, vice president of music merchandising for national record chain Trans World Entertainment. "The overall release schedule this year has been weak compared to last year. The big title last year for the fourth quarter was Eminem — Taylor will more than make up for Eminem."
In Pics: The 10 Best Taylor Swift Songs
In October, Jason Aldean, Blake Shelton, Lady Antebellum and Florida Georgia Line were supposed to lead a country stampede into kicking off the crucial fourth quarter — but all have sold fewer copies than expected. "One of the things that the industry was counting on was country," says a source at a major record label. "The early returns are definitely a little disappointing. It does put more pressure on Taylor."
22 Things You Learn Hanging Out With Taylor Swift
One of the key reasons for the sales drop is the industry's shift from selling CDs and downloads to streaming and subscription services such as Spotify and YouTube. Streaming jumped 42 percent by mid-2014, according to Nielsen Soundscan. But album sales still bring in more money than streaming, and it's unclear whether YouTube ad revenue and $10-a-month subscriptions to services such as Spotify, Beats Music and Rhapsody will make up for the sales drops. "The industry is going to go through a rocky couple of years as it makes that transition," says a source at another major record label.
In Pics: Taylor Swift: A History in Photos
That makes "1989" — as well as other likely fourth-quarter hits, including new albums by Foo Fighters, Nicki Minaj and Garth Brooks — a potential lifeline. Retail sources expect sales from 600,000 to 750,000. "How important is it that it's going to be a hit that's going to likely last for a while? It's important!" says Carl Mello, a senior buyer for New England record chain Newbury Comics. "It's better than having a fanbase record, like an Eric Clapton, that'll sell for the first two weeks, then disappear. There are very few records sitting around the Top 10 for months. Taylor Swift is certainly one that could."
BEFORE YOU GO
PHOTO GALLERY
Taylor Swift