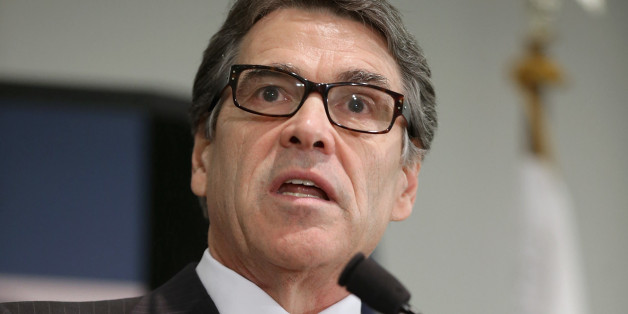 After weathering the first diagnosis and transmissions of Ebola in the United States, the state of Texas will create facilities that health officials say are better equipped to treat future Ebola patients than general hospitals.
Gov. Rick Perry announced that the state would build a new infectious disease biocontainment facility in North Texas run by three major health care providers: University of Texas Southwestern Medical Center, Methodist Hospital System and Parkland Hospital System.
Perry also designated the The University of Texas Medical Branch (UTMB) at Galveston as another facility for treating patients with the virus. The plan is a recommendation from the Texas Task Force on Infectious Disease Preparedness and Response, which Perry convened after Liberian man Thomas Eric Duncan was diagnosed with Ebola in the U.S.
The announcement came shortly after news that the Centers for Disease Control and Prevention plans to route future Ebola patients to specialized hospitals around the nation that have staff thoroughly trained on how to protect themselves while caring for patients. The hope is that these two new patient facilities in Texas will fulfill the federal standards to be counted among those hospitals, said A. Scott Lea, M.D., the Infectious Diseases Clinic Director at UTMB.
"We're going to make sure that we fulfill every CDC guideline so that we will be a CDC center," Lea told The Huffington Post. "We've got the expertise and the pieces in place -- we just need to get our facility modernized a little bit to make sure we can handle multiple patients."
Lea said that it "makes sense" for the federal government to designate only certain hospitals to be the ones to treat Ebola patients. Two nurses at Texas Health Presbyterian Hospital Dallas contracted Ebola from patient Thomas Eric Duncan, a disturbing sign that CDC's safety protocols "didn't work," admitted CDC director Dr. Tom Frieden. The nurses were eventually transferred to Emory University Hospital in Atlanta, Georgia, and National Institutes of Health Clinical Center in Bethesda, Maryland, to receive care, where they remain.
"The training [to handle Ebola] is intense," said Lea. "I'm not sure what the future holds for us all, but every hospital is not going to be able to maintain that level of readiness indefinitely."
Perry acknowledged as much during the press conference announcement, saying that Texas Health's hospital workers have been "on the front line" and "paid a heavy price," reports local news outlet NBC DFW.
In a press release, Texas Health praised news of the centers and said that as the first U.S. hospital to face Ebola diagnoses, they were committed to sharing what they've learned with health officials and fellow hospitals.
Story continues below the infographic.


EQUIPMENT IN BIOCONTAINMENT UNIT
| | |
| --- | --- |
| | Self-contained, negative pressure airflow system |
| | Negative air flow with greater than 15 air exchanges per hour |
| | High-Efficiency Particulate Air (HEPA) filtration system |
| | Secured access, double door air lock main entrance |
| | Separate staff entrances and exits |
| | Staff decontamination shower |
| | Pass through sterilizer to disinfect materials leaving the unit |
| | Dunk tank to decontaminate lab specimens leaving the unit |
| | Video phone for patient communication |
| | Close proximity to the Nebraska Public Health Laboratory (NPHL) BSL III Lab |
| | HEPA patient transport system allows for safe transport of patients to the unit |
Graphic by Alissa Scheller.
In addition to Emory and NIH, other hospitals with biocontainment facilities for treating Ebola patients include Nebraska Medical Center in Omaha, Nebraska, and St. Patrick Hospital in Missoula, Montana. When Texas's plans for the two Ebola treatment units come to fruition, that means that the West Coast will be the only major region in the U.S. without a specialized Ebola treatment center.
"I would suspect that one of these needs to be on the West Coast, if not two," said Lea. He predicted that several centers would "spring up" in the aftermath of the Ebola outbreak.
California is, in fact, currently trying to see which hospitals have the "greatest capacity" to handle Ebola patients should the need arise, according to an FAQ page on the California Department of Public Health's website. The department didn't respond to questions about whether the state is considering financing a completely new facility with a biocontainment unit like Texas is.
UTMB is uniquely positioned to take on this role. The university's Galveston National Laboratory is one of only four biosafety level 4 laboratories in the country that studies the Ebola virus. While the CDC only just added Ebola safety precautions like a monitor to supervise donning and doffing personal protective equipment, researchers at Galveston already have access to UTMB's National Biocontainment Training Center, which trains researchers from around the globe. They have also been using Ebola-level safety precautions and personal protective equipment for about 10 years in order to study the virus, both in its pure viral form and in animals.
In fact, the lab has already played a role in the trio of Texas Ebola cases; As the only center in the state of Texas authorized to dispose of Ebola-related waste, they received medical waste from Texas Health's Ebola unit and incinerated it, said Lea.
Additionally, UTMB's hospital has an already-existing room adjacent to the Emergency Room built for patients with highly contagious respiratory illnesses like SARS or MERS, explained Lea, which is similar to the environment needed to properly care for someone with Ebola.
"Presumably we'll get state help to build that unit completely -- we already have a lot of the pieces in place," said Lea. It's unclear, however, just how much money the university is getting from the state for this upgrade; calls to Perry's office were not returned.
BEFORE YOU GO
PHOTO GALLERY
Ebola Symptoms