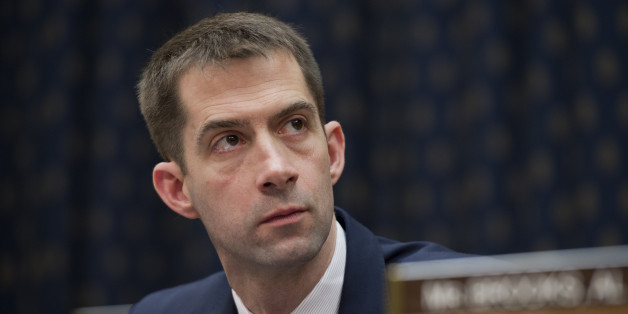 WASHINGTON -- It turns out Arkansas Rep. Tom Cotton (R) was not employing some sort of phantom consultant in his bid to unseat Democratic Sen. Mark Pryor -- it's merely a new one without a long paper trail.
Since March, Cotton has paid some $323,000 to a firm called Right Solutions Partners LLC, according to federal election filings. One news outlet noticed that fact, but also could find no sign of a human being attached to the firm, and no indication the firm had done work anywhere else. When no explanation was forthcoming from Cotton's campaign, it prompted a headline that said the congressman was paying a consultant who "may not exist."
The campaign did eventually get around to explaining to HuffPost that the person behind the firm is a former top fundraiser for the Club for Growth, Erika Sather, and that the money had been paid to her through Right Solutions, which she created a little more than a year ago. Sather also has reportedly signed on to help Rand Paul build his national fundraising base, and has worked with her former boss at the Club for Growth, Pat Toomey, among others.
In the super-heated atmosphere in the waning days of a bitter campaign, it can be easy to spin disparate facts into a suspicious picture. While Cotton's campaign did not explain why it hadn't clarified the situation sooner to head off an unflattering story, Sather herself agreed that the only thing that was unusual about her arrangement with Cotton wasn't unusual at all. Her firm just hasn't been around long enough to generate much history.
"That's correct, my firm is new," Sather said by email when HuffPost was able to reach her Wednesday evening. She'd have answered earlier, she said, but she had been busy doing her job of fundraising. She is, after all, responsible for all of Cotton's national buck-raking.
Mystery solved.
BEFORE YOU GO
PHOTO GALLERY
Senate Seats Up For Grabs In 2014